In the wake of Prince's death, SPIN's staffers and contributors are looking back on some of their favorite albums by the beloved icon. Check back this week to relive the Beautiful Ones with us.
Kick drum. Synthesized squiggles. A melody line that broods before bursting into major-key color when the singer unleashes the falsetto. The star mumbles his first verse, the one-word title the most intelligible. He even mumbles what everyone quotes: Am I black or white? Am I straight or gay? If listeners made out those lines in 1981, here's a cookie. Maybe they pressed their ears against the speakers, as I imagined every homosexual kid growing up in the early '80s did, hoping they hadn't misheard. I was among the hopers when fellow Minneapolis native Paul Westerberg burbled his own sexual questioning anthem "Sixteen Blue," written for the Replacements three years later.
Nestled between 1980's critical breakthrough Dirty Mind and 1982's commercial breakthrough 1999, Controversy tends to be overlooked despite being a part of his first-tier canon. It's his first to not so much repeat as hone past achievements. The sexual ambivalence of Mind's "When U Were Mine"? Here's the title track.  A mirrorball-spangled smoocher like 1979's "When We're Dancing Close and Slow"? Replace it with the seven-minute "Do Me, Baby" — as delicate as a backseat grope.
[articleembed id="192187″ title="When We Were His: Prince's 'Dirty Mind'" image="192318″ excerpt="In the wake of Prince's death, SPIN's staffers and contributors are looking back on some of their favorite albums by the beloved icon"]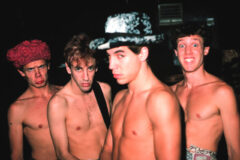 The mind-f**k of the title track aside, Controversy remains Prince's queerest album: "Am I straight or gay," fine, but are you rock or funk? In his musical adolescence Prince experimented with sounds — dropping this, finessing that — the way some male teens do with eyeliner and same-sex crushes. Not until 1988's dense Lovesexy, the scab replacing the notorious Black Album, would he sound this confused, and he's cool with it. Placing the hopped-up "Private Joy" against the punkish "Ronnie Talk to Russia" exemplifies his perversity; he's forcing himself to take public stands after doing whatever Prince does by himself in the bedroom. On "Do Me, Baby," later given a workaday cover by Meli'sa Morgan, I'm still not sure whether he's alone in that bedroom, tumescent and dangerous, about to explode at the faintest brush of fingertips. Still unsatisfied, he transforms into a woman, unleashing a volley of the most hysterical orgasms in recorded history. But when he notices other human beings, he'll oblige — he'll jack u off.
I want to focus on two of those oddballs. Apart from its limning of a masturbatory fantasia in which Prince's sexual imagination keeps pace with his stamina, "Private Joy" also marks the introduction of the Artist's most potent weapon. In 1981, drum machines were tinny things, and in the hands of a fertile songwriter were used precisely for this purpose. That same year Daryl Hall and John Oates would take a studio demo called "I Can't Go For That (No Can Do)" employing a Roland CompuRhythm box to No. 1 on the Hot Soul Singles and Hot 100 charts. On 1982's 1999, Prince recorded with the LinnDrum, eventually mastering the thing like Miles Davis did the trumpet. Things are still primitive on "Private Joy," but for the first time the performer sang like he danced. "You're my little lover, Orgasmatron," he screams, the machines thudding as if mimicking a, uh, certain way a man experiences private joy.
But the album's densest and tensest track he buries in the second half. Thirty-five years later, I doubt anyone has come closer to figuring out what the f**k Prince is on about in the percolating "Annie Christian," and I worry that the explanation has spawned several message boards devoted to finding the aleph of early Prince. Over an unstable bed of synthesizers and the hiss of the drum machine, Prince envisions an angel of death, responsible for the recent murder of John Lennon, the attempt on Ronald Reagan's life, and the deaths of several Atlanta children. It sports the puzzler "I'll live my life in taxi cabs" and might be the only song in recorded history with "ELECTRIC CHAIR!" as a party-up chant. (The title would intrigue him enough for a later Batman soundtrack offering.). Take a step backwards, however, and it starts cohering: Eros, meet Thanatos. Prince would take this love-death trip for the rest of his life.
Released in the fall of 1981, Controversy climbed to No. 21 on the Top LPs & Tape chart, triggering sighs of relief from Warner Bros. executives concerned about their investment. The title track bested Dirty Mind's performance by peaking at No. 3 on what was then called the Hot Soul Singles chart; the album did its predecessor one better by lodging another single, "Let's Work," in the top ten. In addition, both "Let's Work" and "Controversy" topped the disco chart in November. The song they knocked off? Patrick Cowley's "Menergy." How's that for am-I-straight-or-gay cock teases?
I love this record — its confusion and audacity. It's rarin' to go with no destination in mind. Its erratic pacing and mercurial songs, coupled with its brevity, suggest the shedding of masks in preparation for the donning of a new one. But if I have to live my life in a taxi cab, I'd share it with Controversy.