Update 3: The changes Kanye West made to the Yeezus cuts might not be new — some fans on Twitter are noting that some of the changes may be holdovers from leaks and early edits made back when the album was originally released. However, it's unclear why Kanye officially uploaded two different versions of the record — one that's streaming on Apple Music and another version on Spotify and Tidal.
Update 2: The differences on two tracks, "Black Skinhead" and "Send It Up," do not appear when streaming the songs on Spotify or Tidal. As of now, the changes are just on Apple Music. 
Update: Another fan noticed that West has also changed "Black Skinhead," a fact which SPIN can confirm. On the original song, the rapper begins his verse with "For my theme song / My leather black jeans on" with a scratchy second voice backing him up under the mix. On today's Apple Music update, the "For my theme song" bit features a completely changed lead vocal, one deeper and more warped.
An eagle-eyed fan on Twitter noticed earlier today that not only is Kanye West's new album The Life of Pablo undergoing occasional sonic tweaks on Apple Music and Tidal, but it also seems that the rapper is tinkering with old bodies of work as well.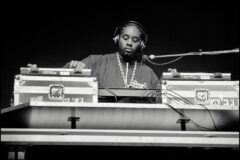 Though Yeezus was released in June of 2013, it seems as if West isn't quite done meddling with it. On the original version of the album's "Send It Up" — at about the 1:30 mark — that Kanye raps the following lines over an instrumental:
This the greatest shit in the club / Since "In Da Club" / It's so packed I might ride around / On my bodyguard back like Prince in the club
However, on Apple Music today, this exact moment in "Send It Up" features West rapping the last two lines of that verse with absolutely no music underneath him. He's cut the instrumental out entirely. There's no word yet on why exactly he's done it — it's a minuscule cosmetic adjustment that requires you to know Yeezus intricately to notice — but it's a confirmed change nonetheless. We'll update with more tweaks and adjustments as they come through.