It's hard to overstate the legacy and reach of French electronic-music pioneer Jean-Michel Jarre. He currently holds the world record for largest outdoor concert (3.5 million watched him stage his groundbreaking synth opus Oxygéne for Moscow's 850th birthday in 1997), has set an inimitable bar for live visual spectacles with his signature laser harp, was the first Western musician to perform in China, and, on a personal level, was close friends with science-fiction auteur Arthur C. Clarke and married to iconic English actress (and recent Academy Award nominee) Charlotte Rampling. And still, half a century after studying under the inventor of musique concréte himself, Pierre Schaeffer, Jarre remains fascinated by new technologies and artists. But the most recent development he's interested in isn't a Pro-Tools plug-in or the latest reissued Moog modular synthesizers — it's dating apps.
"These days, people are touching, and have sensual relations [with] their smartphones, rather than their own partner," the 67-year-old tells SPIN over Skype. He's referring to "Swipe to the Right," a "dark love song in the Tinder age" featuring Cyndi Lauper, whom he chose for her acrobatic vocal talents, which he says "invented Auto-Tune far before technology." This sparkling bounce of dystopian commentary, off of his forthcoming Electronica Vol. 2: The Heart of Noise — the companion/follow-up to last year's Vol. 1: The Time Machine — neatly encapsulates Jarre's vision: storytelling inspired by the films of David Lynch and John Carpenter (both of whom he recruited for this project), artists who have a "recognizable sound," and the sound-making machines upon which he's built his career.  
For Electronica's dual LPs, Jarre recruited dance music's past and present. Moby, Gesaffelstein, Laurie Anderson, and M83, among others, lent their talents to the first half, and the second features Primal Scream, the Pet Shop Boys, and cult-favorite soundtrack staples Yello. Each of its 17 tracks are a collaboration between Jarre and the featured artist (even though Jarre admits the idea of a song "feature" is so commonplace that it's "banal," so perhaps "special flower" is more appropriate), conceptualized overall as a tribute to Italian experimentalist and synthesizer builder Luigi Russolo, who also wrote 1913's Futurist manifesto The Art of Noises. "He said musicians of the future will not stay stuck in the limited range of acoustic instruments," Jarre explains, "but technology will allow musicians in the future to be their own painter, to paint their own sounds. In a sense, DJs are the grandsons of Russolo."
In advance of The Heart of Noise's May 6 release via Sony Music International, SPIN emailed a number these "grandchildren" — Jeff Mills, Julia Holter, Gary Numan, members of the Orb, Peaches, and Jarre's countrymen Sebastian Telliér and Rone — to find out how they got involved in Electronica Vol. 2 and how Jarre has influenced their own musical careers.  
How did you get involved in this particular project? 
Jeff Mills: Jean-Michel contacted me to know if I would be interested in doing a remix of one of his tracks. I quickly replied "Yes" and asked what was the track about. He explained that it was a story about a train traveling along a river. I composed a few tracks reflecting the different perspectives of that scenario: viewing the train from above, from the perspective of a fish, from the perspective of being on the train. Using the melody and sequences of his track, I re-created the composition.
Julia Holter: Jean-Michel contacted me; I obviously had heard his music but was curious about his ideas for collaboration. We met and talked about our backgrounds in music, and it was friendly and easy. I don't often meet with strangers and feel okay about collaborating with them. There is also this element of respect of an established musician, so it wasn't not intimidating. He had already put together a track that I might add vocals and other ideas to. It had a clear Jean-Michel Jarre sound — a dreamy, arpeggiating chord progression made of an analog-synth sound — but it was left open-ended as to what could be put over it.
Gary Numan: I received an email from Jean-Michel quite some time ago, two years at least. The message outlined what he wanted to do; namely, to collaborate with certain people from the electronic-music scene for an album. Jean-Michel would create the initial piece of music and then people would add their own stamp to it. I was very flattered to be one of the people asked and said "Yes" straight away.
Alex Paterson, the Orb: Two years ago, out of the blue, I got a call from JMJ. We have a past history — 20 years ago we did a remix of "Oxygene (Part 1)." JMJ sadly passed on that, but the seeds had been planted…
Walk me through the process of making this track with Jean­-Michel. Did you collaborate together in the studio or via email, Dropbox, etc.? What was that experience like?
Sebastien Tellier: We both live in Paris, which made it easy to collaborate. JMJ had already composed a loop of some chords that I had the pleasure to listen to peacefully in his living room. Then I took the loop home and started looking for a melody and relevant bass/drum machine rhythmic sections. As for the lyrics, he told me the story of a man who fell in love with a machine that was a woman. I wrote something related to this story and recorded my vocals in a legendary studio in Paris called Studio CBE.
Julia Holter: He had this track [that] he played for me with a Discman — or maybe an iPhone and headphones. He had this idea for the song: that there is this alien world colliding with a human world. My lyrics tried to reflect that. I processed some of his synth sounds, which I was nervous about. I did it all very much the way I record alone — just mumbling into my dynamic mic, neglecting high-quality audio for the sake of the intimacy of the moment. I reverbed out the vocals the way I like to, and Jean-Michel liked the way I had EQ'd it, even if it was rugged.
Gary Numan: Most of the music I came up with I did alone and sent to Jean-Michel; some discussions were via email, but most were face-to-face. He manages to push you forward, get you to re-do everything differently, in the most charming way. I changed almost everything without once feeling offended. His knowledge of music, both current and historic, and his knowledge of equipment, both musical and studio, is quite remarkable.
Can you describe your first encounter with either Jean-Michel Jarre or his music? How has his music influenced your own work?
Peaches: Oxygéne helped me to realize my love for analog-synth sounds. I have also always been in awe of the laser harp that he uses in his live performances. I consider myself original but when I saw the laser harp, I had three sets of laser harps constructed to use in my own show.
Gary Numan: I remember hearing his music for the first time long before I became interested in electronic music. I liked it — in fact, I think I bought Oxygéne when it came out — but at that time I was still quite entrenched in guitars. I probably would have [been influenced by it] if I'd been looking at electronic music more seriously, but I was still a year or two away from making that switch. The first time I met him in person was at my house in L.A. He was eloquent, entertaining, warm, intelligent and just a lovely human being. I have photos of him rolling around the floor with my dog Wilbur.
Rone: I first heard Jean-Michel Jarre when I was a kid, on the radio at home. I was very intrigued by the sound — it was new to my ears. I wanted to hear it again, so I convinced my mum to take me to the local record shop. I didn't know the name of the artist, so I had to hum the melody to the shopkeeper who, after a few seconds said: "This, young man, is Jean-Michel Jarre!" and he took out a copy of Oxygéne. It's the first record I ever bought!
Jeff Mills: We first met in the year 2000. I was invited to Paris to debut [his live, alternate] soundtrack for Fritz Lang's Metropolis at the Pompidou Centre. When I returned to my hotel, I received a letter from him saying how much he enjoyed the show and invited me to his museum-like studio on the outskirts of Paris. It was incredible to see all these custom instruments and pieces of gear. We talked for about three hours on science and science-fiction, electronic music, and Arthur C. Clarke.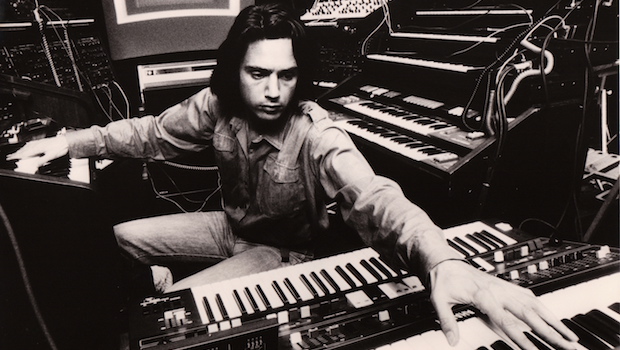 Alex Paterson, the Orb: I was a young teenager and thought at the time he was a French version of Kraftwerk. When we were recording a huge, ever-growing tune in trans-central South London, JMJ was doing his light show at the Docklands in East London. If we went to the local park we could see his visuals, and they were stunningly, vividly expressive on a massive scale. We were well-impressed!
Were you aware of Luigi Russolo, the Italian composer and experimental instrument builder that Electronica Vol. 2 is a tribute to? What are you hoping to bring to his legacy?
Julia Holter: I read the Art of Noise back in the day. It's very moving and relevant to today, since we are undergoing a technological revolution. I can't say I myself would impress Russolo very much, because I think he was approaching something radical and I don't see my music as radical, at least in terms of technologies used. I am very interested in the human voice and how we use it, especially when we aren't thinking, like the kind of stuff Robert Ashley was interested in. The voice can make almost all the noises Russolo lists in his "Six Families of Noises," so maybe one day I will have made all of those on recording.
Jeff Mills: I think Russolo was spot on! The ideas of giving individuals the control and ability to imitate a group (or an orchestra) is something we are experiencing more and more as times goes on. A large part of the mentality of the Futurists movement was brought on by an awakening of senses — a psychological detection that the life they recognized around them was not full and complete and that giving more power to the person sets that person free and thus lets them live more.
Electronic music has created a family — a quite big one! There is somewhat a paternal relationship that connects many of us [choosing] to make this style of music for a career. We're bounded by ways we communicate and translate life around us. I think his album (Electronica Vol. 1 and 2) and how it spans many generations is clear proof. He has really given me very valuable advice on many subjects in the past. I still look to him and what he's done as benchmarks.