More than two years ago, Beyoncé descended to earth and spiked her self-titled, winning touchdown of a musical football down in the industry's end zone. Two months ago, Bey swept back in with the raucous "Formation," pausing only to debut the song on the Super Bowl stage before collecting a nation's coins with the announcement of her soon-to-start world tour.
Tonight, she's doing it — well, doing something — again on HBO, and here's all the pertinent information you'll need to weather the impending storm:
Tonight on HBO, Beyoncé will debut a project she's calling Lemonade.
Lemonade has a run-time of just under one full hour, and begins at 9 p.m. EST on HBO.
Theories suggest Lemonade might be an hour-long documentary akin to her 2013 special, Life Is But a Dream. That would suck.
Other reports claim Lemonade is an hour-long film, weaving together multiple music videos from her long-rumored new record, the follow-up to 2013's Beyoncé. That would not suck.
For non-HBO subscribers, the OG of the paywall game is opening up its gates for today and tomorrow, allowing anyone with a TV to tune in for free — which means there are no real excuses for missing this.
HBO's CEO, Richard Pleper, promises fans won't be disappointed.
As Saturday has progressed, several big names have thrown their rings into the hat visa vis their involvement in Lemonade, whatever it might actually be. British singer, songwriter, and sparse producer James Blake retweeted HBO's tweet about the project, suggesting he may've been involved in the album's behind-the-scenes work. Similarly, critically acclaimed director Jonas Åkerlund suggested that people tune in tonight. He's responsible for Bey's "Haunted" video, as well as Lady Gaga's iconic "Telephone" visual and Madonna's unforgettable "American Life" treatment.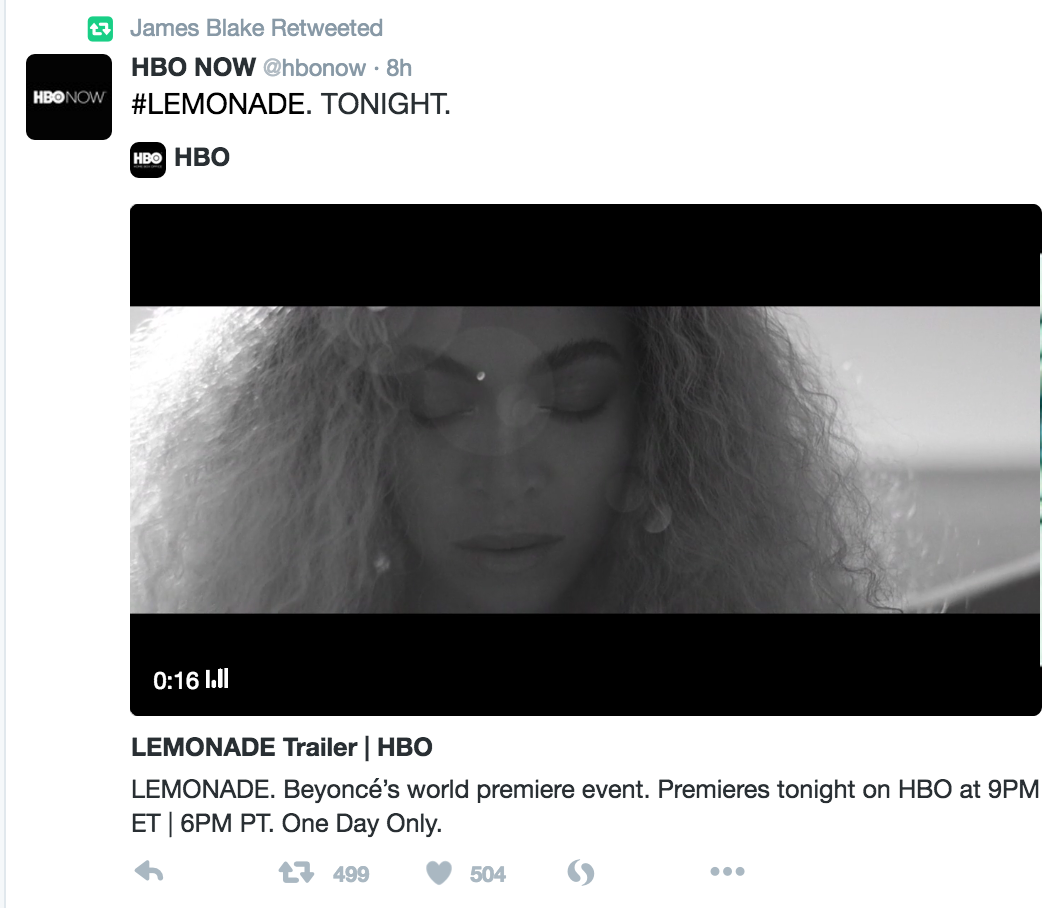 MAKE SURE YOU TUNE IN…#jonasakerlundarchive#Beyonce https://t.co/7cirXu0Rgr

— Jonas Åkerlund (@Akerlund_Jonas) April 23, 2016