On first listen, Beyoncé's new album Lemonade is all about Jay Z's cheating. But the 65-minute film accompanying the music makes the personal political by visually empowering black women, celebrating Deep Southern culture, and referencing the Black Lives Matter movement, Malcolm X, and Hurricane Katrina. Beyoncé is not just a single woman scorned — she represents a scorned demographic, or as the film directly quotes Malcolm X: "The most neglected person in America is the black woman."
Loosely built on the Kübler-Ross model's five stages of grief, Lemonade is divided into 11 chapters with title cards describing Beyoncé's reactions to her husband's apparent infidelity: "Intuition," "Denial," "Anger," "Apathy," "Emptiness," "Accountability," "Reformation," "Forgiveness," "Resurrection," "Hope," and "Redemption." The use of intertitles, outside of silent cinema, is an alienation device invented by German playwright Bertolt Brecht to prevent the spectator from getting lost in the illusion of fiction and instead engage with the content intellectually. It's a technique adopted by filmmakers like Jean-Luc Godard, Lars von Trier, and Quentin Tarantino, who all have political messages they want to get across. So does Beyoncé.
Throughout the film, she assumes different identities, celebrating the diversity of black women. She's a stage diva, a Southern Belle, an angry street gal, a vulnerable wife in bed, a dandy, a siren, a Voodoo High Priestess, a Victorian Gothic, and the Egyptian Queen Nefertiti, wearing a golden cone bra — a nod, of course, to Madonna's iconic "Blonde Ambition" tour.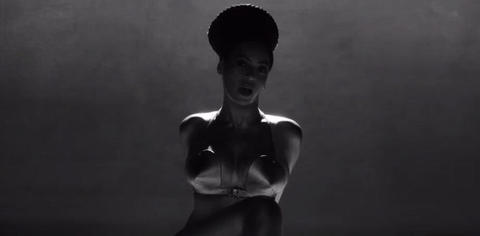 She's joined by known and unknown black women, including tennis champion Serena Williams, who's twerking away while Queen Bey sprawls out on a throne; feminist actress Amandla Stenberg, known as the young tribute Rue whose death inspires an uprising in the black community in The Hunger Games; and actress Quvenzhané Wallis, who starred as the tough Hushpuppy in The Beasts of the Southern Wild, a film that deals with the aftermath of Hurricane Katrina. "Forward" features the mothers of Trayvon Martin and Michael Brown holding up photos of their teenage sons. They all stand tall, proud and statuesque, evoking street-photography portraits of citizens of underserved communities, such as Harvey Stein's Harlem Street Portraits or Kehinde Wiley's painted portraits of young black men.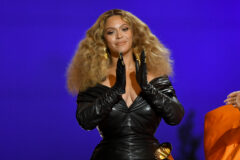 Aesthetically, the film is a blazing blend of black and white, oversaturated colors, slow motion and time-lapse — often in the same scene. Futuristic underwater scenes mix with Southern Gothic, Louisiana voodoo, African tribal, Christian deluge and baptism symbols, home videos, and German expressionism. Take the opening sequence, which establishes the theme of disturbance and grief with a succession of eerie images from different times and places: We start with a faceless modern-day Beyoncé in a fur coat leaning on a car. Cut to an expressionistic black-and-white image of a wooden wall with a chain in an extreme frog's perspective, which looks like a kind of medieval torture instrument from Joan of Arc, the greatest female martyr in (film) history.
Cut to Fort Macomb, an abandoned 19th-century brick fort in New Orleans that also served as the battle ground for True Detective's season 1 finale. The foreground is filled by tall grass and sugar canes blowing in the wind, which we get a close up of in the next shot, setting up a sensual depiction of the rural South — a similar opening as the True Blood title sequence, another blend of Southern traditions, religion, the occult and sex. The next shot shows a kneeling Beyoncé in front of a red carpet, where she starts singing: a dramatic image setting her up as a tragic woman of the theater — or it could be a reference to Nicole Kidman's fallen prostitute, Satine, in Baz Luhrman's melodramatic 2001 musical Moulin Rouge!, which uses the red carpet as a central theme.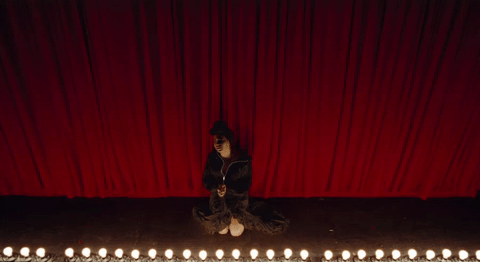 Cut to a Southern-looking porch occupied by a row of black women in white formal dresses, standing motionless and serious like ghost brides, before we're back in a urban setting with a suicidal Beyoncé throwing herself off of a tall building, but landing in the ocean, where she floats weightlessly and dreamily around. This is the first image of water — a recurring theme in the film, representing baptism, death and resurrection. Later, she resurrects out of fire like a Phoenix: In "6 Inch," she walks out of her burning house (that she set on fire), through a uterine-red hallway, evoking menstruation and orgasm.
Unlike the drowning Ophelia, Beyoncé conquers the water. The next scene sees her slam the doors of a church open and walk down the stairs followed by a great flood symbolizing her rebirth. This sequence illustrates the extreme contrast in her emotions, moving from anger to ecstasy. Wearing a wavy yellow dress and a wide smile, she strides down a New Orleans street smashing cars and store windows with a baseball bat while singing the lament "Hold Up": "Can't you see there's no other man above you / What a wicked way to treat the girl who loves you."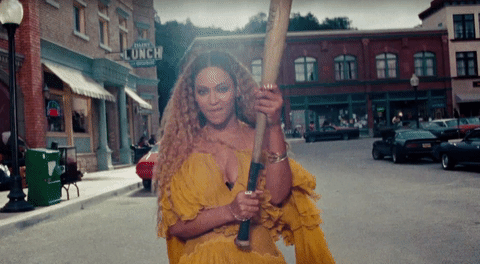 The water returns as an invigorating symbol when she smashes a hydrant and jumps in the water stream with the same vigor as Anita Ekbergh in the Trevi Fountain scene of Federico Fellini's La dolce vita. Several critics have pinned the scene as a reference to the Swiss artist Pipilotti Rist's video installation "Ever Is Over All," which also juxtaposes conventional femininity with violent destruction. The scene's grainy and oversaturated look is reminiscent of Sean Baker's dreamlike Los Angeles in Tangerine — another film about black women fighting for respect on the street. By blending high and low culture with religious symbols and female identities, Beyoncé embraces and fights for the empowerment of all — but particularly black — women.