Afrika Bambaataa, known for "Planet Rock" and founding the Universal Zulu Nation, made headlines earlier this month when allegations of child molestation were made against him. On March 31, former New York State Democratic Committee member Ronald Savage claimed that Bambaataa, born Kevin Donovan, forced him to engage in oral sex when he was 15 years old. Last week, three more men came forward to the Daily News with similar accounts.
"I know what Ronald Savage is saying is true because he did it to me," said an anonymous 50-year-old New Yorker. "I have never spoken to anybody about this and when I did, I said 'Holy s**t, they finally caught up to him.'"
Today (April 25), Bambaataa gave his first on-air interview since the accusations to The Ed Lover Show, denying all of the charges.
"A lot of lies," Bambaataa said of the accusations. "It could be me today and you tomorrow. I completely deny all accusations that's being put against your brother, Afrika Bambaataa."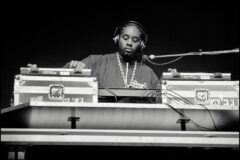 Bambaataa accused Savage of using "sensationalism just to gain publicity" for Impulse, Urges and Fantasies, the 2014 novel in which the politician recounts many of the details. The Universal Zulu Nation denounced Savage's accusations on April 12.
"By all accounts, Mr. Savage, please stop lying to the public and openly apologize to Africa Bambaataa/Universal Zulu Nation and all children world wide," Zulu Nation said then in a statement. "Not only have you disrespected morally, spiritually and emotionally, but now there are serious legal issues that come into play as well. The Universal Zulu Nation works with victims of child and sexual abuse and takes these allegations extremely serious."
Listen to Bambaataa's own denial below.
https://player.theplatform.com/p/BCY3OC/nLFNqbaKC7Sd/embed/select/media/AsTZp3QMrBdT