Welcome to our weekly roundup of the SPIN staff's favorite new songs. Below, sample the best from jilted pop queens, Pittsburgh post-punk howlers, and more.

AlunaGeorge feat. Zhu, "My Blood (Visualette)" (Island)
AlunaGeorge's saccharine vocals and late-'90s Timbaland mimicry felt fresh a few years ago. But the duo's 2013 debut, Body Music, often felt more like a repetitive exercise than an expansive piece. The DJ Snake-assisted redo "You Know You Like It" finally broke them into the Hot 100, but it wasn't until this year when it felt like London duo were truly expanding their palette. "I'm in Control" showed Aluna Francis and George Reid moving beyond their Aaliyah-bred influence, and now, "My Blood," a collaboration with electronic artist Zhu, finds them looking inward. What's inside is instantly palatable synths with a convincing temptress at its core. — BRIAN JOSEPHS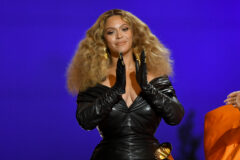 Beyoncé, "Sorry" (Parkwood/Columbia/Sony)
Not at all to be confused with Justin Bieber's track of the same name, Beyoncé's skittering Lemonade highlight is already the most quotable kiss-off of the year. Bey's protagonist has had enough of her man's philandering, so she makes a decision: to throw those middle fingers up and tell him "boy, bye." — RACHEL BRODSKY

The Gotobeds, "Brass Not Rash" (Sub Pop)
Don't think Wire, whose drummer inspired their namesake; these post-punk angle-benders are pure nostalgia for 2006. This patient raver recalls the Rakes without the fitful jerk of dance-punk, Eddy Current Suppression Ring with the frayed edges sawed off, and especially the Cribs, who committed themselves to similar riff-trash anthems with springs poking out. — DAN WEISS

Little Children, "Every Little Light" (Cosmos Music)
In the absence of a new War on Drugs album or Bruce Springsteen circa Born to Run, we have Stockholm's Linus Lutti, a clear Adam Granduciel acolyte with a taste for reverb and dramatic vocal stutter. His technique pays off on "Every Little Light," a new cut set to appear on his forthcoming LP, coming this fall. Suggesting a departure from the City of Angels, Lutti soundtracks his journey with shimmering cymbals, eroded guitar chords, and lush "oo-oo-ooo"s. The invitation sounds too good to pass up. — R.B.

Patience, "The Church" (Night School Records)
Roxanne Clifford once fronted dingy twee outfit Veronica Falls. If the emergence of her solo project means VF is well and truly over, we'd be rightfully bummed — but who can feel sad when Patience can make it all feel so good? "The Church" wraps Clifford's glassy vocals and outsize drum hits in a warm blanket of retro synths. The result is precious, disillusioned melancholy, kissing cousins to Frankie Cosmos' heartfelt bedroom pop or Casket Girls' sleepy fatalism. — ANNA GACA

Swanning, "Sleep My Pretties" (Salinas Records)
Cynthia Ann Schemmer might be best known for her involvement in Philadelphia indie-pop project Radiator Hospital, but it's not her only extracurricular: She's also an editor at She Shreds magazine, and singer and lead guitarist of the recently formed pop-punk project Swanning. "Sleep My Pretties," from their forthcoming Drawing Down the Moon EP, presents some tough subject matter (Schemmer says it's about grieving her deceased mother), but her impossibly buoyant vocals keep the sunny-sounding track afloat. — MEGAN BRADLEY

Yumi Zouma, "Barricade (Matter of Fact)" (Cascine)
A synth-pop song that perpetually takes its own advice to "just breathe, just breathe," this one's a well-hydrated summer-day clomp with singer Christie Simpson wisely letting herself off the hook for what sounds like needless Twitter drama ("It's not a matter of fact / An illusion / Things are said to your back / Sound stupid").  "A camel is a horse designed by committee," the group's Josh Burgess describes of the collaborative effort behind the track, "But I love the members of the Yumi committee and I also love camels." Come to think of it, who doesn't? — ANDREW UNTERBERGER