The 30th annual South by Southwest rolled straight into Thursday for another day of unpredictable weather patterns (seriously, Austin, make up your mind), packed streets and venues, record-label showcases, and much more. Among day three's many performers were fast-rising R&B acts, Northwest indie heroes, and tough-talking rock duos — we spotlight them all below.
Dua Lipa
Every year in Austin, there's at least a handful of relatively as-yet unknown artists who make their mark on the crowds and go on to bigger things. This year's most likely candidate for the slot is Britain's own Dua Lipa, a 21-year-old pop star with a huge, huge voice. Naturally charismatic in her style and stage presence, the London-born up-and-comer — she's signed to the same PR team as Zayn Malik and Adele, so, you know, no small fry here — brought the Fader Fort "Good Times" with her sultry Jamie xx cover. Her penultimate song, "Last Dance," was a gorgeous piece of dance-pop realness destined for major radio play. Don't snooze on her. — BRENNAN CARLEY
Tacocat
Sugar-punk Seattle quartet Tacocat (vocalist Emily Nokes, guitarist Eric Randall, drummer Lelah Maupin, and bassist Bree McKenna) made a splash at the Hardly Art Showcase with airborne beach balls for the audience and brand-new tracks from their upcoming third full-length, Lost Time (out April 1). Nokes introduced one as "a song about The X-Files," which, of course, ended up being an anthem about FBI special agent Dana Katherine Scully. Up next: a tongue-in-cheek rebuke to the first day of your period ("FDP, don't f**k with me!"). Some of their older tunes also made their way in, like the group's finger-shaking ode to cat-calling, "Hey Girl," and the beachy, on-brand "Crimson Wave." You have to hand it to Tacocat — somehow they get crowds excited to hear about Auntie Flo. — RACHEL BRODSKY
Tinashe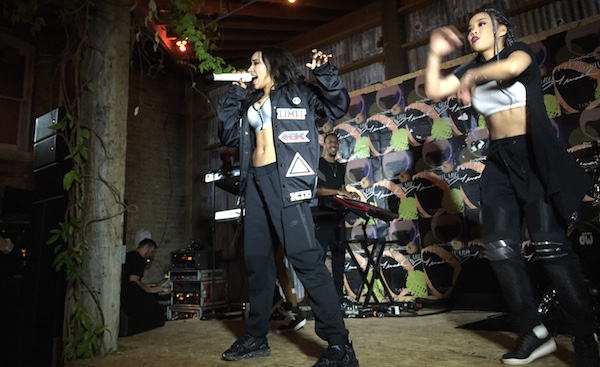 Nestled in the backyard of a private event space in far north Austin, miles removed from any of SX's main action, R&B singer-songwriter Tinashe danced and sweated her way through a 40-minute set packed with her biggest hits and newest SoundCloud drops. "Party Favors" and "Ride of Your Life" sizzled with choreographed hip-pops and lush vocals, while the always welcome "2 On" and "Player" took on new depth with their live arrangements. It was Tinashe's only play of the festival (thanks, Mac Cosmetics) but proved yet again why she's ready to headline events at every one of SXSW's major revues. — B.C.
La Luz
The West Coast four-piece is all about that touring life ("I don't know what else we would do if we didn't get on the road," leader Shana Cleveland recently told Las Vegas Weekly), and that love is reflected in their tight live show, which they brought to the Hardly Art showcase alongside labelmates Tacocat, Protomartyr, and Shannon and the Clams. On SX's third day, though, you would've thought La Luz, who very recently moved to Los Angeles from Seattle, had transported their audience to the seashore with winding, reverb-heavy jams from their 2015 effort, Weirdo Shrine. Playing with a hunk of hair hanging over her gaze, Cleveland led the crew on tracks like the nervy "Call Me in the Day" (from 2013's It's Alive) and the pristinely harmonized "You Disappear." However briefly, they made us forget that Austin isn't a seaside town. — R.B.
The Kills
Nothing says a nightcap like the electronic-infused guitars and cigarette-puffing cool of the Kills. Jamie Hince and Alison Mosshart possess onstage chemistry so rare that seeing it in the flesh is a legitimate thrill, and their StubHub finale didn't disappoint. Dipping heavily into their much-adored 2008 LP, Midnight Boom, with stops along the way through 2011's Blood Pressures (the twinkling respite of "Baby Says") and new material ("Doing It to Death"), the Kills made a convincing case that if rock is doomed, it'll only ever die by their hands. — B.C.