Austin's 30th annual South by Southwest music festival kicked off on Tuesday, and though the bulk of the celebration has yet to arrive, its first day featured a slew of exhilarating showcases to properly welcome the music-listening masses. Below, SPIN highlights SXSW 2016's five best opening acts.
Dean

Nestled in the backyard of the Spotify House on Austin's east side, a 22-year-old South Korean R&B singer/rapper by the name of Dean emerged quietly but left with a roar. Howling and rhyming over frantic, trap-heavy beats, the Bryson Tiller-indebted youngster — and recent Universal signee — had some attendees comparing him to a young Usher. Gifted with a liquid-smooth croon, Dean's the likeliest of Tuesday's acts to crossover to the big leagues. — BRENNAN CARLEY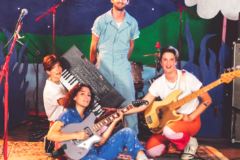 Kacy Hill
Noting that this is the second time she'd be playing SXSW without a full-length under her belt, the G.O.O.D Music artist and former Yeezus tour backup dancer proved without question just why 'Ye had his eye trained on her strobing, sharpened songwriting. Her specialty lies in trip-hop, but without the clichés: danceable, pop-minded songs that grow fuller and more imaginative as they sprawl outward. Her Spotify House set was her first of the fest; with any luck, it'll be the first of many. — B.C.
Diet Cig
https://youtube.com/watch?v=sBn1ixHSv-M
For their inaugural SXSW performance, New Paltz indie-punk duo Diet Cig (Alex Luciano on vocals/guitar and Noah Bowman on percussion) earned an A+ for energy as the pixie-haired singer wailed on the six-string, high-kicked her way across the Hype Hotel stage, and joked about having a Chad Michael Murray lookalike hand her guitars when the band eventually makes it big. "This is your mom's new boyfriend," she kidded while introducing her partner in between (relative) oldies like last year's "Harvard" and amped-up newbies about how tough it is to be punk when wearing a skirt. Expect that One Tree Hill doppelgänger to show up sooner rather than later. — RACHEL BRODSKY
Jack Garratt
"Jackie boy f**ked up, byay!" the Buckinghamshire singer-songwriter said with a grin moments after he jumped in too early on one of the songs from Phase, his recent debut studio album. The audience was quick to forgive, especially considering he was manning his set entirely on his own: drum machines, keyboards, vocals, and all. Even though it was hard to grasp how Garratt was conjuring his electronically inclined folk songs (imagine if Ed Sheeran suddenly decided to go full synth, but, y'know, somehow did it well), little charming hiccups like a missed vocal cue made it all the more relatable a mid-day set. — B.C.
PARTYBABY
It's not often that female drummers appear in bands with erstwhile all-male instrumentalists and singers, and it's even rarer that said female percussionists are the first onstage to get a shoutout during a band's set, but PARTYBABY's Chelsea Davis made it clear that those assumptions should change. "Chelsea, hit those f**king things," the California crew's lead singer, Jamie Schefman, howled at his bandmate as she crashed and slammed away at her kit, establishing herself as the set's most enigmatic and energetic component. Singing disaffected songs about youth and disillusionment and sounding like DIIV's molly-popping cousins, PARTYBABY thrashed the night away like no others. — B.C.