SPIN Rating:
Release Date:
March 25, 2016
Label:
Domino Recordings
"Right now, I don't have a backup plan for if I don't make it." That stark confession opens the Range's "Regular," from the YouTube spelunker's intricate sophomore album, Potential. The 27-year-old Brooklyn producer, otherwise known as James Hinton, has expressed appreciation for those he samples in his deftly textured exegeses on the human condition. He finds his subjects while tumbling down virtual rabbit holes so deep he discovered '90s rave music — mined for his recent Solid Steel radio show — through art-pop plastic surgeons PC Music. Building on his luminescent 2013 debut, Nonfiction, Hinton introduces a new kind of solidarity with the aspiring video stars he discovers on the streaming medium; he probably doesn't have a Plan B if this whole making beats thing doesn't work out, either. (Well, he studied math in school, but didn't we all, and now none of us can calculate a bar tab without our iPhone.)
This time, Hinton openly acknowledges and even bonds on a personal level with his sampled vocalists, whereas a few years ago he wouldn't even say who they were. The noirish music video for "Five Four" features spitters he enlisted for the melancholy track, OphQi and Superior Thought; with the crackling "Copper Wire," he connected with U.K. rapper Kruddy Zak because the year Zak mentions in his sampled verse, 2009, was the year Hinton's mother died. It's almost as if he's lost the fear of talking about himself, not to mention the possible legal ramifications of sampling anonymous YouTubers: On Potential, he's splitting credits with them. And that sense of newfound freedom and exaltation surges through Potential, a rich matrix of the Range's knack for digging up strangers' stories and assimilating breakbeat, grime, U.K. garage, and late '90s R&B.  
Skittering album highlight "Florida" buzzes with the energy of waking up naturally with the sunlight, feeling the marvelous relief at having finally beaten the exhaustion that dogs you from the office desk to your front door. Its Tinashe-esque singer echoes against the steel drums as if she's playing a game of hide-and-seek down a vast hallway, a playfulness that also pops up atop the twinkling piano arpeggios on "Retune." They're the only lighthearted moments on Potential that aren't darkened by bittersweet lyrics or vocals manipulated to a tragic depth, like the molasses-slow confession on "Falling Out of Phase": "I'm slowly fallin' out of love with you" is sung haltingly by a soon-to-be-ex-lover, dragging out his words as if this is the hardest thing he'll ever have to tell anyone.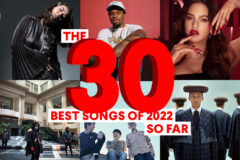 What's most remarkable about Potential is Hinton's innate ability to transmit a range (ahem) of emotions through a very consistent palette — some might say a little too consistent, with only slightly discernible differentials between each track's micro-sketched melodies. "Skeptical" opens with unresolved bass hits and quickening, hissing slaps to match the title, even though the character speaking in a thick Cockney accent about being "inside Hyde Park lampin'" is probably just chilling the f**k out. And therein lies the power of the Range's low-bitrate manipulations: elevating the stories of others while translating his own affinity for them into beautiful music.