SPIN Rating:
Release Date:
February 26, 2016
Label:
Self-released
Two people whom there will never be a consensus on are Kanye West and Macklemore. Their very artistic existence represents the division that imbalances us as human beings in society; they are repelling magnets, the opposite ends of a spectrum, regardless of what you think those ends represent. Macklemore is the least Kanye person in hip-hop, and vice f**king versa. Kanye occasionally feigns self-consciousness, but that's more refracted through the reactions of others, who tell him what he is. He bounces off opinions excellently, artfully, with jazz-like results, forming a complicated vein from the beginning to wherever he lands, which sure ain't the ending.
By contrast, Ben Haggerty is, uh, Google Maps: Programmed to believe he possesses the ability to mark the straightest line from A to B, he actually makes mistakes all along the way due to his poor calculus of city interference: "I'll just name the first song on my first album 'White Privilege' and get that out of the way!" imagined gentle Ben. The guy's heart has been in the right place for so long it's rent-stabilized. He's so self-conscious he bets he thinks your song is about him, and it made him so sad he ate an entire pint of Talenti in one sitting (typically Mediterranean Mint but he's gearing up to try Old World Eggnog). His guilty conscience makes J. Cole look like Lil Ugly Mane.
In 2012's unprecedented chart breakthrough and DIY triumph The Heist, Macklemore found out what was in a name, after Rap Internet accused him of thieving black culture and talking down to hip-hop, via the mismatched economic motives of "Thrift Shop" and the gay-marriage gauntlet "Same Love." Both singles were absolutely huge, hence the necessity for the follow-up to embark on an (ill-gotten) award tour with Ryan Lewis his man. Four years later, with This Unruly Mess I've Made, he's dropped the album that Kanye haters wanted Kanye to make, where the asshole confesses all his sins and baptizes himself in bleach to become Good. If you can make it through the hourlong opus without wincing at least once, you're a better Trump voter than I.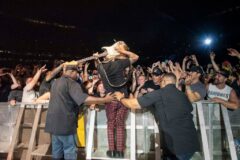 But if you can't find anything to enjoy either, you're too worried about your Klout score. For starters, Ryan Lewis' Wonder Bread extravagances have thickened into sourdough, with the all-time-realest DJ Premier and KRS-One assisting the distant, unending squall of "Buckshot" and Lewis holding his own through the horn blats and blocky staccato keys of "Brad Pitt's Cousin." The desolate, sprung guitar of "St. Ides" over "Time of the Season" percussion is a special favorite, and Seattle polymath Ahamefule Oluo's jazz interjections on the moral ouroboros of "White Privilege II" haven't received enough credit during its many unpackings.
That's not to say Lewis couldn't stand to throw a wrench into his grandiose machinations sometimes. The stolid strings on the opening "Light Tunnels" conjure up the preteen violinist that RIAA schmuck brings out at the Grammys with the expression like he'd rather be modeling at Yeezy Season 3, in the Barney Rubble tunic and everything. And he has a tendency to over-rely on the profundity of individually plinked piano notes, which becomes a nuisance in the second half.
Then there's the unruly mess upfront, who's braver than he gets credit for, but may also be stupider than he takes heat for. It's precisely that willingness to look like a fool — to leave his attribution of A Raisin in the Sun to Langston Hughes in the pre-released "Growing Up" even after he surely saw all of the comments sections catching his typo, and right after he says, "I don't wanna mess this up or do this wrong" — that makes him kind of likable. (It's the executive decision to put Ed Sheeran in the Mary Lambert role on that one that argues otherwise.)
About that Yeezy thing though: If gospel is in, Macklemore's been a preacher since before it was cool, and the back-to-back ultra-lightweight beams "Growing Up" and "Kevin" hearken back to The Heist, released while Kanye was still listening to Death Grips. Chance the Rapper (who really is friends with everybody) bests both without breaking a sweat on the convincingly Acid Rap-like "Need to Know"; the impressive array of guests here actually does feel less like Macklemore proving No Really, He Has Black Friends than a sincere attempt to no longer be "the only hip-hop [his fans] let their kids listen to," as "White Privilege II" grimly entails. But like the most unwelcome "deez nuts" joke of all time on "Brad Pitt's Cousin," even smart pairings don't always serve his idiocy well.
It's almost self-parody when YG talks about when he got shot on "Bolo Tie," and how it received more news coverage than his non-profit work, while Macklemore's own verse begins, "I never won the spelling bee," before detailing a bunch of first-world problems (and also addiction) that don't equate with gang violence. It's this sort of disconnect that makes him Actually Uncool and not just a walking "Hi Hungry, I'm Dad!" joke: Macklemore is, improbably, in the unusual position of being able to shame us for what gets clicks on "Light Tunnels," due to his (and his many, many collaborators') DIY success. Except is he? Maybe we'll find out when he drops White Privilege VI: The Search for Wanz?
Randomly, Macklemore is at his worst here on body image, like when the self-described "Brad Pitt's ugly cousin" attempts to deprecate himself on the too-much "Let's Eat" ("My girl's shaped like a bottle of Coke / Me? I'm shaped like a bottle of nope"). But he inadvertently counters his own "I like a big girl" posturing from "Downtown" (and certainly the alleged cuteness of comparing his woman's belly to Gucci Mane's on the unstandable bonus track "Spoons"). Even the most body-positive person feels like a bottle of nope from time to time, but this is an area where his waffling insecurity fails to deliver anyone from the same doubting fate. At least Drake did it with panache.
"Same Love" was more substantive than grandstanders of social justice want to believe; denying that "gay is synonymous with the lesser" has been a problem for the majority of rap's existence is like saying "racism is over."  But there's no mistake that Mess is at its best when it achieves total inscrutability. Enter "Downtown," where Eric Nally's gender-exploding delivery on the hook resembles the opening shriek of "Angel of Death" from the Original Broadway Cast version of Slayer: The Musical. As you know, it's. About. A. Damn. Moped. It also got rap pioneer Grandmaster Caz on the charts for the first time ever, alongside equally legendary vets Melle Mel and Kool Moe Dee, all of whom are alive and rapping their asses off. The Munsters-like "Dance Off" wants badly to win your approval, and with Idris Elba on the hook, it succeeds, albeit in its pandering way: Name-checking Savion Glover ought to prove at least three haters wrong, and "Ladies! Fellas! Don't drunk dial your exes!" is a sermon everyone can get behind.
Speaking of those: "My success is a product of the same system that let off Darren Wilson" and "We take all we want from black culture, but will we show up for black lives?" are things every one of his fans needs to hear, with Chance crucially shaming "a lot of white girls [who] call me 'nigga' at my show." How many flawed artists can you say are that determined to make their supporters better people? The bipartisan-friendly liberal Brad Paisley certainly didn't bite down harder despite being a thousand times more eloquent on "Welcome to the Future." So what if Haggerty's coolly false cadence sounds constantly ready to punctuate a thought with "I've got to have my pops?" More often than not, Google Maps gets you to where you're going, even if it has to reroute a few times.