He's gonna cancel on me. A blizzard is on the way, and the first flakes have started falling on this nervous Friday morning, two days before Valentine's. I'm sitting in an upscale bagel shop in Edina, Minnesota, less than a mile from Paul Westerberg's house. I'm drinking strong black coffee and absently picking at an onion bagel while eyeing my phone. It's 11:45 a.m., I'm supposed to be meeting Westerberg at noon, and we haven't even locked in a location. After three weeks of carefully crafted requests, the famously reclusive singer-songwriter and frontman for alt-rock pioneers the Replacements finally accepted this interview. We agreed that I would hang out at Westerberg's while he lays down tracks with his new partner-in-crime, Juliana Hatfield, for the I Don't Cares — their lo-fi, low-pressure Americana outfit — along with longtime friend and drummer Josh Freese.
The plan began to unravel during my drive to Edina, an affluent, artsy suburb just outside Minneapolis. Instead of going straight to the house, Paul first wants to meet at my hotel in the adjacent town of Bloomington. Problem is, he doesn't have a car or a driver's license, so that idea is scrapped. Then I'm told through his manager that he now wants to meet at a neutral location (not a bar) where he can smoke. Short of a VFW hall, all three of us are stumped, and that's why I'm staring at my phone in a bagel shop on a freezing Minnesota morning. Just before noon, his manager calls and I'm told I can go directly to the house, and if I could bring Paul a large mocha with three shots, that'd be great.
I hear the piano before I see him and take a moment to listen before knocking. The grand is located just to the right of the front door in the main hallway and through the window I see Paul, smoking and essentially noodling on the keys. He opens the door and greets me warmly, a strong grip, spiky hair and crooked smile. "You f**kin' made it," he says. A 56-year old native Minnesotan, Westerberg doesn't care that I keep my snowy boots on in the house. He's covered head-to-toe in gray, replete in charcoal suit jacket, slate pants, and undershirt. "I woke up one day and all my clothes were gray," says Westerberg. "I think that's a reaction to coming off [the Replacements] tour, where it was all that plaid and crap. Now everything is grey and it's like, 'F**k, I gotta break out of this.'"
There's a moment of awkwardness as we size each other up. He's almost exactly my height, 5'7'' and change. "Jules [Hatfield] and Josh couldn't make it, so you just got me," Westerberg says as he pulls a chair closer to a cream-colored leather couch. "You take the interview chair," he tells me before sinking into the couch and lighting a Parliament with a Zippo. Guitars, amps, and ashtrays litter what is technically the dining room. The house is big and silent, save for jazz that sounds like Coltrane serving as light background score.
"I second-guessed this interview," Westerberg says. "I was gonna cancel yesterday but I vacillate. I was like, 'F**k! I can't do this!' Then 15 minutes later I thought, 'This is just a guy who wants to talk to me. What's the problem? Why am I scared?' That's the kind of thinking that comes from being alone." Following the dismal dissolution of the Replacements (which ended suddenly and bitterly on July 4, 1991 in Chicago's Grant Park) Westerberg and original bassist Tommy Stinson gave fans long-awaited closure with a Replacements reunion in 2013, a two-year run that ended last year at Portugal's Primavera Porto.
In true 'Mats fashion, the reunion ended abruptly and unofficially. Westerberg favored a declaration of the band as "lazy bastards to the end," and smashed his guitar at Primavera, instead of a press release declaring the reunion dead. But he's quick to point out that the Replacements haven't broken up. "It came off like I called the band 'lazy bastards,'" Westerberg says. "I called us 'lazy bastards.' I didn't go to the f**kin' soundcheck! It was me speaking for the band. We are lazy bastards 'til the end. People took that and ran with it."
Once again, Westerberg's life slowed to a crawl. He divorced amicably from his wife, author and former ZuZu's Petals guitarist Laurie Lindeen, in 2014. Their 17-year-old son Johnny, who divides time between Paul's house and Lindeen's, is about to head off to college. "I'm lonely," Westerberg says with a laugh. "I didn't do any interviews when the Replacements were playing because there was nothing to talk about. There wasn't any new music. I did an interview to promote a gig but that was about it. I don't really have anything to say, but why not? It might be my last."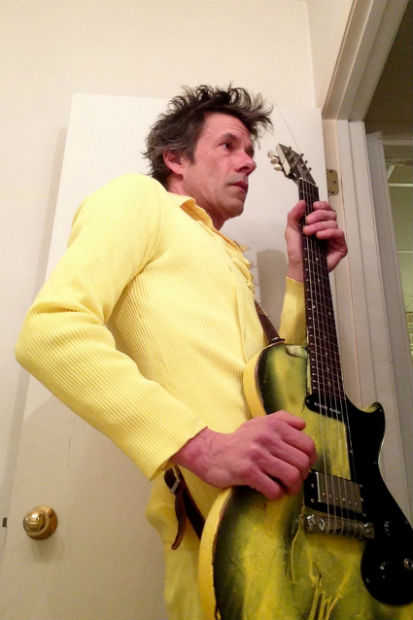 As frontman for the Replacements, Westerberg became an unlikely hero, his ragged poetry an anthem for beautiful losers and drunken dreamers. His solo career has been praised but unfairly marginalized as an also-ran, never quite living up to the promise and lasting legacy left by the Replacements. After the majorly hyped and generally well-received solo debut 14 Songs in 1993, 1996's Eventually failed to spark crossover success. And following the lackluster response to 1999's Suicaine Gratification, Westerberg became fed up with labels and venomous critics. He stopped playing the game, opting for semi-retirement in Edina to raise Johnny. The majority of his subsequent output — be it credited to his own name or his troublemaking, goofy-hat wearing alter-ego Grandpaboy — has been recorded lo-fi in his basement recording studio. Public appearances and interviews became increasingly sporadic, and with seclusion a folk legend grew, threatening to swallow the musician.
The I Don't Cares dropped "1/2 2 P" on Halloween last year, and while the duo's formation came as a surprise, the collaboration sounds and feels natural. The Juliana Hatfield Three grew out of the '90s alt-rock scene, trading in similar stock as Westerberg with their brand of rootsy, heartfelt power-pop. Her timbre is sweet yet powerful, and pairs seductively with Westerberg's rasp (the duo playfully refers to the contrast of their voices as Sandpaper and Daffodil). "I didn't come off the Replacements tour gung-ho about making a record," says Westerberg. "It was an extension of, 'Now what the hell do I do?' Jules and I were pretty close and I played her a bunch of the junk I'd been sitting on. I really didn't want to go back to being all alone. It was nice to have a partner to run things over with."
Released this past January through Westerberg's indie label Dry Wood Music, the I Don't Cares' debut LP, Wild Stab, is just as loose and ramshackle as the band's name implies, recorded in Paul's fabled (among fans, at least) basement studio. "I had a bunch of songs that I carried around with the band for three years and she was the only one that heard [them]," says Westerberg. "She heard songs like "Back" and "Wear Me Out Loud" and encouraged me that we should do something with it."
I ask if I can see the basement and Paul stubs out his smoke. "Sure," he says enthusiastically. The basement is almost exactly as I pictured it. To the left are more couches and guitars. To the right is the "studio," a tiny room that can accommodate maybe four people comfortably. The barren walls are spray-painted haphazardly green in patches, as if a teenager, not Paul, tagged the place. There's a drum kit, piano, and heaps of cords. A framed Thelonious Monk poster leans against the wall.
"Lemme play you some stuff we've been working on," Westerberg says before queueing up "Sad Go Round," a rollicking, soon-to-be released I Don't Cares tune. Paul closes his eyes and listens intently, his head cocked slightly to the side like a puppy. Halfway through the song he stands and plucks absent-mindedly on the piano. "The bane of my existence is the utter confusion that reigns down here," grumbles Westerberg. "I couldn't find a certain song if I had to. It's literally me going through old tapes, putting them on, and seeing what the f**k is on there. Nothing's labeled."
https://youtube.com/watch?v=6RYQ8Y-ObMw
We exit the basement and head to the kitchen. Along the way I pass by a massive CD tower, containing Westerberg influences (the Hollies, Chuck Berry) and the inexplicable (Buckcherry). I ask if Alex Chilton, lovingly immortalized in the Replacements' 1987 track "Alex Chilton," is his musical hero. "I liked him for those couple years but I was never wild about him," Westerberg says. "I like Gene Vincent and the way he looked. I like Johnny Thunders." Paul makes me a cranberry juice with a splash of mineral water. I ask about his health, mentioning that he appears to be drinking in a January 2016 Vanyaland video interview. "I'm not drinking now, but being on the road with that band and that pressure, it reared its head. If you ever fool yourself into moderation as an option, it prolongs it but it doesn't cure it. I was like, 'I'll have two glasses of wine.' Then it turned into every night and suddenly my head is a little foggy and I'm not thinking as straight as I used to. It creeps up on ya."
Paul takes a pull on an e-cig. I give him a heart-shaped cookie, decorated with Valentine's red frosting, that a friendly, tattooed gas station attendant gave me when I told her I was in town to interview Westerberg. He chews it slowly. "My dad died in 2003," he continues. "That's when I started to drink again. He died slowly of emphysema over a couple of years. That's really where I got an education. Johnny was little and there I was with my dad cutting his dinner so he could eat. He had me shave his head. I remember it was on Halloween, the day he got his last rites. I had to run home right after and take Johnny trick-or-treating. That stuck with me. I thought, 'I'm a dad now. I gotta f**king buck up and do what I gotta do.'"
We relocate to a screened-in porch overlooking the backyard. Late afternoon sun hits Paul's face and he squints. Hockey sticks and skates rest in a bundle. "Physically I feel better than I have in a long time," he says. I inquire about his bad back, an ailment that required a stage couch for the Replacements' 2014 Coachella appearance. "People thought the couch was a stunt," says Westerberg. "I came home for the winter, did a mess of shoveling and man, I had to buy a cane and the whole bit." When asked about the reaction that the post-millennial Coachella crowd had to the Replacements, Westerberg laughs. "Hostility would have been welcomed," he says. "It was forced apathy. They didn't want to look. I think they were scared. We're a real f**king garage band. I could tell that the younger people weren't used to seeing the real thing." 
One of the more interesting "stunts" on the 'Mats' reunion tour was Paul's habit of wearing different T-shirts every night, each featuring a different letter spray-painted on them, eventually spelling out the disconsolate message, "I have always loved you. Now I must whore my past." I ask if he felt like a whore and Paul grins. "I was thinking of the next step, that if it was to continue and we made another Replacements record, that would be whoring my past," he says. "The band texted each other today! Tommy texted me one word and I texted three. We make each other laugh, Tommy and I."
Paul takes a long pause, the smile fading from his lips. "We're also bad for each other. In the short run we're good but it's no mystery that half the guys died around us." Since the birth of the Replacements in 1979 (Westerberg was 20, Tommy was only 12), the sardonic Paul and wiseass Tommy have shared a combative, brotherly relationship. It's a bond that has weathered breakups, addiction and the 1995 death of Tommy's brother, Bob Stinson, founding Replacements guitarist. "We go through our little things but we're tight for life," he concludes.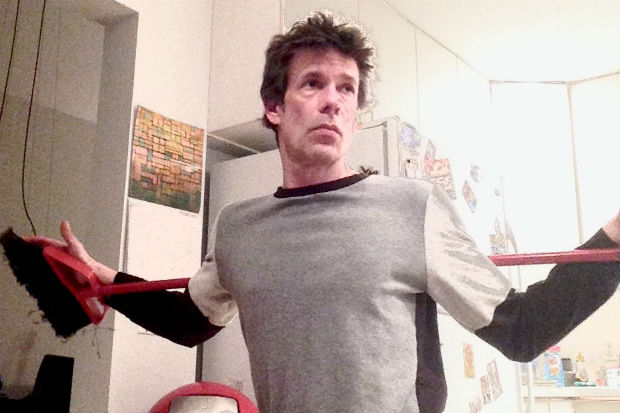 Paul rises from his chair and wants to play me a song, "Black Cadillac" by Joyce Green. It's a track from an old rockabilly collection, a bluesy missive about a scorned woman putting her lover in a hole in the ground. "This is the good s**t," Westerberg says, his eyes closed as he rocks silently in his chair, head slightly cocked again.
"I don't think I've written my best song yet," he says. "There are things I'm proud of, like [1999's] 'Self Defense.' Then there's other junk that was just off-the-cuff, like [2002's] '2 Days 'Til Tomorrow.' 'Dyslexic Heart' [from the 1992 Singles soundtrack] is not my best song. I had a lot of people around me pushing that song, to put in those 'Na-na-nas' and make it big. You f**king Google me and that thing pops up as being my torch. It's a little overdone."
My next question follows naturally. "Do you wish you were more popular?" Paul pauses in consideration. "No," he says definitively. "I say that and I'm still a human being. The I Don't Cares record charted at No. 150 and the next day it dropped. I'm trying to be cool and think it doesn't matter. Then I spend the day kicking s**t. Any time I put something out I'm afraid and I want people to like it. This record was not meant to sell."
The house phone rings and Paul lets it go to voice message. He doesn't pick up the phone a lot. In addition to his lack of a driver's license, he doesn't have an email. "The Internet's not good for me," he says. "For anyone with an obsessive-compulsive nature like me, there's too many rabbit holes. I'm better off if I get up and ride my bike early in the morning, even if it's just to buy a coffee and a smoke."
I decide I want to play a game, similar to the Replacements free-association segment featured in the 2003 Westerberg tour documentary, Come Feel Me Tremble. "Great, I love games," he says, clapping his hands. "It's free association," I say. "I'm gonna name a solo record and you say the first thing that pops into your head. Cool? Here we go."
14 Songs (1993): "Overly written songs with huge expectations."
Eventually (1996): "'These Are the Days' should have been a hit."
Suicaine Gratification (1999): "I think my best. The saddest and the best."
Stereo/Mono (2002): "A lot of songs to digest. I couldn't reproduce it if you put a gun to my head. I did so many weird, wrong things, and ran the mixes through amps and s**t. I had no idea what I was doing but it turned out really good. 'Let's Not Belong Together' is a great lost song."
Come Feel Me Tremble (2003) "I can't even think what's on it. Is that the one with 'Soldier of Misfortune' and that s**t? 'My Daydream' is a good song."
Folker (2004): "Every one of these records makes me think of someone. I thought 'Jingle' was kinda good. I can't remember any of the other songs because they're s**t. I've learned that there's a reason you don't remember the ones you've forgotten."
Open Season OST (2006): "Money. I had to pay the f**king rent on the house. People think I'm rich but I owe more money than anybody realizes. You take Hollywood's money and you eat Hollywood's s**t. They ain't called me back since."
49:00 (2008): "If I drop dead tomorrow, that's my masterpiece. I'm so tempted to [make a record like that one] again, but I can't go through it again. It was absolute insanity and I was so frightened when I made it that people would think I was schizophrenic."
I ask Paul if he can play me something on guitar and he reluctantly agrees. "I seriously can't remember anything," he tells me. After some false starts trying for "Kiss Me on the Bus," a classic 'Mats tune from 1985's Tim, Paul stares at me blankly, guitar slung over his shoulder. I call out, "Johnny B. Goode!" and he lays into it with teenage abandon. "I've been playing that since I was a kid," he laughs. The doorbell rings and I retrieve a UPS package. "Ahh, it's a little Valentine's package from Jules," he says, his eyes lit like sparks. Paul very politely refused to discuss his and Hatfield's personal relationship during the interview, but I can tell, right now, he's happy. "She gets me," he says. "She knows the real me."
As we shake hands at the door, his eyes drift upstairs towards Johnny's room. "I don't know how long I'll stay here," he says, cigarette smoke obscuring his eyes. "They keep knocking down the houses in my neighborhood. I've never moved on my own, so we'll see how that goes. This is Johnny's home, but I spend half the time throwing things out these days. Throwing out the past. I don't want to be too philosophical, but to be happy, it doesn't matter where you are."