Macklemore's appreciation of tacky thrift shop purchases is no secret, but one recent Etsy purchase the rapper allegedly made is somewhat eyebrow-raising. According to a lengthy profile in Rolling Stone, the rapper, whose real name is Ben Haggerty, owns an oil paining of Justin Bieber, naked, with a syrup-drenched pancake draped across his erect phallus. It's reportedly hanging on the wall of the studio the rapper built with his collaborator Ryan Lewis. To quote the RS article's writer and witness to the portrait, Jonah Wiener:
On the ground floor is a recording room with a ton of audio gear, a wall of guitars and racks of outlandish garments spouting sequins, fringe and feathers. "Those are Ben's," Lewis notes. There is a kitschy velvet painting of a bald eagle, an oil painting of Drake dancing and a transfixing rendition of a naked Justin Bieber with maple syrup pouring down his chest onto a pancake balanced on his boner. "Ben spent a lot of time buying weird stuff on Etsy," Lewis says.
Vulture tracked down the oil painting in question, a magnificent piece by the Etsy user DanLacey.
Why Macklemore bought the painting is a mystery (it's funny, we guess?) but the artist was likely inspired by a tweet Bieber posted more than five years ago. Here are some other works of art inspired by Bieber's pancake lovin'.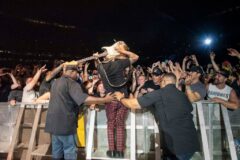 Im thinking pancakes for breakfast….with some nice maple syrup. Who doesnt love maple syrup? I love maple syrup….

— Justin Bieber (@justinbieber) September 28, 2010