Beneath the pop hooks and pulsing beats of her Raceday EP and breakout single "Jitter," a punk heart and rebellious spirit drives 19-year-old Grace Mitchell. While Mitchell's material to date is structured around glitch and speedy BPMs, Mitchell performs with the wild abandon of '70s punk, recalling a Horses-era Patti Smith. During her recent performance at the Music Is Universal Event styld.by Gap, presented by Universal Music Group and Marriott Rewards, Mitchell pogoed, pulled her hair and pounced, owning the crowd within minutes. Mitchell seems most comfortable in rock star attire rather than glitter pop garb. Her Bowery-throwback style plays a crucial role onstage and off. Whether dressed in laid-back denim onstage (styled in Gap by celebrity stylist Petra Flannery before the performance) or outside during our interview (a black leather jacket paired with late afternoon sunglasses), Mitchell's fiery red tresses and aggressive stage presence make her just as striking on stage as on record.
How are you adjusting to life in L.A.?
Very well. I have a really awesome community of musician and filmmaker friends that immediately accepted me into their group. I didn't really feel like I had much of a community in Portland. I miss the small memories that I made in Portland, like going down to the food carts in Southeast Portland.
Do you feel like you've had to grow up quickly?
By leaving home and being on my own, I've learned a lot of adult things that I didn't know were crucial to being a functioning part of society. It's been weird doing that alone. I never feel like it's all happening too quickly. I like experiencing life as a totally immersive experience.
What can you divulge about your upcoming debut album?
We have a bunch of material accumulated already. Hopefully around summer or fall you can expect a single to drop.
Do you hear a beat first or does a lyric spark a song?
It happens organically. I don't have a specific process. Obviously, I feel the least judged when I'm alone creating, but I don't have a problem expressing myself around other people.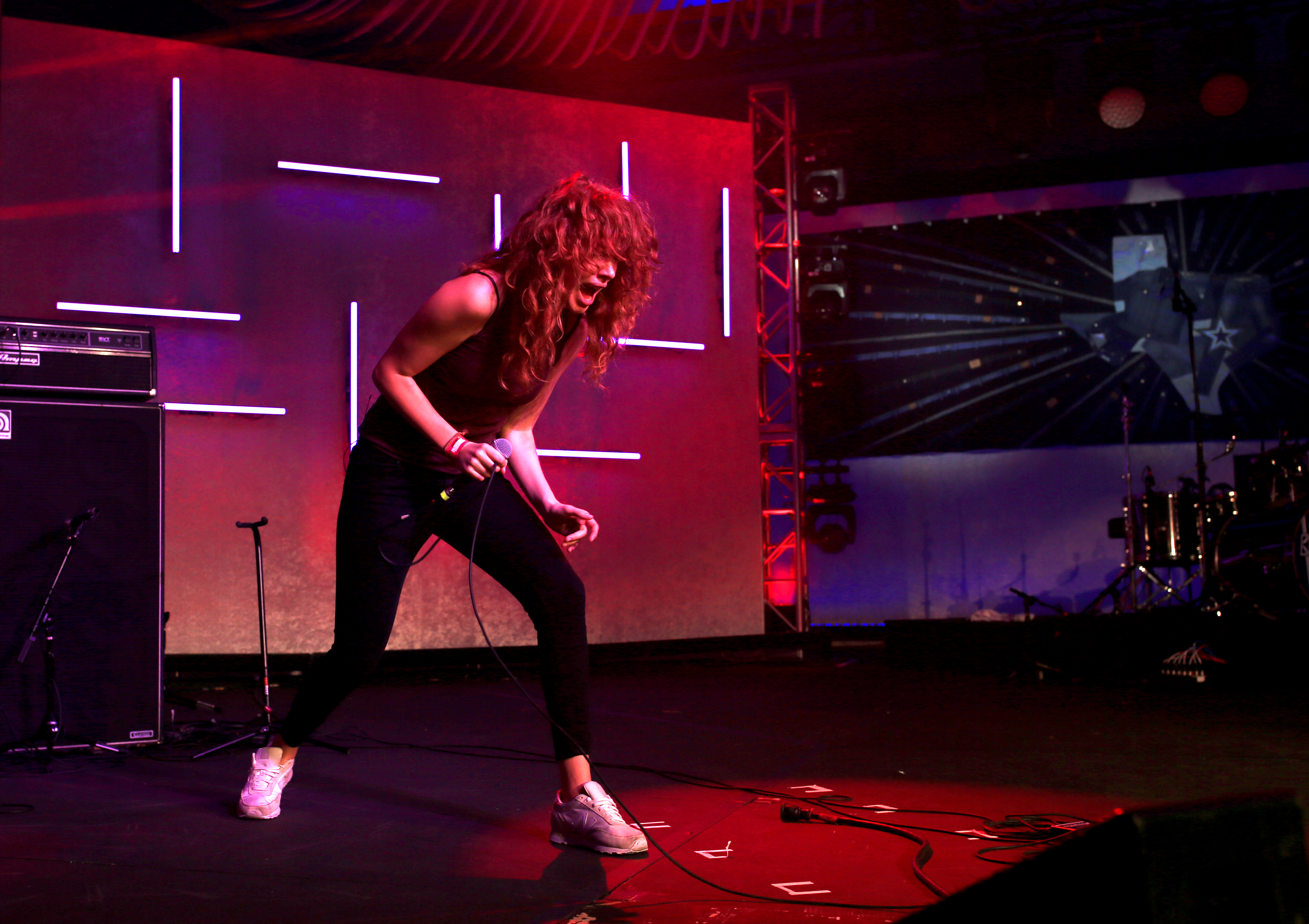 What generation do you relate to stylistically? I got a hint of new wave love from your show.
Really? I'd say the '60s, '70s and the '90s. I kind of skipped over the '80s. Visually, aesthetically and sonically, I'm in a '60s-driven phase right now. I'm super inspired by that sound and the punk that was coming out of Detroit. Jim Morrison, Warhol, the Velvet Underground, and Patti Smith are all majorly influential.
Has the St. Lucia tour been a whirlwind?
It was definitely a whirlwind. It was my second tour so it didn't feel entirely new, which was a good thing. We did have a lot more technical problems this tour. We have a lot of technology on stage so you have to manage a bunch of different things. This tour was more difficult but just as much fun. During our first show in Minneapolis, we had a technical difficulty that lasted 15 minutes and I had to improv the whole time. I tried to tell jokes but I'm not really good at telling them and I don't know many. I basically just talked to the audience about the importance of voting which was a snooze.
How did you find your stage persona?
As far as their ambition, motivation, and how they compel an audience, I'd say Iggy Pop and Patti Smith. I frequently google image search their live performances to see how they interacted with the audience. It psychs me up.
Do you think you'll do a lo-fi punk record?
Absolutely. The full-length is actually a lot heavier than the last two EPs. I started making music acoustically on guitar so now I'm getting back into that. On the first two EPs we did a lot of electronically motivated things because that's what I was into at the time. I feel the sound is more evolved now, and while I still love electronic influences, I want to push more acoustic stuff into my performance.