Today, the lineup was announced for Panorama, the East Coast festival expansion of Goldenvoice, producers behind the country's preeminent music fest, Coachella. Exciting as the prospect of a Big Apple Coachella may be for New Yorkers, news of Panorama's arrival has been bittersweet, due to the obvious friction it's caused with Founders Entertainment, the company behind NYC's other, already-established three-day music extravaganza, Governors Ball. Panorama will take place at the same location (Randall's Island) and within a few weeks' proximity of Gov Ball, leading to concern that the smaller Founders will be squeezed out by the bigger-banked Goldenvoice.
Of course, most tri-staters won't stand on brand loyalties when it comes to choosing which of these fests they'd rather attend this summer: It'll probably come down to the lineups. And now that we have the Panorama roster, it's down to a good ol' fashioned bake-off between the two fests. Whose menu do we prefer? Let's break it down.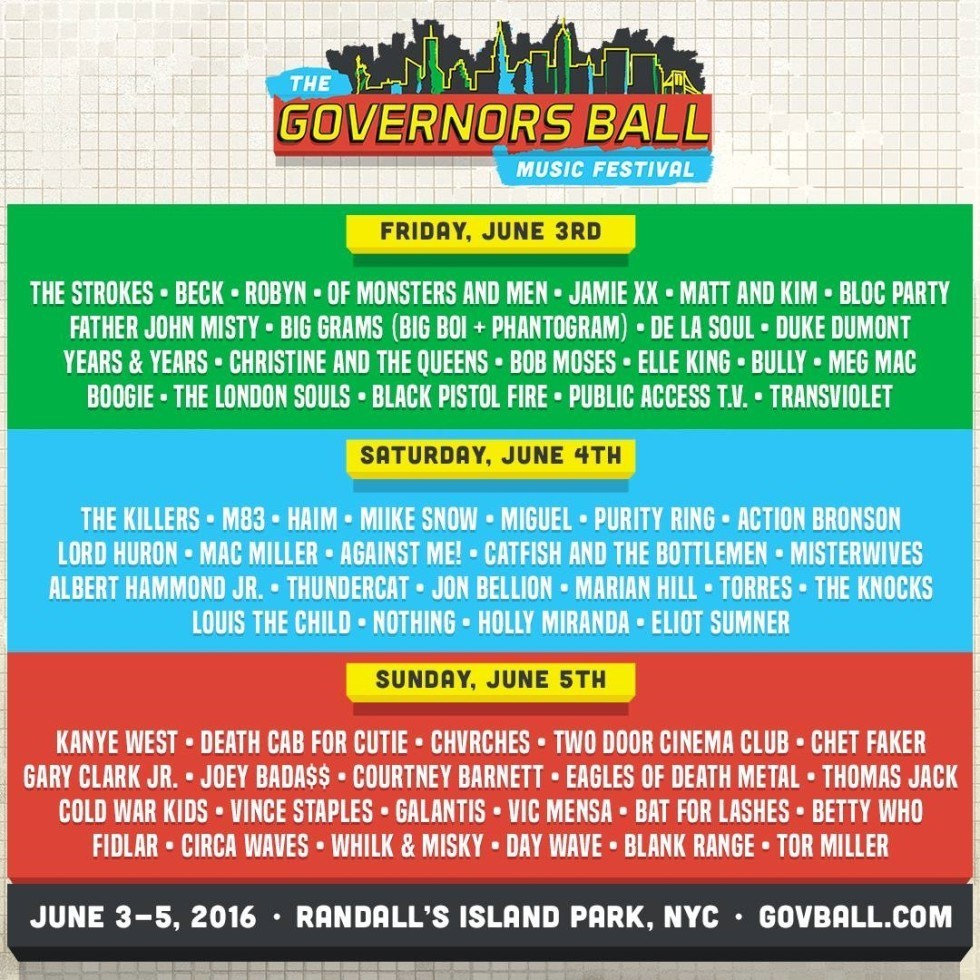 HEADLINERS: The biggest burn here, and perhaps the clearest demonstration of the difference in resources between the two fests, is the presence of LCD Soundsystem — a band long cited by Founders as a dream headliner for Gov Ball — on the Panorama lineup. (Undoubtedly, Panorama always had the inside track on Gov Ball here, since Goldenvoice could offer LCD the Coachella headlining slot for their first reunion gig in exchange for their New York allegiance.) Their other two headliners — Kendrick Lamar and Arcade Fire — are also unquestionable top-tier landings, especially if Arcade Fire will have new music officially on the way by then.
The top three for Governors Ball is less obviously rock-solid. Kanye West is a repeat headliner (albeit one likely to draw as much attention as anyone), the Killers feel well behind the times, and the Strokes, while NYC festival royalty, drew an early evening slot when they played Gov Ball two years ago, and haven't particularly grown in esteem or catalog since. Which isn't to say that any of Founders' marquee acts won't be able to please crowds, but it seems unlikely that they'll excite (or draw) them in the same way.
Advantage: Panorama
SECOND TIER: The level or two below the headliners is often just as important to a festival's success, if not more so. Gov Ball's top row might fall short of jaw-dropping, but their next couple are more encouraging: Beck, Robyn, Death Cab for Cutie, M83, HAIM, and, uh, Of Monsters and Men. (Hey, the one song was OK.) Panorama counters that with Alabama Shakes, Major Lazer, the National, Sufjan Stevens, Sia, A$AP Rocky, and Kurt Vile & the Violators. This is a pretty close one, but the combination of Beck and Robyn brings star power and depth of catalog that none of Panorama's lieutenants can quite match — and, we can only hope, the promise of new albums.
Slight Advantage: Governors Ball
DIVERSITY: The biggest complaint to have with the top third of Governors Ball's lineup is that there's not a ton of obvious variety to be found — after Kanye, the next non-white performer comes at the end of the fourth row with De La Soul, and just about everyone in between is an indie-approved rock or pop act. It gets more diverse deeper in the lineup, but generally, Panorama has the more natural blend here — better representation of hip-hop (Kendrick, Rocky, Run the Jewels, ScHoolboy Q, even DJ Khaled) and dance (Major Lazer, Flosstradamus, RÜFÜS DU SOL), and slightly less-obvious demographic pandering. Disappointingly (if unsurprisingly) neither festival has a female headliner, though both have a more-respectable number of female acts in the next few tiers.
Advantage: Panorama
CREATIVITY: Neither festival gets a ton of points for thinking outside the box here — no name on either lineup is as unexpectedly exciting as, say, seeing secret Governors Ball highlight "Weird Al" Yankovic on last year's bill. Aussie alt-soul sensation Chet Faker is probably the most surprising name on the Gov Ball roster, while Panorama counters with… Khaled? Grace Potter? Tough to say. The slight edge here probably goes to Panorama for having some more interesting choices at the bottom of their lineup: Chicago house producer Black Madonna, former Voice contestant turned biting singer/songwriter Melanie Martinez, and, well, whatever or whoever Horse Meat Disco is.
Slight Advantage: Panorama
NOSTALGIA: This factor, above all else, is what Founders is undoubtedly banking on carrying the day for their fest's supremacy. The seven top-listed acts at Gov Ball — Kanye, the Strokes, the Killers, Beck, Robyn, Death Cab, M83 — were all arguably about as popular a decade ago as they are now. Panorama gets a little of that with Arcade Fire and LCD as headliners, and the National and Sufjan playing the undercard on Kendrick's big day, but if you're a New York lifer in your mid-to-late 20s lamenting that there were never any cool festivals for you to attend when you were a kid, there's no doubt which of these you'll be leaning towards.
Advantage: Governors Ball
CURRENTNESS: Despite leading the looking-back discussion, there's also plenty of high-quality contemporary acts to recommend at Governors Ball: CHVRCHES, Courtney Barnett, Bully, Miguel, Betty Who, Jamie xx, HAIM, Action Bronson, Vince Staples, and Christine and the Queens leading the way there. Panorama boasts the bigger names in 2016 hip-hop, but they drop off a little when it comes to rock and pop; once you get past Alabama Shakes, FKA twigs, Kurt Vile, and Sia — the latter two of which are hardly newbies themselves — there isn't an enormous amount to work with.
Slight Advantage: Governors Ball
NYC REPPING: Can't ignore the five-boroughs factor here, even if Randall's Island does tend to feel a world away from the city. Both fests boast one headliner that's a definitive 21st-century Big Apple band: the Strokes and LCD. Beyond that… well, Governors Ball has modern-day Queens icon Action Bronson, a solo Stroke, and a New York dance-pop duo whose name is one letter removed from the Knicks. Panorama has one-half of Run the Jewels, the Brooklyn-proud Flatbush Zombies and the National, and, uh, Museum of Love are on DFA and have an LCD member so they must be at least partly New York-affiliated. Neither of these fests are exactly designed to burst at the seams with civic pride.
Advantage: N/A
MOST UNMISSABLE ACT: Ultimately, this is probably what it comes down to, and that battle is likely between Kanye for Governors Ball and LCD for Panorama. Yeezy gets a shot at erasing muddy memories of 2013 while playing material from the most-talked-about album of 2016 in his first New York live appearance of the year (if you don't count the Madison Square Garden spectacle from last month, anyway) and turning the stage into his live Twitter feed. James Murphy & Co. get to play in their city for the first time since a memorable MSG show a half-decade earlier, maybe debut some new material, and bring out whoever knows how many of their cool-kid friends for the experience. It's a tough one, but Kanye's probably headlined too many fests already this decade to edge out the thrill of LCD coming home.
Slight Advantage: Panroama
OVERALL SLIGHT ADVANTAGE: PANORAMA. If your conscience can handle it, anyway.