Update: We've been had. Foo Fighters are not going on indefinite hiatus, and Dave Grohl is not going solo. The group's "big announcement" was a skit mocking the rumors. It's unclear how Taylor Hawkins' comments earlier this year are part of the prank or if they are actually currently on some kind of hiatus. Maybe it was a long, long con, but in any case, they got us. Touché, Foo Fighters.
Foo Fighters are going on an indefinite hiatus, according to a recent interview given by drummer Taylor Hawkins.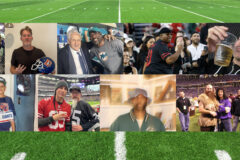 As Consequence of Sound points out, just today Artisan News released an interview they conducted with Hawkins back on January 16, in which he confirmed that the arena-rock giants are taking a break for the foreseeable future.
"We're on 'ihateus' right now, we're on an indefinite 'ihateus,'" Hawkins said, punning on the word "hiatus." He clarified that the decision wasn't made "because we don't love each other, or don't want to make music together… We did so much in the last five or six years — we as a band could go into the studio tomorrow and have just as much fun as we ever had, but I think the world needs a break from us for a little while."
[articleembed id="125549″ title="All 152 Foo Fighters Songs, Ranked" image="125551″ excerpt="Over the course of their 20-plus years in the business, Foo Fighters have assumed the role of being post-grunge's Law & Order"]
The confirmation came amid rumors that the group was going to take a break so frontman Dave Grohl could go solo. A teaser came in the early hours of March 2 in the form of a tweet from the band's official account, which promised some kind of announcement today.
Foo Fighters first started in 1994 as the one-man project of Grohl, following the dissolution of Nirvana after the suicide of that band's frontman, Kurt Cobain. Over the course of the next two decades, the Foos became a proper band, released eight studio albums (including the stone-cold classic The Colour and the Shape in 1997), and ascended to a level of fame not common among rock acts in the 21st century. Their eighth full-length, Sonic Highways, was released in the fall of 2014, alongside an HBO documentary series of the same name. Grohl confirmed in June of 2015 that there will be a second season of the series, which explores the connection between music and the cities in which it's made. The most recent Foo Fighters record was the Saint Cecilia EP, released in November of last year.
Watch Hawkins' interview below, and skip to the 5:10 mark to catch his comments about the Foos' hiatus. Scroll down further to watch a few of the band's early, iconic music videos.