Charli XCX and Marina and the Diamonds sank into a social media exchange of words today over perceived artistic imitation. It began with Charli posting a colorful photo of her new ad campaign for a fragrance called Impulse on her Instagram page. Commenters pointed out a certain visual likeness to Marina's album campaign for her 2015 release, Froot.
Marina (born Marina Diamandis) noticed it too, commenting on the photo ("That FROOT looks familiar!") and posting to Twitter, "Imagery is artistic property. Please respect your fellow artists." Possibly in response, Charli deleted the original photograph, then uploaded a second, different image from the same shoot.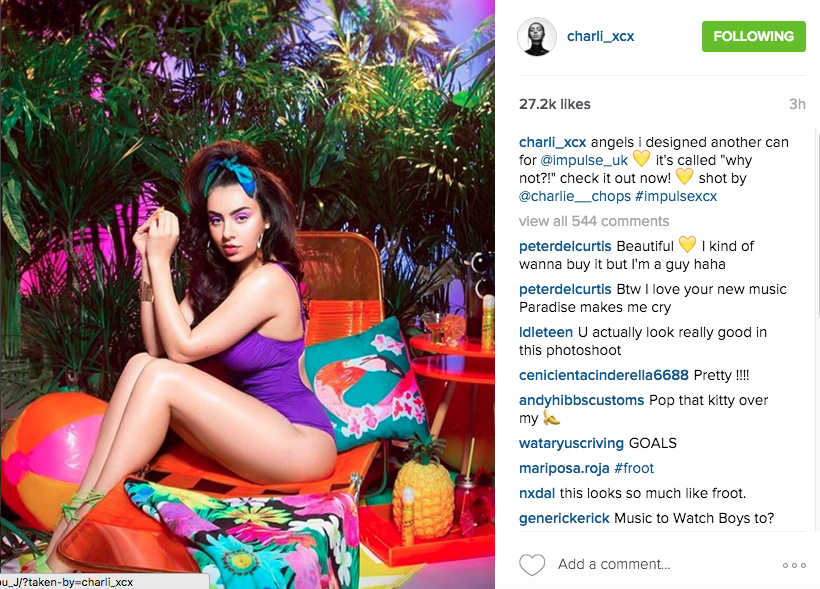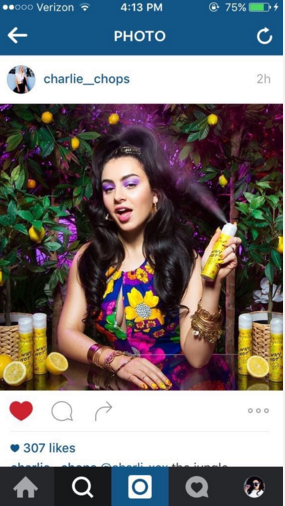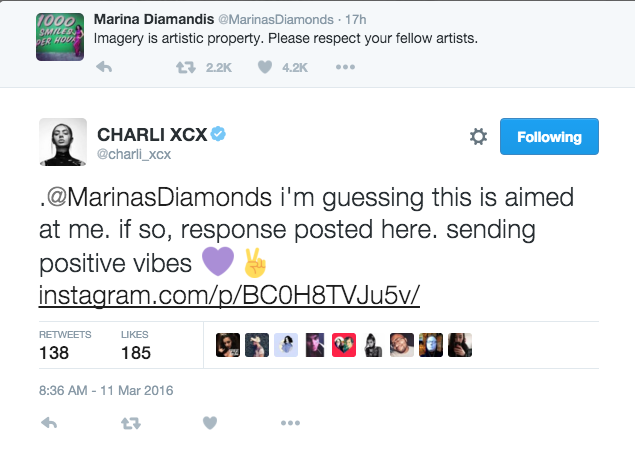 This morning, Charli posted yet another photo to Instagram with the following caption, denying her knowledge of Marina's earlier campaign.
You know what, sometimes you do a photoshoot standing infront of a plant, sometimes you do a photoshoot in black and white, sometimes you wear purple eyeshadow. Sometimes you shoot with the same photographer a fellow artist has shot with. That's just how things happen in the industry I work in. The image in discussion (not this one), which a lot of fans have been making noise about online, was from a photoshoot for a fragrance brand I have been working with for a while. The point of the shoot is to make the promotional image reflective of the packaging, as I have done on previous collaborations with them. This particular scent is a summer scent, with lemons and hints of burnt orange, the design is tropical, bright yellow with pineapples, palm trees and sunglasses printed on the can. The whole brief for the campaign was based around a tropical theme, which is what the brand aka "the client", wanted. Hence the direction of the photoshoot. I had not seen the artwork for the Marina And The Diamonds (@marinagrams) song "Immortal", and it was not an inspiration for this photoshoot or the campaign as a whole. I've seen it now, and yeah unfortunately it looks similar. It was shot by the same, incredibly talented photographer, and it's a shame for both myself and Marina that this has happened. I'm not here to replicate or "steal" art or things that have already been done. What's the point in that? I'm here to do my own thing and create my own art. As I've said, the image in question, which I believe Marina had previously commented on on the photographers Instagram, was for a brand based photoshoot for a tropical, lemon scented fragrance campaign (what was I supposed to do – shoot it in the snow?!). It is not the artwork for my own album or single. That's all I need to say really. Everybody enjoy your Friday. Love to all. 💜 Tonight is the launch of my record label Vroom Vroom Recordings. Im very excited and can't wait to start releasing more music from myself and other artists that I love.
Diamandis and Charli have previously worked together, with the latter interviewing the former on her BBC documentary, The F-Word and Me. They've also toured together, and in 2013 released a collaborative single called "Just Desserts."