Bruno Mars and Mark Ronson just took home the Record of the Year Grammy for their 2014 collaboration "Uptown Funk," and now it seems like the Sequence — an all-female rap group (Angie Stone, Cheryl the Pearl, and Blondy) signed to Sugar Hill in the late 1970s — want a piece of the action.
According to the trio's reps (per TMZ), the Sequence think that Ronson and Mars' "Funk" sounds too similar to their 1979 single "Funk You Up," especially the hook of the song in which the women sing, "Funk you / Right on up / We're gonna funk you right on up." Comparing the two songs, there's a portion of "Uptown Funk" in which Mars sings "Up / Town / Funk you up / Uptown funk you up," which is likely the comparison that the Sequence means to highlight.
Listen to both "Uptown Funk" and "Funk You Up" below and hear for yourself.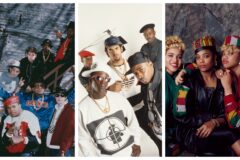 https://youtube.com/watch?v=F_gF1v1xZDc