Back in 1982, David Bowie recorded a song called "Cat People (Putting Out Fire)" that was produced by electronic/disco legend Giorgio Moroder. The track was the title song for a film of the same name, released in the same year, but made a recut appearance on the Starman's 1983 record, Let's Dance.
[articleembed id="177596″ title="The 100 Greatest David Bowie Moments" image="178037″ excerpt=""]
That brings us to outlaw country personality Shooter Jennings, who will soon release an album honoring Moroder, Countach (For Giorgio), out on February 26 on vinyl and March 11 digitally. Among the Moroder cover songs on the record is "Cat People," and it features guest vocals from shock rocker Marilyn Manson.
"I invited [Manson] out to a party at this bar, and I said, 'Hey, you know 'Cat People'? You want to do that song on this record, 'cause you'd sound awesome doing it,'" Jennings told Rolling Stone of how the unexpected partnership came about. "And he was like, 'I sing that song every night before I go onstage. That's my song I warm up to.' So one night I went over to his house at three in the morning and brought all my recording gear."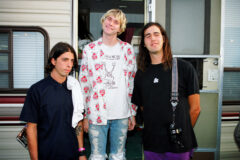 Listen to Jennings and Manson's "Cat People" via Rolling Stone.