Beyoncé raised a few eyebrows last weekend with her new song "Formation" and its accompanying video and Super Bowl performance. In fact, a few white folks even took to picket the NFL over the song's confidently black message and former New York City mayor Rudy Giuliani even said it was an "attack" on police officers, while plenty of other pundits went on to call it worse.
On last night's Saturday Night Live, the took this mania to task in a parody sketch that turns the craze up to 11 with a full on panic in a phony disaster movie scenario called The Day Beyoncé Turned Black. The name really says it all, but basically the whole white world goes into a frenzy over the realization that the former Destiny's Child singer is — and always has been — black.
"'Hot sauce in my bag, swag,'" says a confused Beck Bennett. "What does that mean?"
"Maybe the song… isn't for us," Bobby Moynihan replies.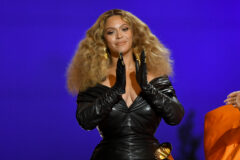 "But usually everything is!" screams Cecily Strong.
Watch it here: