When I shake Terrence "Pusha T" Thornton's hand in late December and congratulate him on the then-upcoming release of his new record, he smiles and responds without a lapse, "I feel like I've got the hardest album of the year, man."
He's talking about King Push – Darkest Before Dawn: The Prelude, whose title is almost longer than the album itself, and serves as a 33-minute appetizer for this year's King Push, which is promised to arrive in the spring. It's indeed hard; the only other major rap album of 2015 that could have begun with the line "Leave your conscience at the door" is Future's DS2. But that record's purp-fueled bacchanal is an escape from its creator's own feelings — as Push's longtime Re-Up Gang righthand man Ab-Liva puts it on "Got 'Em Covered," part of the reason the "game too emo."
Instead, Darkest Before Dawn offers "beautiful evils," cackling for the majority of its running time about how the lean, 5'8" wordsmith is "America's worst nightmare," or more colorfully, "Kim Jong of the crack song" and "L. Ron Hubbard of the cupboard." At this point, he has a way of collapsing whole sagas of his life into one swift couplet: "It all started on the beeper / Now they asking for the feature." He mostly defines himself by what he is not; separating himself from the "kings of the YouTube" who victimize rap (any guesses?), Pusha lambasts fools who'd rather be "M.F.T.R." (more famous than rich) and dubs himself the "last cocaine superhero." That brickwalled confidence makes it easy to figure out why Kanye West entrusted Pusha as the new president of his longtime record label, G.O.O.D Music.
"I was surprised, I wasn't expecting it at all," Pusha tells me. "[But] he took notice in regard to my rapport with everybody on G.O.O.D Music, and in regard to how I try to keep my pulse on everything that's going on musically, in the culture, and in street fashion. Musically, every conversation between me and him starts with what's hot and what's not. Whether we agree or disagree, I usually have a pretty educated response, not just opinionated."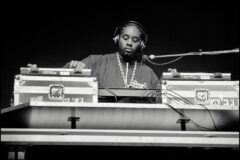 The 38-year-old, Virginia-born MC shares only a few walks of life with West, and his much-discussed drug-dealer background isn't one. But when West tapped Pusha for a verse on "Runaway," from 2010's universe-altering My Beautiful Dark Twisted Fantasy, the rapper learned his true calling.
"[Kanye] was just like, 'We just wanted more arrogance from you,'" he tells me as we pile into an SUV with his entourage in midtown Manhattan to tape a performance on The Daily Show. "I write in a 360-degree type of motion: Start off bad, end up good. And he was like, 'No. End up bad, the whole way through. I need more douchebag.'"
A fan of his cohort's on-record arrogance, West quickly realized that the real-life Pusha gets along with just about everyone — "Of everybody on G.O.O.D, I'm the one who has the most team mentality," Push says, unusual for a guy who's been running solo since 2009, when his brother Gene "Malice" Thornton respectfully left Clipse. This past November, West officially instated him as president, which is only a morally perplexing move if you buy into everything Pusha T raps. Why would a Kardashian-in-law entrust his company to a cocaine superhero? That depends on what you believe.
Pusha's persuasion toward the dark side began early in life. "In the late '80s, I must have been nine years old when my sister explained to me the appeal of Rakim never smiling," he tells me in the van. "I was like, 'Why is that cool not to smile?' She said the music, the lifestyle, and the persona all had to match up. That these guys were the guys who didn't smile and she loved it."
On Darkest Before Dawn, the lines have blurred between Pusha's theatrical depiction of his underworld claims (his 2013 solo debut, the Wire-referencing My Name Is My Name, was titled as such because he's indeed a pusha) and the improbability of him still running drugs. He relishes portraying the villain in part because of his childhood love of watching the wrestler Ric Flair (whom he sampled on 2011's "What Dreams Are Made Of") with his dad.
But Pusha's moral compass flung far left of Rakim in his own, much bloodier music, threatening to have "your body parts mix and matching" on 2003's spooky "What Happened to That Boy?" alongside controversial Cash Money majordomo Birdman.
"A good villain exudes charisma and power," Pusha explains with a Joker-sized grin. "He has principles though; that just gives him a level of dimension. It makes him seem to be a bit unpredictable, because he's usually deemed as some type of evil, ruthless person and then he shows you his principles and you don't know what to think of it."
Despite Kanye's flirtations with the sacrilegious, Pusha denies that 'Ye shares the villain tag ("A lot of what he speaks about are just his true beliefs"), and he shakes his head even harder when real-life villains like Donald Trump are brought into the analogy.
"I don't believe there's any principle in what [Trump] does and how he thinks," Pusha says. "He's conditioned in his role of disruptive, disrespectful, racist man to me — his gall is just out of this world. It's a bit much for me."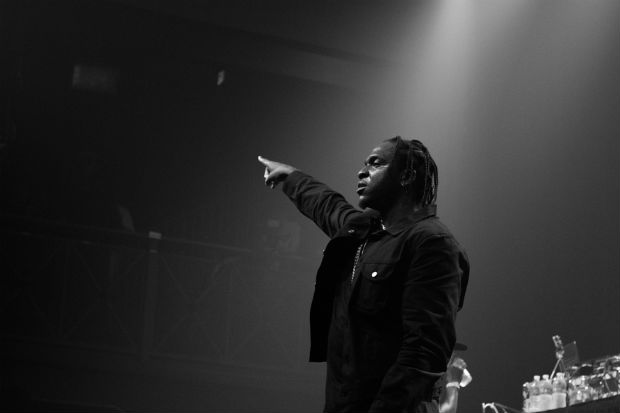 And what about Martin Shkreli, the pharmaceutical price-gouger who seems desperate to be respected (or feared) by the hip-hop community according to stunts like his purchasing Wu-Tang Clan's $2 million, one-of-a-kind Once Upon a Time in Shaolin album?
"That's so disgusting," Pusha instantly offers, before pausing and adding, "it's like everything ugly is being unveiled in America right now. Everything."
Clipse dismissed moralism as a waste of time; their philosophy could be summed up by their 2006 credo "Momma I'm so sorry, I'm so obnoxious." But after being invited to a screening of the HBO documentary Fixing the System, wherein President Obama visits a federal prison, his writing for the upcoming King Push took surprising detours. "I'm touching on topics like mass incarceration," Pusha boasts, though he's quick to dismiss the notion that he's writing a "political" album.
And for all his Vincent Price-esque warnings of the new album's soullessness, Darkest Before Dawn — which he calls the more "linear" segment of the two albums — doesn't quite leave Pusha's conscience at the door. "In Mexico, f**k Donald and his pledge," goes one aside from its Notorious B.I.G.-sampling first single "Untouchable," and in the Jill Scott-assisted closing track, "Sunshine," we get one of the rare songs in Pusha's catalog where the bleakness isn't countered by a sense of triumph. King Push will allegedly be "much broader" and includes a cameo from a guest whom Push boasts, "ain't nobody heard in 18 years." Discussion of villains turns more toward the antiheroes, the real subjects of the rapper's adulation.
"There's so many Robin Hood-esque individuals in regards to the underworld, in the streets, just, you know, local heroes," he says. "It's a tough thing because families have been affected by these same people that are being upheld in some form. Sometimes you gotta take the good with the bad."
As Clipse, Push and his older brother — who was then known as Malice — portrayed Robin Hoods themselves during the most infamous phase of their career. After riding 2002's Lord Willin' to easy platinum off of the sparse single "Grindin'," their label Arista surrendered them to Jive and the icepick-sharp follow-up, Hell Hath No Fury, toiled in limbo for years. The mystique (and success of the intermittent mixtape series We Got It 4 Cheap) paid off quixotically; Fury was finally released to deafening acclaim in 2006, despite only selling 78,000 copies in its first week and generating no hits.
"What people don't know is that Hell Hath No Fury don't have any new records on it. It was done in '03 and you got it in '06. It didn't take a while — it was done. They had to tell you it took a while," Pusha says with a groan. "Arista dissolved, and that meant we had to go to Jive, and Pharrell was like, 'Man, this ain't what we signed up for.'"
Industry purgatory be damned, insiders hailed the long-awaited album's noir poetry ("Give up the money or the angel cries two tears / Front of your crib sounding like Chinese new year") and nearly avant-garde sonics wholly helmed by the landscape-conquering Neptunes, providing their most out-there beats to that point. Or, as Pusha puts it, "At the height of [the Neptunes] owning 40 percent of the music charts they gave me a record with no hooks and knew it would be a classic."
But one of the most eyebrow-raising aspects of this period was the claim in Fury's "Keys Open Doors" that Clipse "ain't spent one rap dollar in three years" — that music was allegedly a side hustle for two dope dealers.
"It was 'F**k the label, f**k putting out this album, we know how to make money,' you know what I'm saying?" And then he shoots me a knowing glance: "We were gonna do everything under the sun to stay afloat."
But in 2016, when pressed on the last time he spent a dope dollar, all Pusha tells me is, "I'm still paying for commissary on multiple federal prison books right now. At my house now, I have the new Adidas drop, four pairs of the white and four pairs of the black that don't fit me; they fit guys in prison that are waiting on them for when they get home."
On the set of The Daily Show around 2 p.m., one graying white guy with an earpiece says to another, "How close are you to being happy?" The house band warms up while Pusha, clad in a woolly, fuzzy sweater jacket, plays with his phone and sips from the red straw of a hot beverage. They run through a somber "Sunshine" and a vicious "Crutches, Crosses, Caskets." This segment will be his first time performing any of the new songs live; with the live instrumentation, the latter roars like Rage Against the Machine.
"Is there shame when a famous rapper's mother lives in squalor?" Pusha raps, extra-disgustedly. He tries out verses in a tight, nervy delivery with the occasional crack in his voice or speed bump in the beat. "Remembering [the lyrics] isn't the issue," he says after a few run-throughs with the band. "It's [doing them] over live instrumentation."
Returning to the dressing room, Pusha and his stylist of seven years, Marcus Paul, try to decide which jacket would look best under the Daily Show lights. The first choice is too physically constricting for him to move around in, and the second one is "gonna look black."
The whole room decides on one with embroidered birds and flowers. Pusha agrees. "That's the bitch. SPIN said it's the one!"
"And there's birds!" he continues, like he just remembered the dove adorning Darkest Before Dawn's stoic cover art. "There's birds, baby! You can't fight the understated bird."
With a couple more hours to kill before airtime, we get back in the van and ride around Midtown while I grill the rapper about his immaculate history with producers; besides his more recent alliance with Kanye, he's known for his lifelong connection with the Neptunes, who produced Clipse's first two releases, and on Darkest Before Dawn, Timbaland finally contributes the eerie, Biggie-sampling "Untouchable," with the Wallace estate's blessing.
"What's so crazy," Pusha explains, "is that [My Name Is My Name single] 'Numbers on the Boards' was probably No. 15 on a beat CD." This inverted boast sums him up better than anything else: He's the guy who taps mainstream heavyweights for their anti-commercial B-sides.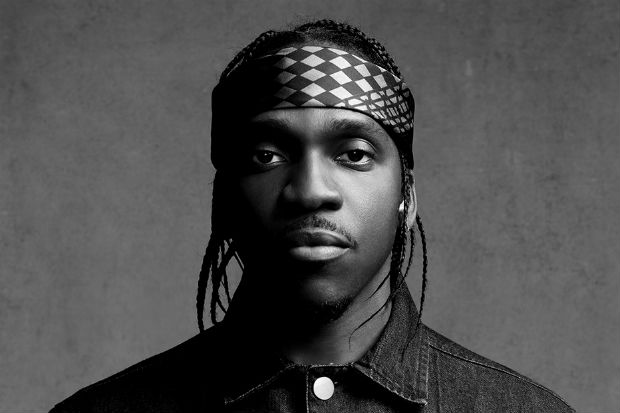 After I comment how crazy it is that he's only just now getting around to working with his fellow Virginia native Timbaland, he says it's even crazier because they grew up five minutes away from each other's mother's houses.
"When we were growing up, I got kicked out of Timbaland's house every day," he says with a chuckle. "He was the DJ for my brother's rap group in junior high school. So I was 7, and while Tim's DJ'ing and my brother's rapping, I'd be upstairs dancing. And [Timbaland's] dad would be screaming at the top of his lungs because I'm making too much noise."
Timbaland was the missing jewel in Pusha's crown of great collaborators; his sparse, off-kilter taste in production is legendary. The rapper himself traces the menacing minimalism of a tune like "Crutches, Crosses, Caskets" back to KRS-One or Public Enemy. Diddy of all people worked on that song ("He reminds me of Al Pacino in Devil's Advocate; only thing missing was the wall didn't move"), and Pusha says he still talks to Pharrell every day. Which brings us to this year's pending ten-year anniversary of what he terms the "best album of all-time in hip-hop."
It was during Hell Hath No Fury's protracted gestation period that as a lyricist, Pusha really became who he is, a word-of-mouth legend just like Killer Mike or Lil Wayne, both of whom had scored early hits but paid their dues as mixtape marvels while they carved out their true sonic identities. "I tell people that the Clipse were the first Internet rap darlings," Pusha says. "I started out with my brother doing every $2,000 drug dealer show in the 'hoods all over America. Put out a single called 'Grindin.' Then I'm at the Pitchfork festival."
The duo and their bookers had realized that their audience, and possibly all of rap's audience, was changing. Clipse went from wearing bulletproof vests at performances in Milwaukee clubs to small rooms of "four hundred college white kids." Their two We Got It 4 Cheap mixtapes had become sacred on rap message boards. They shared billings with Modest Mouse. Then Gene quit for newfound religious reasons, changing his name to "No Malice" and refusing to perform old Clipse material any longer, even with $50,000 a night on the table for the ten-year anniversary of Lord Willin' in 2012.
"My brother was like, 'No.' I told the agent, 'Keep booking. Just have it all routed out, mapped out, and everything for him later.' By the time we got to half a million bucks, I was like, 'What do you want to do?' And [Gene] said, 'No, I'm not doing that.' Bro, the [tenth] anniversary of Hell Hath No Fury would be my Christmas gift for the next two years. I would love nothing but to [tour] that record. Never gonna happen."
There's zero bad blood according to Push; the two talk every day, just no longer in terms of creative collaboration.
"He came to my show the other day, with Future at home in Virginia. I played 'Grindin'' to go off the stage, and he dared not step onstage," says Pusha. "He just sat on the side and watched. If he would've stepped on that stage, the roof would've caved in."
Pusha laughs and sighs simultaneously. "No one lets Clipse die."
One person who did lay Clipse to rest a long time ago is Gene "No Malice" Thornton, who's now 43, with a wife of two decades, a 23-year-old son, and a 19-year-old daughter.
"We are very tight, we've always been close," No Malice tells me over the phone in February. "But our conversations have little or nothing to do with rap, music, industry… we don't talk about those kinds of things at all."
No Malice released his own solo album in 2013, Hear Ye Him, which surprised longtime Clipse fans with what the man himself prefers not to call "religious" rap. "When you hear my music, you should be aware of my driving force without worrying that I'm trying to press my religious beliefs on people," he says.
Even though he is working on new music himself, No Malice really left rap behind in 2009, and prefers to listen to the Killers and Coldplay. He's only vaguely familiar with the name Kendrick Lamar. He has never even listened to any of his brother's solo albums. "I've got nothing against it, but I no longer keep up with it," he clarifies. "I expect him to be great with everything he's involved with."
The last time the Thornton brothers recorded together, Pusha dutifully guested on Hear Ye Him, which Gene insists wasn't awkward at all: "He came in, did his thing, said, 'I'll holler at you later' and I banged out the rest of the album."
Citing a "multitude" of reasons he had to leave Clipse — and you can hear the walls closing in on songs like "Counseling" and "Life Change" from the duo's final album, 2009's more boilerplate Til the Casket Drops — the '09 arrest and subsequent 32-year prison sentence of their manager, Anthony Gonzalez, for leading a $20 million drug ring, along with several other friends and acquaintances, was effectively the end for Malice.
"At the time when everybody got locked up, our accountants told us [the feds] were still looking for two more people. Two. More. People," he says with an incredulous, nervous laugh. The breaking point was when he got on a plane shortly after Clipse had taken a meeting with Rick Rubin, and Pusha was nowhere to be found.
"My brother and I, we never missed a flight," Gene explains. "No 'I can't find my ID, I was out late the night before.' We'd always been professional. So this time, we've got a flight somewhere and I don't see him; I could only think that he had gotten locked up. I had a friend whose girl had just had a baby girl, he was pushing her wheelchair out the hospital and [the authorities] got him. Another friend, he and his girl were with his daughter and the feds literally hit their car while they're driving on the interstate, rammed into them. So at the last minute, right before the doors closed, [Pusha] comes stumbling in on the plane. And I stand up in the middle of the aisle and I tell him: 'I'm not doing this anymore.'"
He can't emphasize enough how real a song like Clipse's "Nightmares" really was for him, with his tone turning to what can only be described as fire-and-brimstone: "This ain't no joke! I'm in there crying with snot coming out my nose, trying to figure out how many years a 300-month sentence is. And I was just hard a minute ago," coincidentally employing Pusha's Darkest Before Dawn descriptor of choice. "I had on a big ol' chain a minute ago, telling you what to do and how to do it. 'This is how much money we make, and this is the car, and this and that.'"
Pusha was indeed shocked at the surprise visit from No Malice at the recent Virginia show, but they went their separate ways musically a long time ago. Performing Clipse's material doesn't square with Gene's life or mindset anymore.
"If I could do that," he says. "Then I would not have had to leave the group."
Def Jam publicist Joanne Hunter is explaining to a female Daily Show crew member just before taping that the album's called Prelude, not Prequel.  Pusha has his hands over his face and he's rapping "Sunshine" quietly to himself while the rest of the room socializes around him. The lyrics are neatly printed out on the coffee table in front of him, but he doesn't need them.
One of his crew members, Michael, is trying to convince Pusha to wear a certain jacket on Larry Wilmore, whom Pusha confuses with Larry King. "Whomever don't know you, it's going to be their first look, and then the fans that watch will be cheering you on to do something out of your space," he says.
"I've been out of my space for a long time," Pusha mutters. He and Michael begin to argue over who owned a specific jacket first: Push or "all of Flatbush."
"I got it when it came out! I'm having to think too much when I have to be just thinking about my performance right now," he mock-whines.
Push tries on a Hawaiian-looking shirt that he notes is "very poncho-ish," with a frown. Daily Show host Trevor Noah arrives backstage to meet everyone and take Snapchats with Push. For the performance proper, the whole band wears matching shirts emblazoned with the words "Day Day," in tribute to Pusha's late road manager, who was stabbed to death on February 17 last year trying to help break up an argument at a bar. "I see one time turn sunshine into Freddie Gray, just another nigga dead," Pusha raps mournfully during the taping. It's more conscientious territory than he's previously staked out, and yet it still feels eerily familiar.
One thing I make sure to ask Pusha earlier is if he feels limited by his subject matter, a criticism that's dogged him since Clipse. Would the man who once rapped "I just wanna sell coke forever / I just wanna be who I am," ever tire of playing the bad guy?
"I don't even know how to think about running out of things to talk about," he says. "Certain things are inescapable to me. I'm connected by the hip with so many things in the streets." But that doesn't quite answer the question of how long he can keep up the villain facade in a world of real-life Trumps and Shkrelis. The answer is that there's more to his craft and vision than just a persona.
"People talk coke rap, but that's just a common thread," the president concludes. "There are so many more layers to my lyrics."