If you've been in the NYC area recently, you may have seen some flyers with a color-negative version of Adele's 25 cover, stamped "ADELE-X," with phone number tear-offs. If you've been wondering what that was about, MeLo-X, the Brooklyn musician, DJ, and multimedia artist, is back with another remix EP, Adele-X.
Previously known for his Yoncé-X EP and producing music for Beyoncé's and Jay Z's On The Run Tour in 2014, MeLo had a street campaign to promote his newest remix release. Having painted numbers and posted flyers all over the city, people could call the special phone number to hear teasers of the music, get a full download of the EP, and leave a voicemail. Some of these messages made their way onto the last remix of the 6-track release, "Sweetest Devotion," which he marked, "Dedicated To My Supporters And Callers."
MeLo's last EP, Curate, was released in 2015 alongside an interactive mobile app. MeLo brings percussive trickles and ambient bass to Adele-X, which features six of Adele's 25 hits.
Listen to Adele-X below.
In case you missed the flyer, check it out here, along with the track list below.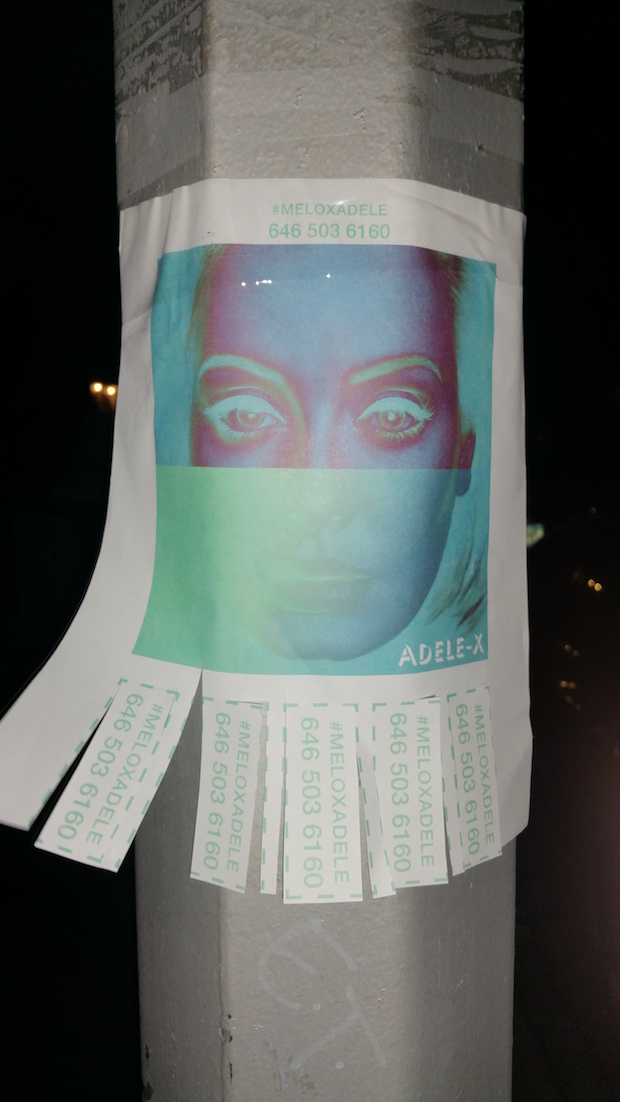 Adele-X track list:
1. "I Miss You"
2. "Water Under the Bridge"
3. "River Lea"
4. "Hello"
5. "Million Years Ago"
6. "Sweetest Devotion (Dedicated To My Supporters And Callers)"