Remember that old rumor that Marilyn Manson had some of his ribs removed so he could give himself a blowjob? Well, thanks to Billy Corgan, we now know how many he would've needed to take out if it were true. The Head Pumpkin and new father revealed he knows how large Manson's penis is, according to AltNation. In a new interview, TNA wrestler Grado asks Corgan, "what size is Marilyn Manson's cock?" (Cue up your dramatic reading glasses for the following exchange).
Corgan: Well, it's bigger than yours.
Grado: You don't know the size of my cock.
Corgan: No, I've seen your cock, it's a bally half incher.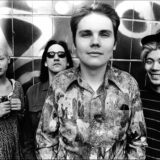 Watch the conversation, which, unlike Manson's penis, is all-too-short, below.
https://youtube.com/watch?v=5uUDzIcH7Oo