Kanye West released his long-awaited seventh album, The Life of Pablo, in the early hours of Sunday morning after performing on Saturday Night Live. Now, in the spirit of having no filter, SPIN staffers and contributors have shared their snap judgements about Yeezy's latest.
Andrew Unterberger: "If I have instigated, I am sorry" is one of the bigger lies Kanye West tells on The Life of Pablo: It's clear by now he's well into the Andy Kauffman, carnival-barking phase of his career. I don't think Kanye believes that he made Taylor Swift famous any more than I think he really takes Bill Cosby's word for it, but I do care that I can no longer really sense the man behind all the bluster. It's clear that Chance and Co.'s Surf was his north star for the sporadically stunning Pablo in its community theater-like energy and ramshackle assemblage; I didn't love that album either, but I admired its intent enough to at least try to find its wavelength — here, I'm just not interested. At a certain point with pop stars, the most important thing becomes whether or not you still want to root for them. Those still cheering may find a world of discovery and revelation within Pablo's 18 tracks, and I cannot begrudge them. But it's been five-plus years since Kanye first asked us to raise a toast to the douchebags, my arm is getting tired.
Early Score: 6/10
Bianca Gracie: Alright, all you fake haters: You can now jump back on the Yeezy-loving bandwagon. The Chicago rapper more than delivered on his promise of creating a solid, dizzying album. The Life of Pablo is mind-numbingly all over the place — check the tingling gospel rush "Ultralight Beam" (let's take a moment for Kelly Price's soulful presence) and then listen for the explicit Taylor Swift shoutout on "Famous" a few minutes later. For the stubborn holdouts who miss the Louis Vuitton Don of yesteryear, he gave it to you in the form of tender samples and a hilarious meta freestyle. And for those who bow down to Yeezus, there are bits of maddening industrial. Yes, recently 'Ye has leaned a bit too hard into the whole "crazy-genius" persona, but you can never doubt his musical finesse. Now if only we can get him to stop tweeting…
Early Score: 7/10
Kyle McGovern: Was this album worth it all? Worth the years of thirsty media coverage and futile prognosticating, the promises of it being the Born in the U.S.A. to Yeezus' Nebraska, the sorta false starts of "Only One" and "All Day," the last-second fumbles and delays, the title changes, the narcissistic spectacle at Madison Square Garden, the performance-art flare-ups on Twitter, and the experience of actually using TIDAL? If you miss the old Kanye, then no, The Life of Pablo probably won't redeem its maker, though there are flashes of vintage 'Ye throughout: references to his childhood and life-changing car wreck on "Father Stretch My Hands Pt. 2," at least one callback to a Late Registration skit on "Famous," and the cracked family portrait at the heart of "Real Friends."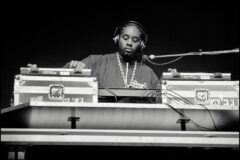 On the whole, Kanye's seventh LP feels like an outgrowth from — but not a retread of — its razor-sharp predecessor; the 38-year-old husband and father of two still has an affinity for stomach-churning sonics ("Feedback," "Freestyle 4"), bursts of Auto-Tuned jubilation ("Highlights"), and mixing the sacred (the gospel overtones that first appear in opener "Ultralight Beam") with the profane (the hollow-feeling misogyny that bubbles up regularly). The record's first half wears its seams proudly and well, but the final seven or so songs feel almost like they belong to another full-length, as if the sequencing was being jumbled around well past deadline. (Ahem.) Still, that last suite is so strong that the disconnect isn't all that distracting — in this greater context, even "FACTS" is forgivable. So, the question still stands: Was this album worth it all? I'd say so — really wish he just called it So Help Me God, though.
Early Score: 8/10
Harley Brown: "I need every bad bitch up at Equinox," Kanye gurgles in Auto-Tune over muted pianos and hollow percussive clicks on "Highlights." It's the spiritual successor to The College Dropout's "The New Workout Plan," West's 2004 parody of workout infomercials. The difference between the two (aside from, y'know, the decade-plus of paradigm-shifting artistic risks that separate the songs) is that in this latest case art seems to be imitating life a little too closely.
In the weeks leading up to The Life of Pablo's release, 'Ye has supported Bill Cosby, slut-shamed Amber Rose, and protested a little too much that he doesn't do butt play, okay guys? We've scrutinized West's misogyny in the past but have usually excused him because of his superlative verse-writing and production skills on 2010's magnificent My Beautiful Dark Twisted Fantasy and 2013's post-apocalyptic Yeezus. This time, similar justifications could be made using the insanity defense based on his vitriolic, borderline sensical Twitter rants. But that might not even be true: As Pusha T notes, "A lot of what he speaks are just his true beliefs."
There you have it! King Push has spoken: This whole thing is not, in fact, a marketing scheme. West seems to truly believe that an accused rapist of more than 4o women is innocent — on top of those chauvinistic lyrics and the homophobic free-associations he's already tweeted and deleted. And yet he samples queer icon Arthur Russell on burnished backpack-rap throwback "30 Hours," so maybe he is just f**king with us. Should that matter? Does anyone even care anymore? Contrary to what some think, music critics are not obligated to be ethicists; but for me, West's increasingly unhinged narrative surrounding The Life of Pablo has become too much a part of the album's raison d'etre.
Thus, I can't in good faith critique The Life of Pablo without taking those strikes against West's character into consideration. No matter the greatness of the album's gospel opener, his shrieking freakout on "FACTS," and the boutique house bump of "Fade," to name just a few — no man should have all that power.
Early Score: 6/10
Sheldon Pearce: Kanye West tweeted that The Life of Pablo was a gospel album during one of his longer stream-of-consciousness fits and that certainly can be taken literally — the samples of the Pastor T. L. Barrett's "Father I Stretch My Hands," sermons from Kirk Franklin. But its spiritual nature really lies elsewhere, in its consistent pleas for redemption. It's fitting, then, that after being demonized for holding up the album's release ("Blame Chance"), Chance the Rapper was vindicated by the sheer majesty of "Waves," the track he saved from hard-drive purgatory.
"Waves" serves as the anchor for a discombobulated but altogether splendid group of sonic marvels crafted by a production superteam (the standouts being "Ultralight Beam," "Highlights," and "Fade"). This is what you make off your Lexapro. The Life of Pablo sounds like an album assembled over a long period of time, rearranged often, and then disassembled all at once, an appropriate destination point for this rollout and the true distillation of Kanye's collaborative nature. TLOP is what you get when the two varying iterations of Kanye from "I Love Kanye" join forces for one manic fever dream.
Early Score: 8/10
Dan Weiss: "I been out of my mind a long time" isn't actually true; just three to five years at most, during which the Artist of Our Generation released only the blaspheming, brick-walled Yeezus, whose misogyny and scattershot flow were brushed off as a bachelor party. Now a husband and father dedicated to proving something not-quite-clear to the fashion world, his ambiguous Cosby dismissals, bizarre grudges against women, and sloppy album-curating can't be ignored. This is a man who cares more about taking iconic dares than clearing his throat to say what he means.
So on his seventh album he fights irrelevance by speaking his mind about bleached assholes on a "gospel" album that works best when he gives it up to the choir, especially Chance the Rapper. Yeezus had better rapping of course, though the plentiful hooks here — rained-out piano on "Real Friends," melodically harnessed feedback on, uh, "Feedback," chopped-up, massed vocals on "Waves" — are more reliable, even if the songwriting they're attached to isn't. Thus what saves him is the real reason people loved him in the first place: He's a great musician. Imagine how amazing the focused Smile to this patched-together Smiley Smile could've been if he wasn't so out of touch and disorganized.
Early Score: 8/10
Brennan Carley: This album's forever going to be different to me and everyone gathered around Kanye's gleaming altar at Madison Square Garden the day he premiered it (in abbreviated form, but still). The gospel LP — which it is, through and through, with samples of hymnals, lyrical references to faith and family, and actual soul singers like Kirk Franklin and Pastor T.L. Barrett — is bedazzled with sky-high brags ("We the new Jacksons") and glittering post-Yeezus, genre-clashing production. And it all sounds like Judgment Day when it's blasting from towering speakers the size of a small building.
Those experiencing The Life of Pablo on tinny laptop speakers won't feel the full breadth of West's genius, and, increasingly, his willingness to cede his platform for rap's new class. "Ultralight Beam" is Chance the Rapper's song, and he bodies his verse; Kanye finds room for the newest, still relatively unknown G.O.O.D-Music signee Desiigner twice, with a sample of his streets-favorite single "Panda" on "Father Stretch My Hands Pt. 2" and a few bars on "Freestyle 4."
None of that even touches the rapper's dedication to his titular mission: He's Pablo the artist, taking risks, chopping up weird samples, welcoming Rihanna and DJ Dodger Stadium to the same Goldfrapp-sampling party. He's Pablo the villain, showing you his journey from his early days, rhyming with his jaw wired shut, through him stealing the VMAs stage from Taylor Swift, up to his present-day fatherhood. Every listen reveals more and more layers of 'Ye's story; The Life of Pablo is encyclopedic, erratic, incessant, and self-aware. We would all do best to give its author some slack.
Early Score: 10/10
AVERAGE SCORE: 7.6