Kanye West may have missed his Friday release date for The Life of Pablo, but he made up for it with a good showing on Saturday Night Live the day following, releasing the new album immediately after.
Appearing as the musical guest on Saturday's show along with host Melissa McCarthy, West performed two new songs from the long-awaited LP and even appeared in a sketch with cast member Kyle Mooney.
West's first song was "Highlights" with assistance from The-Dream, Young Thug, El Debarge and Kelly Price.
Later, he followed up with album opener "Ultralight Beam," welcoming the album-delaying Chance the Rapper, The-Dream, Price and Kirk Franklin all onstage with him. Immediately following, he announced The Life of Pablo was now available at his website and on Tidal.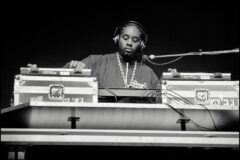 He also played Mooney's foil in a sketch where Mooney is aspiring to become the "greatest rapper alive" and challenges West to a freestyle battle, erupting at the young comedic actor with lines from his T.L.O.P. track "I Love Kanye."