Former Red Hot Chili Pepper and current un-rock star John Frusciante will release an EP titled Foregrow on April 16 (which, coincidentally, happens to be Record Store Day).
Resident Advisor reported that Frusciante's new release takes inspiration from "the drum programming DNA of jungle and footwork" and the work of legendary horror film director and composer John Carpenter.
Frusciante previously recorded an album under the moniker Trickfinger, which he expanded and re-released for free online in November 2015. No song previews are available from the new record yet, but here's the tracklist:
A1. "Foregrow"
A2. "Expre'act"
B1. "Lowth Forgue"
B2. "Unf"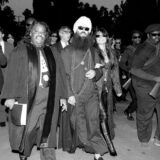 Unf. Foregrow is out April 16 from boutique electronic label Acid Test/Absurd Recordings.