Update: Gwen Stefani has officially confirmed the album's title — This Is What the Truth Feels Like — and has released the LP cover, below. She's also added four tracks to the list. It's due on March 18.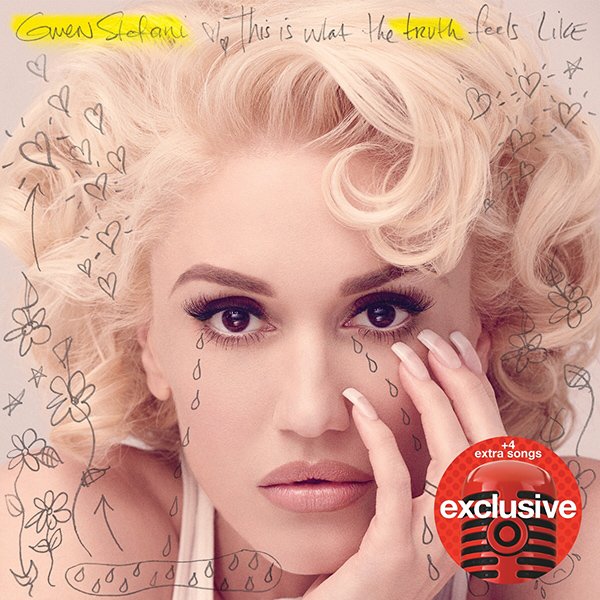 After years of teasing and stalled comeback singles — R.I.P. sweet "Baby Don't Lie" and "Spark the Fire," we hardly knew or deserved ye — Gwen Stefani has just officially announced her third solo album, complete with a full track list. Seemingly titled This Is What the Truth Feels Like based on a tweet the No Doubt frontman just sent out, the album currently lacks a release date but will be anchored by her 2015 single "Used To Love You," co-written by Justin Tranter and Julia Michaels.
[articleembed id="169226″ title="Justin Tranter's Written All of Your Favorite Pop Songs This Year" image="169227″ excerpt=""]
Her next single, "Make Me Like U," is due out later this month and is reportedly written by the same team and produced by Swedish powerhouses Mattman and Robin — collectively the team behind Hailee Steinfeld's "Love Myself" and Selena Gomez's "Hands To Myself," both of which appear on SPIN's 101 Best Songs of 2015 list.
Find the This Is What the Truth Feels Like track list below, and look for the album sometime this spring.
This Is What the Truth Feels Like… pic.twitter.com/7CgIQLQv2T

— Gwen Stefani (@gwenstefani) February 10, 2016
Gwen Stefani, This Is What the Truth Feels Like track list:
1. "Misery"
2. "You're My Favorite"
3. "Where Would I Be?"
4. "Make Me Like U"
5. "Truth"
6. "Used to Love You"
7. "Send Me a Picture"
8. "Red Flag"
9. "Asking 4 It"
10. "Naughty"
11. "Me With Out You"
12. "Rare"
13. "Rocket Ship" (Target Exclusive)
14. "Getting Warmer" (Target Exclusive)
15. "Obsessed" (Target Exclusive)
16. "Splash" (Target Exclusive)