40. "Look At Your Game, Girl" ("The Spaghetti Incident?" 1993)
I'll be blunt: My insides hurt when listening to this song, written by convicted murderer Charles Manson, who's not nearly rotted enough at a stomach-turning 81 years old as he serves out his nine life sentences in Corcoran State Prison. And it makes me even more nauseated to do my job, which is admitting that Axl Rose's lounge-act, acoustic-and-congas cover of Manson's song is Legitimately Kind of Good. Urp — are you using that wastebasket? Excuse me for one sec. — D.W.
39. "Madagascar" (Chinese Democracy, 2008)
The closest thing Chinese Democracy has to an "Estranged," Axl delivering his most frail and confused vocal since the fraught UYI climax over a "Stairway to Heaven"-like melody, if not "Stairway" grandiosity. It doesn't need all those movie snippets and MLK samples in the bridge, certainly, but with our protagonist croaking, "I can't find my way back anymore," it's affecting end-credits music to the GN'R story. — A.U.
38. "Dead Horse" (Use Your Illusion I, 1991)
"Sick of this life / Not that you care." The penultimate cut on Use Your Illusion's first volume perfectly exemplifies what makes the album so fascinating: One of Axl's most wallowing lyrics is not matched with self-indulgent dramatics and sensationalized orchestration, but one of his most '70s-radio-ready chord progressions and jauntiest chorus swings. "It may sound funny but you think by now I'd be smiling," he repeats over the song's closing groove, reminding of that old Charlie Chaplin refrain: Grin evilly, though your heart is breaking. — A.U.
37. "Pretty Tied Up (The Perils of Rock N' Roll Decadence)" (Use Your Illusion II, 1991)
You know you weren't making it through two discs of Use Your Illusion without some goddamn sitar, here introducing Izzy Stradlin's freaky tales of experimenting with bondage and increasingly expensive drugs. The song is subtitled "The Perils of Rock N' Roll Decadence," but the band sounds like they're having too much fun to remember the message of their cautionary tale — which might just be something along the lines of "don't expand your id's horizons too much, or getting an under-the-table blowjob in the back of the Rainbow Room bathroom just won't do it for ya anymore." — A.U.
36. "Chinese Democracy" (Chinese Democracy, 2008)
Sure, Axl snoozed long enough that System of a Down swiped his big fakeout-pause intro seven years before Chinese Democracy, but Chinese Democracy also gestated long enough that nu-metal thermodynamics no longer had any sway over whether or not his songs were good. This album was never going to be timely, so let 'er rip. We're all better off that his lyrical shortcomings limit the Kundun-inspired title track to taunts like "It would take a lot more time than you have got for masturbation," which don't distract from Buckethead and Robin Finck's Tom Morello-influenced squealing. They try to do for the Great Wall what U2 did for Berlin, failing miserably under a sky full of extravagant guitar fireworks. — D.W.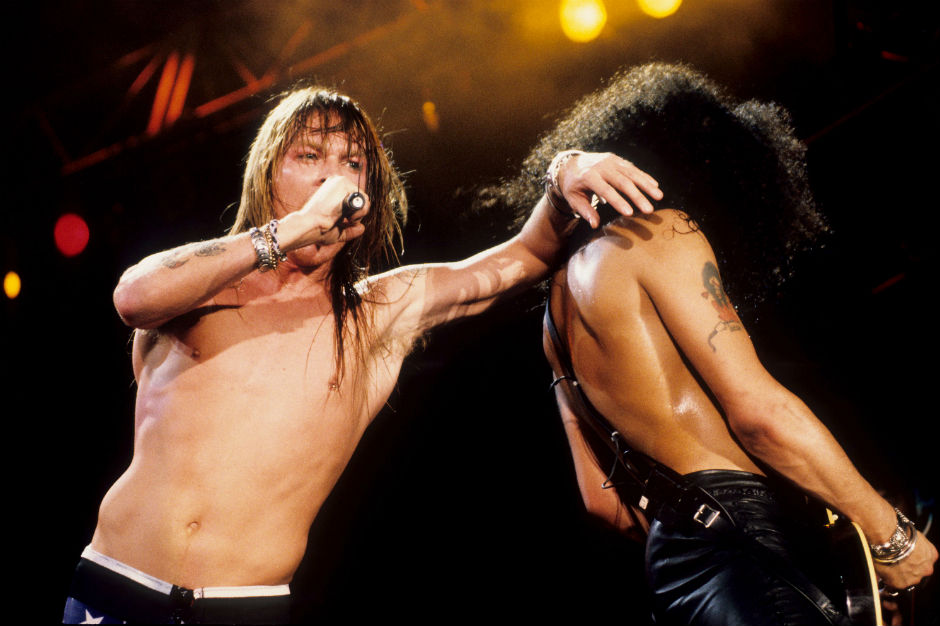 35. "Think About You" (Appetite for Destruction, 1987)
Immediate success and pure ambition plunged Guns N' Roses into self-indulgence, narcissism, and arrogance — all of which suited them to a tee — which unfortunately happened at the expense of the sweetness that snuck into Appetite for Destruction amidst all the sleaze. One of Izzy's most underrated compositions, "Think About You" has a wistful quality that's downright irresistible, the touches of acoustic guitar during the chorus filling the song with heart — throbbing, not bleeding, for once. — A.B.
34. "14 Years" (Use Your Illusion I, 1991)
The Izzy-sung "14 Years" slips right in that GN'R sweet spot of half-freewheeling billiard hall tune, half-smash-your-guitar rager. Shame that the band's true frontman comes in on the chorus, though — as much as Izzy must've wanted to sing lead, he just ain't got it like that, and Axl on backup duty makes that doubly obvious. — R.H.
33. "You Can't Put Your Arms Around a Memory" ("The Spaghetti Incident?" 1993)
Whatever spiritual connection the band felt to late proto-punk Johnny Thunders, it manifested in a couple of their more affecting '90s power ballads, most obviously in this cover and Spaghetti Incident emotional climax — performed almost entirely by Duff McKagan, of all people. It helps, perhaps, that the titular sentiment would be an appropriate subtitle for the next 15 years of W. Axl's life off the record, attempting to recapture old magic with a new band in a new world — though Johnny's advice of "It doesn't pay to try" certainly went unheeded. — A.U.
32. "Live and Let Die" (Use Your Illusion I, 1991)
The Use Your Illusion I take on Paul McCartney and Wings' 1973 classic succeeds in every way that "Knockin' on Heaven's Door" fails. Like the Dylan cover, "Live and Let Die" does not deviate from the original one bit, but the band gives it just the right amount of heavy-metal theatricality, as those massive, dramatic chords pack a satisfying punch. Although former timekeeper Steven Adler's sense of swing is sorely missed throughout Use Your Illusion, Matt Sorum's stadium-rock drumming works brilliantly on this track. — A.B.
31. "Right Next Door to Hell" (Use Your Illusion I, 1991)
Along with advance single "You Could Be Mine," a misleading opening salvo to the UYI experience: another propulsive, bass-led banger that could've fit on Appetite, if not for the creeping dread smothering Axl's vocals and the walls-closing paranoia that the rest of the band seems boxed in by. The song was inspired by a feud the frontman had with former West Hollywood neighbor Gabriella Kantor, whose complaints about Rose's behavior led to MTV giving away his condo in the 1991 "Evict Axl" contest, about as telling a tableau as existed for early-'90s GN'R, and maybe pop culture in general. — A.U.
30. "There Was a Time" (Chinese Democracy, 2008)
https://youtube.com/watch?v=FHMcXmYYgw4
This is the one that really delivers everything Chinese Democracy promised, with a choir, some looped tintinnabulations, a sea of distorted guitar roil, and orchestral interjections poking out like shark fins. Bluesy piano and slyly cinematic passages set up the highest notes Axl's full-health throat has ever belted, and the stratospheric, take-me-higher solo makes an honest shot at toppling "November Rain" from its post in Valhalla. You bet your ass it's seven minutes long, used to be titled "T.W.A.T.," and includes more parts than a class production of Rent. — D.W.
29.  "Bad Obsession" (Use Your Illusion I, 1991)
As they often did on the piano-laden and blues-rockier Use Your Illusion I, GN'R bang that cowbell and turn up the twang on this harmonica-laced number. Underneath its swampy roots — penned by Izzy and friend of the family West Arkeen — are some typically dark themes, though: When Axl crows about "doin' it one more time," the "it" in question are drugs that make him call his mother the c-word. — RACHEL BRODSKY
28. "Breakdown" (Use Your Illusion II, 1991)
Sorta amazing that it takes 23 tracks into the UYI experience to get to a song of this title. It finally shows via a power ballad that sounds like Elton John's take on "Wanted Dead or Alive," with Axl's piano running rampant over a shapeshifting boogie, peaking with the singer finding himself a kindred spirit in Vanishing Point protagonist Kowalski six years before Primal Scream. For its implications of internal disarray, "Breakdown" is actually one of the most musically impressive songs on the double-album set, almost Born to Run-worthy in its multi-act drama and road ambition. — A.U.
27. "Rocket Queen" (Appetite for Destruction, 1987)
The final track on Appetite for Destruction is its ideal denouement. The six-minute track starts with a wickedly filthy riff by Slash as Axl spews menacing lyrics from teenage friend Barbi Von Greif's perspective ("I may be a little young but honey I ain't naïve"). After a notorious bridge that features sounds of Axl and Adriana Smith (Steven Adler's then-girlfriend) having sex — never a dull moment in this band — "Rocket" suddenly launches into a much more positive-sounding coda, Axl switching to his own unexpectedly supportive perspective: "If you need a shoulder or if you need a friend, I'll be here standing until the bitter end." That contrast between danger/lust and sweetness/sentimentality creates an incredible dynamic, and is still key as to why Appetite retains so much appeal nearly 30 years later. — A.B.
26. "Catcher in the Rye" (Chinese Democracy, 2008)
It's easy to picture Axl empathizing with J.D. Salinger and his most famous protagonist even before he disappeared from the public eye for the better part of two decades. But ironically, "Catcher" was meant as something of a takedown of Salinger's definitive work — "utter garbage," he called it in a 2008 online chat, explaining that the song's outro was written as a tribute to John Lennon after seeing a program about assassin (and Salinger devotee) Mark David Chapman. It's a rare GN'R expression of sympathy for the victims rather than the abusers, and one of the band's most compassionate overall songs, demonstrating more humanity in a stretch of Oasis-like "Na na naaaa naaaa"s than on entire sides of earlier records. — A.U.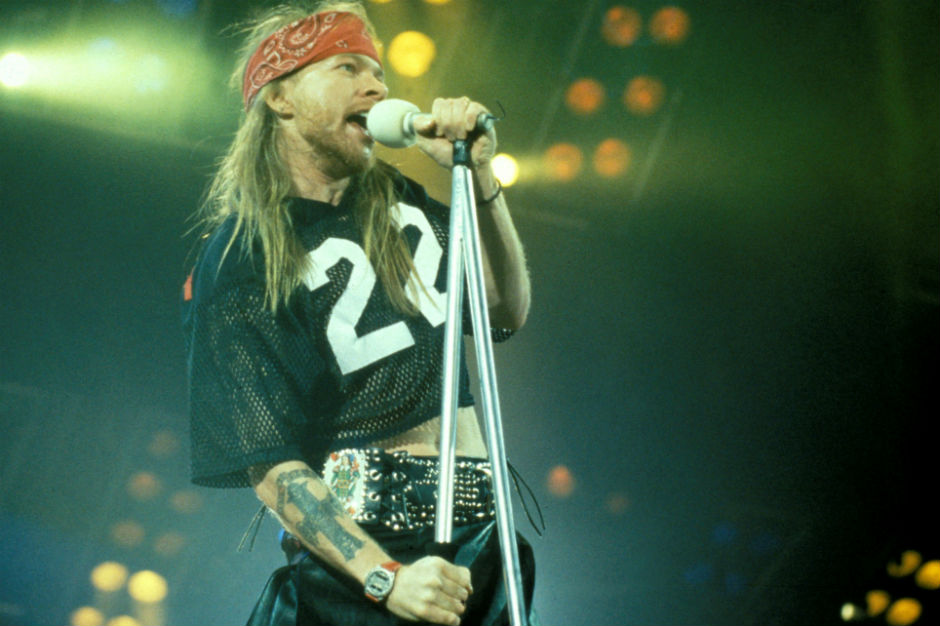 25. "Dust N' Bones" (Use Your Illusion I, 1991)
One big reason to not totally buy into the reunited Guns N' Roses is the (likely) absence of Izzy Stradlin. Behind the incredible dynamic Axl and Slash created, Izzy played the Malcolm Young role on rhythm guitar; the straw that stirred the toxic drink. And does he ever shine on Use Your Illusion I, providing lead vocals on three of the album's best tracks. Tops among them is "Dust N' Bones," a raw slice of barroom blues rock that hearkens back to Exile on Main Street-era Rolling Stones. Izzy sounds particularly laconic, even world-weary, adding the dry line, "Time's short, your life's your own, and in the end we're just dust and bones." — A.B.
24. "Civil War" (Use Your Illusion II, 1991)
As far as war protest songs go, you could do much worse than Axl Rose opening one by whistling "When Johnny Comes Marching Home" over an iconic Cool Hand Luke sample, spinning out like a Tasmanian devil in the middle, and closing it by murmuring, "What's so civil about war, anyway?" Since it's (unfortunately) timely as ever, expect to hear "Civil War" at all the GN'R reunion shows this year. — R.H.
23. "You're Crazy" (Appetite for Destruction, 1987)
Axl ain't the first jilted ex to refer to onetime honeys as nuts but GN'R grit the sentiment up with Slash's rapid-fire chords and piercing solos, and Axl's not-entirely-sane-sounding "ha-ha-ha!" All because a woman opts for "satisfaction" over "love," that makes her "f**kin' crazy." Careful who you're calling psycho there, Rose. — R.B.
22. "Garden of Eden" (Use Your Illusion I, 1991)
Axl's tongue-twister verses bleed together to such an extent that they end up sounding like a prolonged cat's yowl. But a closer look at this breakneck-speed cut reveals some heavy dissatisfaction with societal issues like "racial violence" and "kiss-ass sycophants" (i.e., the sort of well-connected politician Bernie Sanders might rail against). GN'R aren't optimistic about change; against blazing guitar lines they instead sarcastically dub the world a "Garden of Eden" and push back against the establishment with rock'n'rooooollllll. — R.B.
21. "Yesterdays" (Use Your Illusion II, 1991)
Personal growth is hard to achieve by constantly reliving the past — a lesson GN'R deconstruct in this piano-trimmed power ballad. "Yesterdays" finds its singer remarking on the aging process, replacing innocence with experience, and ultimately realizing the impermanence of everything. By holding on to the song's "time-faded pictures," he's inadvertently preventing his own forward motion, which for Axl is best accomplished by putting an intangible thing like "prayers in my pocket" and "movin' along" unfettered by memories. — R.B.