60. "Whole Lotta Rosie" ("Welcome to the Jungle," 1987)
https://youtube.com/watch?v=AqqXkZO4VvQ
Guns N' Roses' cover is AC/DC's fan-favorite hopped up on a little hit of speed. Even if it's a little too feverish, it suits them. — R.H.
59. "My Michelle" (Appetite for Destruction, 1987)
Everybody knows the story behind "My Michelle": Axl was in the car with an old friend of Slash's, Michelle Young, when Elton John's "Your Song" began playing. Young said she always wanted someone to write a song for her, and welp, be careful what you wish for. The song comes on strong, like a gritty, sinister after-school special, but the uninspired chorus weakens its message. — R.H.
58. "My World" (Use Your Illusion II, 1991)
The jaw-dropping, 90-second industrial rap-rock closer to more than 150 minutes of Use Your Illusion, the sound of Axl Rose's subconscious finally bursting out of his skull, rocking a goatee and a badass pair of sunglasses. Mostly unlistenable, of course, but don't act like the first half-minute didn't invent "Closer," "Army of Me," and the Judgment Night soundtrack all at once. — A.U.
57. "Street of Dreams" (Chinese Democracy, 2008)
Nobody knows what it means to walk along the lonely street of dreams quite like William Bruce Rose, though this Chinese Democracy deep cut is actually more Bruce Springsteen than David Coverdale, all racing piano and burrowing regret. Largely powerful stuff, though you have to imagine Geffen execs hearing lyrics like "What this means to me / Is more than I know you believe" and rolling their eyes at the $13 million and 15 years in sunk cost. — A.U.
56. "New Rose" ("The Spaghetti Incident?" 1993)
One of the great riffers in punk history makes for hugely refreshing GN'R fare, the sounds of Slash and Matt Sorum pummeling their way through a half-decade's worth of memories of musical over-reaching, and remembering that fun was a thing that rock was once actively encouraged to be. — A.U.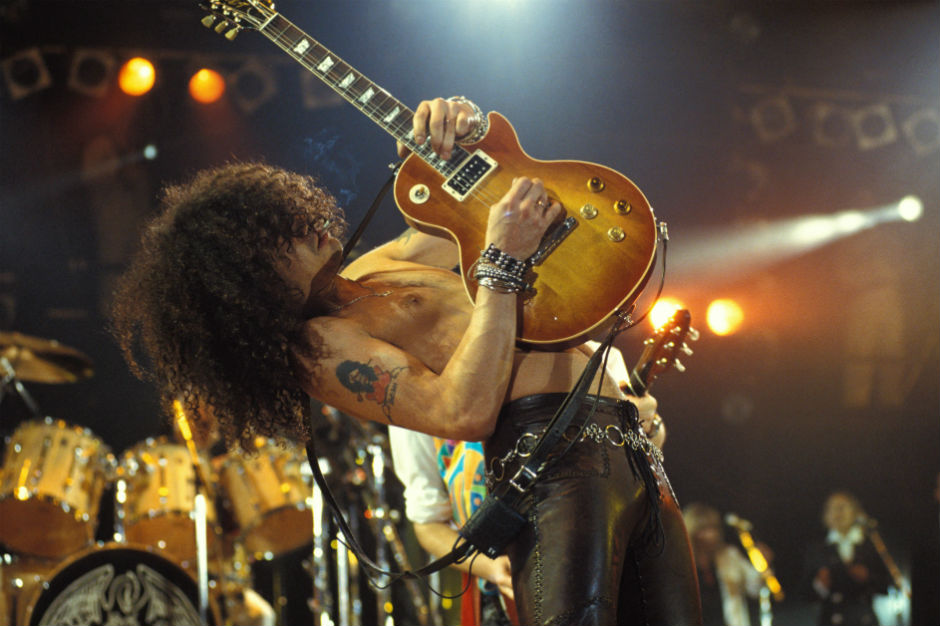 55. "Double Talkin' Jive" (Use Your Illusion I, 1991)
One of three songs sung by guitarist Izzy Stradlin on the outstanding Use Your Illusion I, "Double Talkin' Jive" is by far the darkest. Blending grisly imagery ("Found a head and an arm in the garbage can"), dramatic lead fills by Slash, and Stradlin's frighteningly confrontational singing, it's one track on this bloated double-album extravaganza that cranks up the badassery and comes through sounding darker than ever. — A.B.
54. "Down on the Farm" ("The Spaghetti Incident?" 1993)
Lending their diesel-truck power to various glam and punk obscurities on "The Spaghetti Incident?" was one of Guns N' Roses' most benevolent moves to begin with, but adding a Wayne's World-worthy, almost Southern-fried intro riff to U.K. Subs' original punk tantrum proved they really cared. It's a shame Axl didn't become some kind of in-demand producer or something — his "Down on the Farm" remake really shows how his perfectionism extends to even his favorite songs by others. Not to mention Matt Sorum's kick drum and crash cymbal. — D.W.
53. "Perfect Crime" (Use Your Illusion I, 1991)
Another track whose relentless motöring does Lemmy & Co. proud, already at 60 mph by the time Sorum's drums come speeding through for the first time, Slash's rising riffing blowing the thing through stop signs and red lights. Would've been great on the Point Break soundtrack. — A.U.
52. "Raw Power" ("The Spaghetti Incident?" 1993)
Q: How do you faithfully cover the Stooges and still stand out from the thousands of other fleabags doing the same? A: Rev it up much, much, much faster. Special award for whichever Gun and/or Rose starts off by snarling, "Yo Ig, check this out." — D.W.
51. "I.R.S." (Chinese Democracy, 2008)
Love it or hate it, Chinese Democracy is many things and simple is not one of them. The blessedly uncomplicated "I.R.S." is a sane four-and-a-half minutes, a sane four chords, and, despite a handful of interstitial trip-hop moments, it boils down to a riff that isn't all that far removed from "In Bloom" — as well as the most memorable chorus on the least-hooky arena-monster album of all time. And it helps for believability that Axl Rose probably really has conversed with at least one president, a private eye, definitely the I.R.S., and the F.B.I. isn't out of the question, either. — D.W.
50. "If the World" (Chinese Democracy, 2008)
https://youtube.com/watch?v=XFDXrum9lMs
Despite actually having a hit covering one of the damn things, nobody would ever shortlist Guns N' Roses for a potential Bond theme — they could be sexy, dangerous, and sweeping, but rarely all three at the same time, and never in a way vague enough to be equally applicable to a debonair British spy and a maniacal displaced hayseed. "If the World" was probably as close as they came, with a slinking groove halfway between Moon Safari and "Come Undone," Axl hypothesizing, "If the world would end today / Then the dreams we had would all just slip away." A mite too fatalistic for Bond, but certainly beautiful and blustery enough. — A.U.
49. "Attitude" ("The Spaghetti Incident?," 1994)
How does a band this rife with excessive grotesquerie, speed-balled eight-minute mini-operas, and obscenely priced videos indulge themselves for leisure? By letting Duff McKagan kick back and sing lead on a 90-second Misfits cover. Some f**king attitude indeed. — D.W.

48. "Don't Damn Me" (Use Your Illusion I, 1991)
A rare underrated GN'R riff that doesn't come from "The Spaghetti Incident?" or Chinese Democracy, "Don't Damn Me" has a subtle "Brown Sugar"-thing going on in its key changes, lovingly wed on Use Your Illusion I to goofy proto-rapping that recalls some irresistible bats**t hybrid of "We Didn't Start the Fire," the Addams Family, and Ariel Pink. And that's all before it goes full-psychedelic Siamese Dream slo-mo in the bridge. — D.W.
47. "Human Being" ("The Spaghetti Incident?" 1993)
David Johansen is nothing like Axl Rose; he cares far too much about the human condition and he looks better in fishnets. But he did write the hot lines that Rose was born to solder into a hot song: "If I'm acting like a king, don't you know it's 'cuz / I'm a human being / And if I want too many things, don't you know it's 'cuz / I'm a human being." The New York Dolls' original took their self-titled juggernaut of rhinestone-studded proto-punk over the cliff. GN'R's version makes the crucial addition of giving it a rough f**k by millionaires. For seven respite-free minutes, the Dolls' proud deadbeat protégés snort up the ivories and impale each other with the guitars, as Axl goes into cardiac arrest on the high notes. The finale? A kazoo. — D.W.
46. "Bad Apples" (Use Your Illusion I, 1991)
Marrying piano-tickling saloon tunes with bang-your-head hard rock has always been a strength of GN'R. The gratifyingly Stones-y "Bad Apples" might not be among their most famous hits, but it's super funky. — R.H.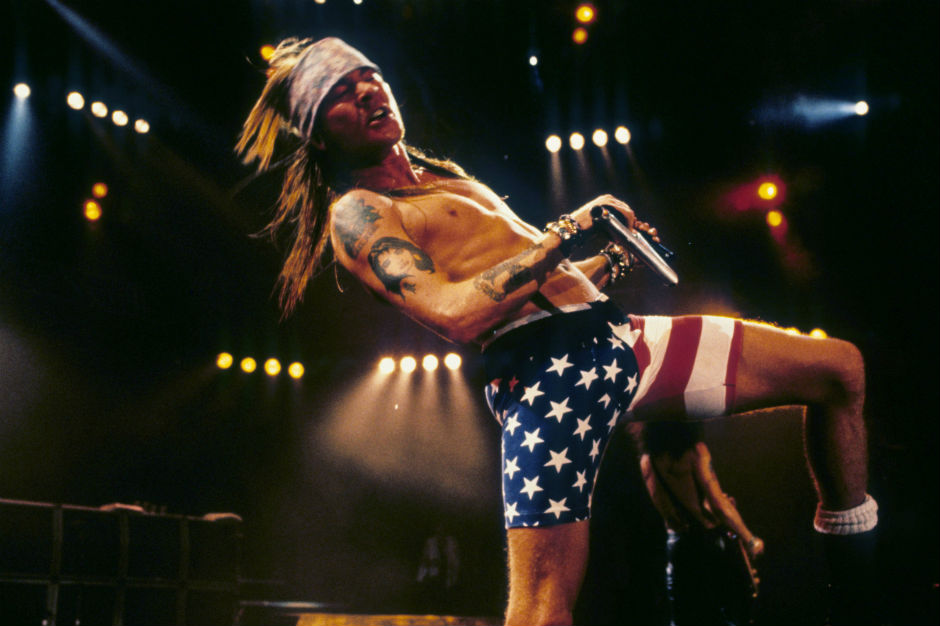 45. "Sorry" (Chinese Democracy, 2008)
Undoubtedly the list of people it's too late for Axl to say sorry to is a long one, but it should come as little surprise that the title here isn't one of apology, but one of patronizing sympathy — "I'm sorry for you, not sorry for me / You don't know who you can trust now, or you should believe." The potential vileness is undercut by one of Chinese Democracy's finest arrangements, a sublime, patient power-ballad crawl that feels more like one of Layne Staley's quietly guttural howls than Axl's usual brand of widescreen self-pity. — A.U.
44. "So Fine" (Use Your Illusion II, 1991)
Get past the annoying heavy breaths, and this solo composition and vocal performance by Duff McKagan turns out to be surprisingly strong, especially 25 years later. It might have been written in tribute to Johnny Thunders, but musically "So Fine" is ripped straight from Ziggy Stardust-era David Bowie. Starting off as a plaintive ballad but then crescendoing à la "All the Young Dudes," it blasts into a forlorn barroom rocker, as Mick Ronson Slash sends the song skyward with yet another gorgeous solo. — A.B.
43. "Ain't it Fun" ("The Spaghetti Incident?" 1993)
Axl Rose is more Pete Townshend than Stiv Bators; that is, he's more the type to grouse, "Hope I die before I get old" and live to 100 estranged in a mansion than to sing, "Ain't it fun when you know that you're gonna die young" and actually top out at 40. He imbues the late Bators' anthem with a never-look-back nihilism assisted by duet partner Michael Monroe of Hanoi Rocks, who lost their drummer Razzle at age 24 due to Mötley Crue's Vince Neil driving drunk. If there's even a small chance that any of these men lived with regrets, this bluesy Dead Boys cover doesn't hint at it. — D.W.
42. "Used to Love Her" (G N' R Lies, 1989)
Eeeeek. In 2016, it's difficult for a woman to praise a song with the lyrics, "I used to love her, but I had to kill her / She bitched so much, she drove me nuts," even if they were written as a "joke." Strip away the misogynist, dark, and twisted fantasy, though, and you've got a terrific, rootsy little mimic of an Allman Brothers' on-the-road jam. — R.H.
41. "Paradise City" (Appetite for Destruction, 1987)
Easily the most overrated song in the Guns N' Roses catalog — a stadium anthem more fit for ballgames than concerts, since all the good parts of it are out of the way in its opening 45 seconds of chest-beating. "Paradise City" runs out of ideas halfway through its triumphant first refrain and yet still lasts for six more minutes, a long-enough slog for you to realize just how redundant and silly even the chorus is. (Slash's original idea for the hook, "Where the girls are fat and they got big titties," was at least more genuine in its sleaze.) Worth keeping for its "Ride of the Valkyries"-like introductory minute, but otherwise a scourge on classic-rock radio and absolute karaoke anthrax. — A.U.