Pablo Díaz-Reixa has always operated in his own universe, and when it comes to the off-kilter pop music he makes as El Guincho, that's largely by design. Sitting at an outdoor cafe in Barcelona with a coffee and a Vichy Catalan (a popular local brand of sparkling water), he offers a bit of insight into his creative process: "I think about an idea like Vichy, for example. I try to find every song in the world or every piece of art in the world that references Vichy and I listen to the songs and read the lyrics. Then, I think about everything around Vichy Catalan, like the bubbles. Or where do you drink Vichy? All the moments in your life that you could drink Vichy or who you could share a Vichy with. Then I look for rhymes that surround that little universe."
Back in 2010, Díaz-Reixa's universe revolved around his second album, Pop Negro. Propelled by the viral success of the playfully bonkers video for lead single "Bombay," the album made an even bigger impact than his celebrated 2008 debut, Alegranza, and kept the Spanish artist on the road with the LP's tropically tinged sounds for the bulk of following two-and-a-half years. Somewhere in there, Björk also reached out, enlisting Díaz-Reixa to contribute to her Biophilia album. It was an intense time, and Díaz-Reixa was arguably at the peak of his success, but then real life intervened: His mother was diagnosed with lung cancer. "I had two options," he says. "Pay for someone to live with her or just stop my career — put it on standby — and go take care of her. I was her only child, so I thought, 'If I can do it, I have the money now, I've just got to go and try to help her.' That took almost three years from me."
Caring for his mother meant leaving Barcelona and returning to his birthplace in the Canary Islands, a remote enclave of Spain that sits a little more than 60 miles off the Southern coast of Morocco. Suddenly, his day-to-day routine revolved around doctor's visits and medical minutiae. "My mom was receiving chemotherapy every day," Díaz-Reixa recalls. "She wasn't feeling great, but she had time that she was just reading or on her computer. During all of those hours, I needed to do something with my life instead of just sitting there complaining." As such, he made the most of the situation, hauling his Tempest drum machine and a few other bits of gear along to the hospital.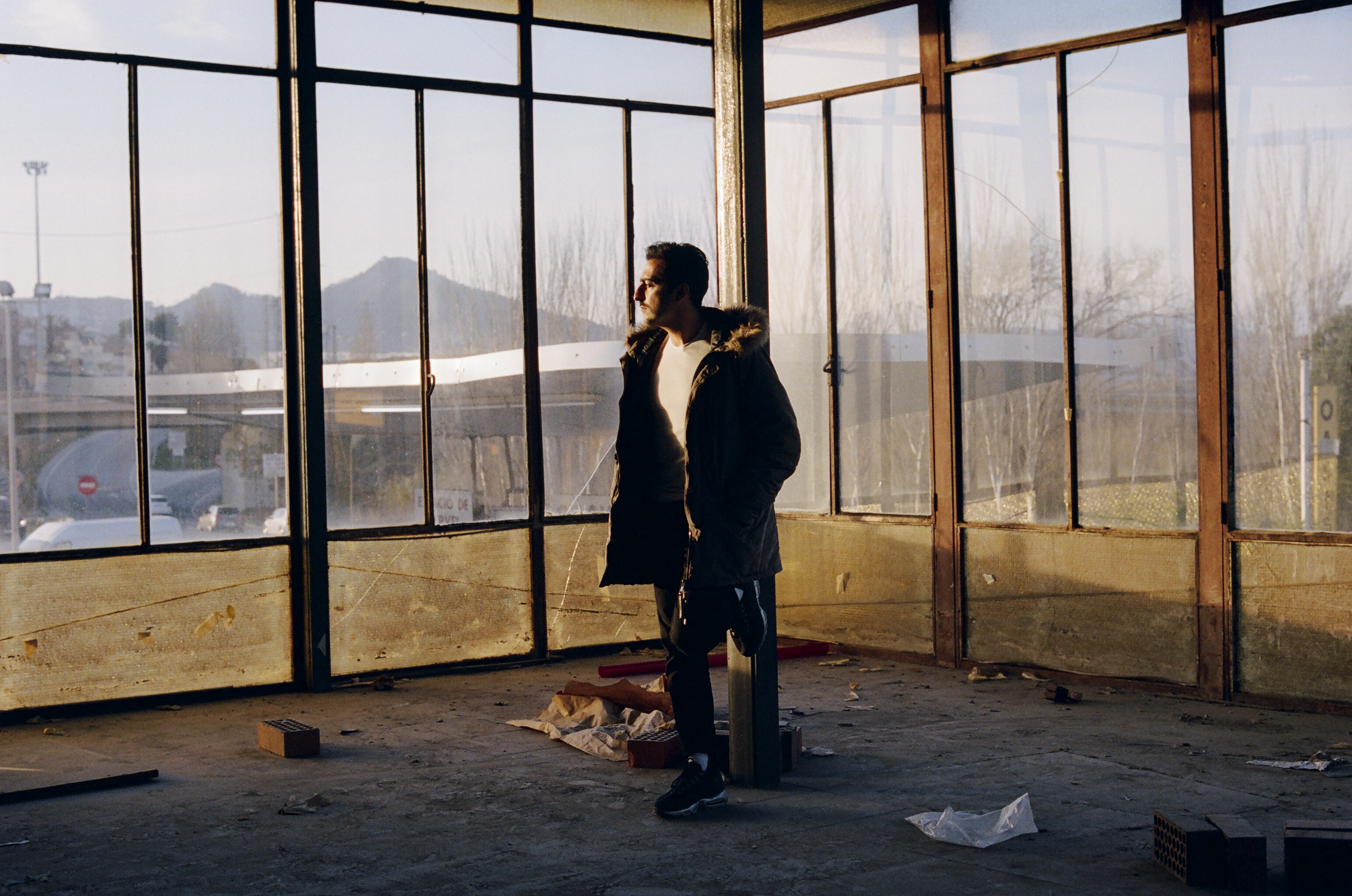 Working in headphones with his mother just a few feet away, he constructed little loops and slowly assembled a collection of songs that largely eschewed the tropical, Latin, and African motifs of his past work and were ultimately far more electronic than anything he'd done before. "All the tracks were improvised," he explains. "It wasn't intended to be clubby at all. It was just me getting in the mood with the loops."
Initially, Díaz-Reixa simply posted the songs online, adopting a new moniker, Trances, and assuming that the music would simply exist on the web for a time before disappearing into the ether. Much to his surprise, though, the project drew interest from the electronic-music world, especially from Barcelona house impresario John Talabot, who eventually convinced Díaz-Reixa to let him release a pair of the cut-and-paste house tracks via his Hivern Discs label. The 4/5 12-inch appeared in 2014, and was followed the next year by a remix EP for Tiga's Turbo imprint.
Amidst all of this activity, Díaz-Reixa's mother passed away. "When your parents are not there anymore, your perspective changes a lot," he says. "Especially with me not having any relationship at all with my father, it was just like, 'You're next.'" Once his mother's affairs were in order, he headed back to Barcelona, determined to get back to work. Given the positive response to the Trances material, some figured that he might continue down a more house- and techno-oriented path, but that wasn't what Díaz-Reixa had in mind. "I don't have the touch to be a good house or techno DJ, even though I love the music," he says. "I have more talent for performing and connecting with audiences that way. I think it's good to recognize that."
At the same time, he also had no desire to revisit the sound of Pop Negro, and following a breakup with his then-girlfriend just a few months after returning to Barcelona, he was also craving a change of scenery. Pondering his next move, he ultimately wound up in Madrid, where his manager had offered the use of an abandoned attic apartment. Once there, he teamed up with friend and longtime sound engineer Brian Hernández, set up a studio, and started work on a new album, initially crafting what he describes as a series of bass-heavy, Night Slugs-style beats.
It wasn't long, though, before all of those tracks wound up in the trash. One day, Díaz-Reixa stumbled into a Hiper Asia, an immensive Chinese dollar store, and found inspiration in its overstuffed shelves, bootleg products, harsh lighting, and disorienting, otherworldly atmosphere. "I brought Brian with me into the aisles," he recalls. "I told him, 'Come with me. Walk with me. Just imagine if this place was music. What would it be?' We were excited about the idea and we discarded all the material [we had already recorded] and started over."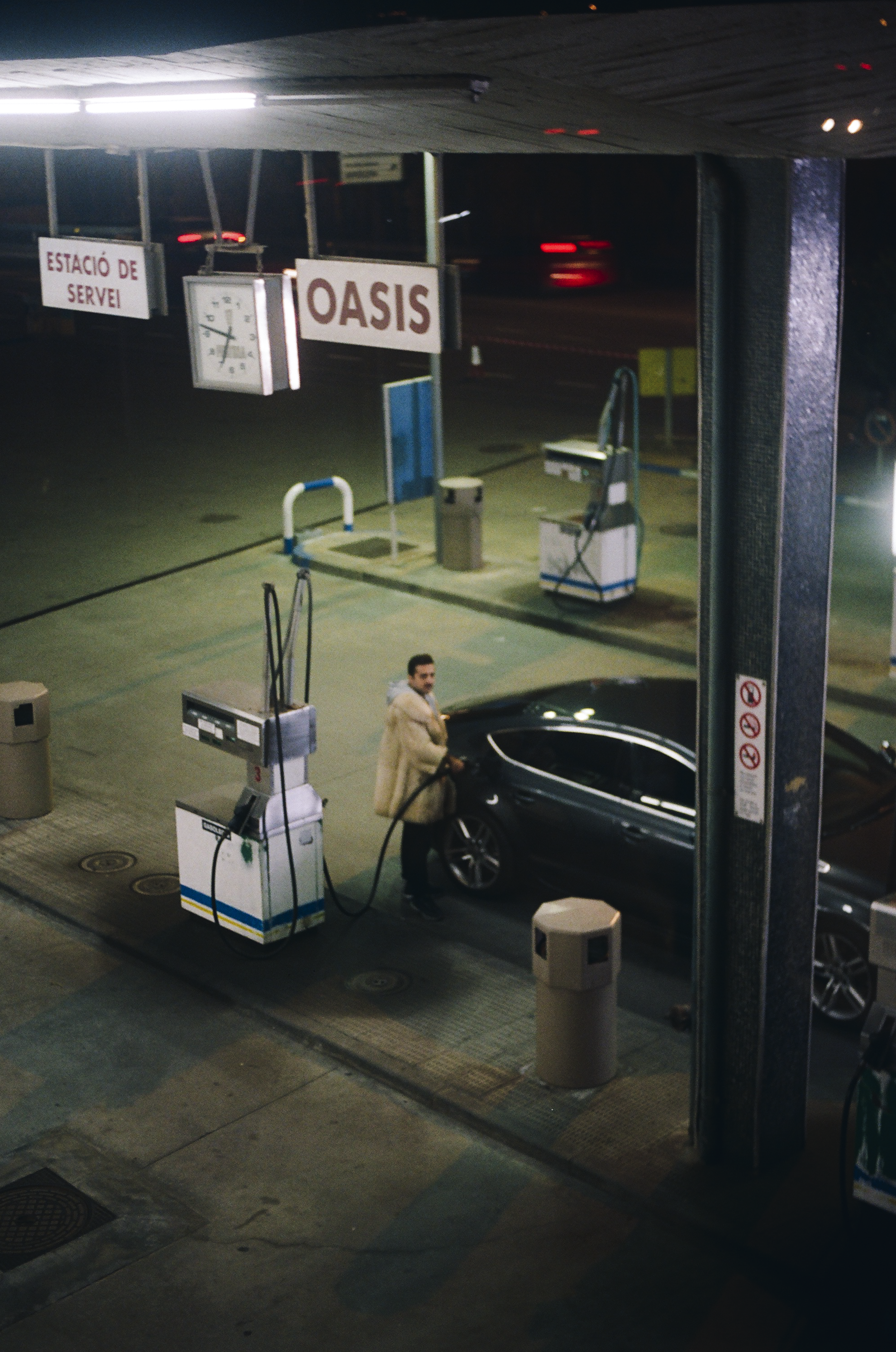 "I was hungry to make music," he continues. "I wanted to stay in the studio forever. In Madrid, I knew very few people, so I could just go to the studio every day for 16, 17, 18 hours. Sometimes I would just sleep in the studio, eat a pizza, and keep going."
Dubbing the album HiperAsia, Díaz-Reixa continued to break away from his past. "We're humans," he says. "We need change. We need it to be alive, to breathe. If you spend 15 years sitting in the same chair, watching the same TV show, reading the same books, listening to the same records, you're probably going to be depressed." Pop Negro had been heavily rooted in '80s Spanish pop, but his new compositions discarded those references entirely. "For me, they were very artificial," he explains. "I had wanted to make a pop record before because it's very weird for me to write pop… but [that] didn't make sense for HiperAsia."
Granted, making sense isn't really HiperAsia's strong suit. Like the Trances material, it completely ditches the tropical bent of Díaz-Reixa's past work — ironically, he says that's partially due to the fact that he's listening to more Latin music than ever in his free time — and instead finds him referencing hip-hop, R&B, grime, drum & bass, footwork, and U.K. bass music while concocting a myriad of low-end-heavy hybrid sounds. Without question, it's the most electronic El Guincho album to date, not to mention the most jarring. The rhythms on HiperAsia are frantic, even nervous, and much like the store that inspired it, the album is neon-streaked and full of contradictions, with ideas often appearing out of nowhere, only to disappear just as quickly a few moments later. "I like when I listen to a producer with a very distinct, focused style and suddenly a new idea pops in the song," explains Díaz-Reixa. "Robert Hood does that a lot. I love that."
Compared to the music, Díaz-Reixa's vocals on HiperAsia do sound slightly more familiar, as he's still singing in his distinct brand of Spanish. This time around, however, he's added in healthy dose of slang from the Canary Islands while repeatedly referring to himself as Chef P — an old nickname from his teenage years. Sonically, his words have also been heavily accented by the vocoder-like effect of the Melodyne pitch-correction software he and Hernández used liberally while making the LP. Giving his voice an intensely digital sheen, it's a potentially alienating aesthetic choice that only adds to the music's hyperreal nature.
At the same time, Díaz-Reixa wasn't trying to be purposely difficult. "I didn't want to disorient people," he says, "but I wanted people to feel freshness when they hear it — especially after I did a record that was so pop-focused." In his mind, Pop Negro was an experiment in pop songwriting, and while the experience was rewarding, operating within the confines of the music industry — even with an indie label like XL — didn't come naturally. "I'm a weird artist," he says. "From a record label's point of view, it's hard to work with an artist like me. Every record is different, and I'm singing in Spanish for English-oriented markets."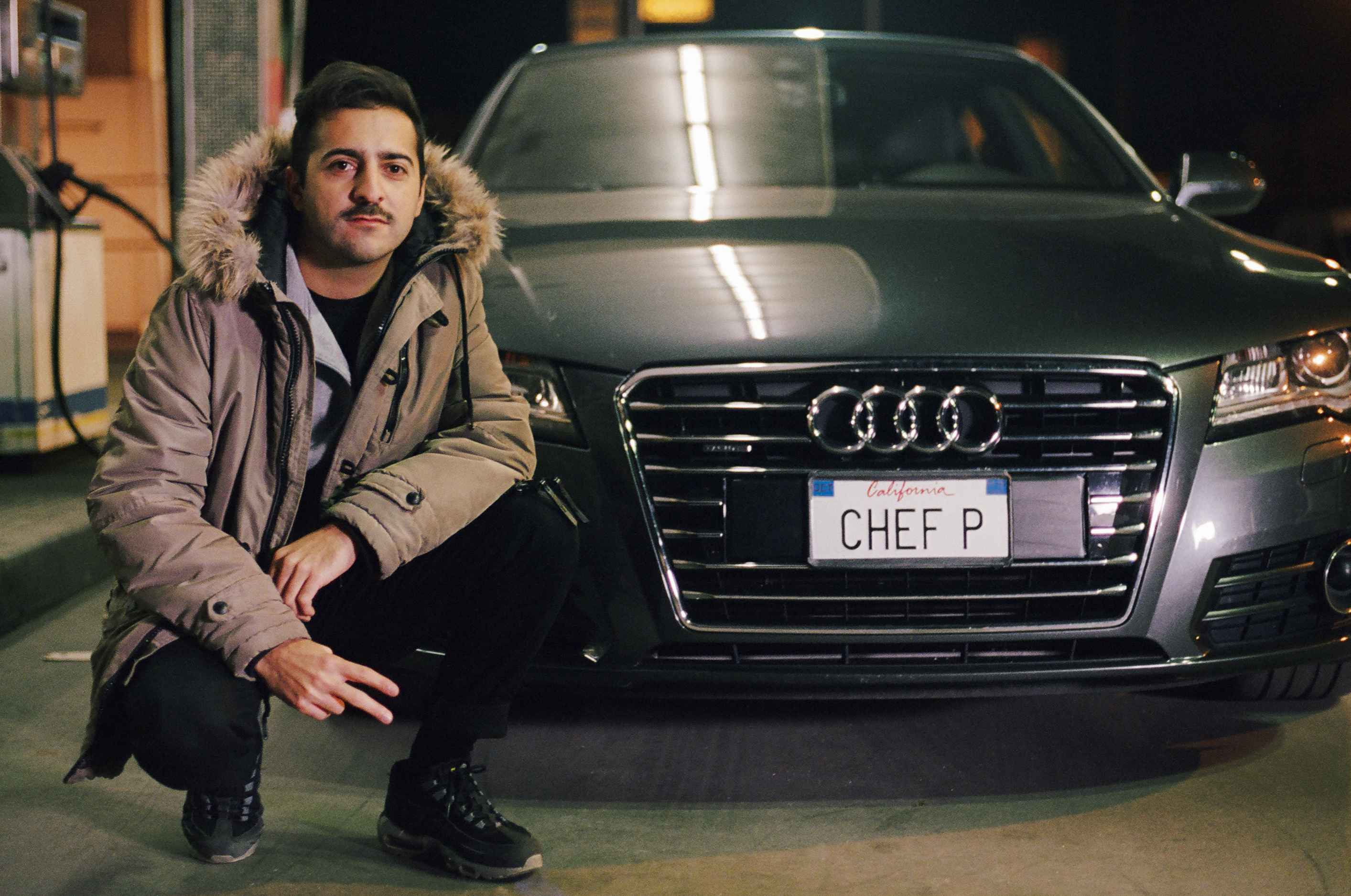 In his mind, El Guincho had started as a "pirate project," and Díaz-Reixa longed for the days when he would casually put songs online and do little YouTube videos on a whim. "When I signed my contract [with XL], everything was instantly structured and every step was very controlled," he remembers. "Once my contract was finished, I was like, 'Okay. Now I'm going to do the things that I want to do.'"
Those things included releasing "wearable" versions of HiperAsia, including an MP3 bracelet and a sweatshirt, months before the album was available digitally or on vinyl. Sold online, they were packaged with downloadable extras that included a full-length animated film directed by Barcelona collective Manson, along with "alternative cuts, instrumental versions, unique songs, beats, 3D experiences, and many other features of the HiperAsia universe." The logic behind these elaborate packages is simple: "You're going to listen to the record anyway on the Internet," explains Díaz-Reixa. "If I want you to pay for something, I'm going to make sure it's something that I feel is interesting or inspiring or fresh or that can complete your experience of listening to the record."
HiperAsia is being released in Europe through the Everlasting and CANADA labels, while it's surfacing in the U.S. via alt-Latin outpost Nacional Records. These labels may not be able to match XL in terms of overall reach, but after nearly a decade of making music as El Guincho, Díaz-Reixa doesn't need nearly as much support as he once did. "It's good to have less resources," he says. "It makes you a bit smarter and a bit more awake."
Even if his budgets are smaller, it certainly hasn't detracted from the quality of things like the eye-popping video for "Comix." Helmed by CANADA's Nicolas Mendez, the same director who put together the groundbreaking clip for "Bombay" back in 2010, the dazzling piece finds Díaz-Reixa battling teen hoodlums, doing donuts in a tagged-up car, magically donning an absurd amount of clothes, and trading verses with veteran Spanish MC La Mala Rodríguez. "When you do things the way I do," he says, "you're happy with the result because you love it. You don't need [everything to be like] 'Bombay,' with ten million people watching the video and talking about it on Twitter. I see the result and I say, 'F**k yeah.' I like it more than 'Bombay' video. I think it's a better video."
More importantly though, Díaz-Reixa is back in a position where he's free to do, well, pretty much whatever he wants. He's looking forward to touring heavily this year, although he admits that assembling a cohesive track list with songs from his three albums and the Trances project is proving to be a challenge. The songs from HiperAsia undoubtedly represent a marked change of direction, but Díaz-Reixa isn't worried about confusing, or even losing, some fans. "To me," he says, "if you're a fan of someone, they need to disappoint you. I need the people that I idolize to disappoint me, to make me think, 'Wow. Why did he do that?' That's so special. That's a great feeling to me."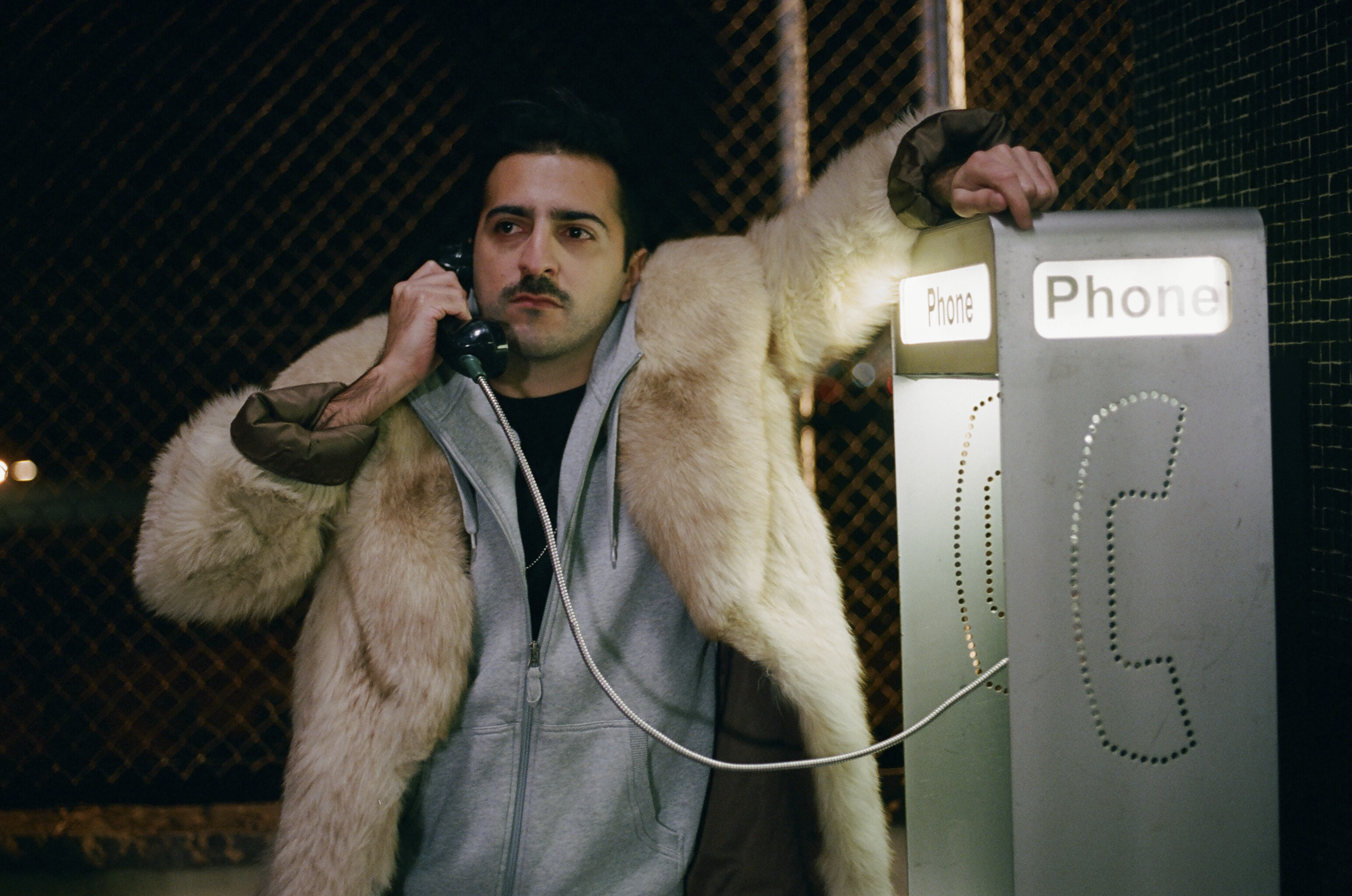 Díaz-Reixa's attitude may sound defiant, or even foolhardy, but it's important to remember that as a native of the Canary Islands, he's always been something of an outsider, even in his home country. "There's a whole misunderstanding about the Canary Islands," he says. "People [hear your accent and] think you're Argentinian or Colombian or Venezuelan or Andalusian. They never say, 'Oh, you're from the Canary Islands.' That perspective makes it such a misunderstood place, but I'm very comfortable in that misunderstanding."
Given that, it's no surprise that Díaz-Reixa doesn't envision El Guincho as a project that will ever adored by the masses, nor does he want it to be. "I know I should care more [about maintaining fame]," he says, "and record labels get mad at me because I don't care too much, but the consequences of me caring about that would be devastating for my music," he says. "I would make s**tty music, I'm 100 percent sure… If it doesn't come naturally, it's not going to happen with me. I'm still going to record when I'm 50, I don't need to maintain a certain status for that."