James Corden asked Dr. Phil an important question about Kanye West on The Late Late Show last night: "As a professional, what do you think's wrong?"
America's television psychologist leaned in conspiratorially. "Does it really take a professional?" he replied. "You can't be that wrong that many times in a row unless you're working at it," the good doctor of psychology continued, before lamenting the fact that he was presently on his own home turf, national network television, acting as the vector of West's successful media strategy.
Occasional rapper and Grammy flubber Bow Wow (seriously, Bow Wow?) came to Ye's defense: "He's just an artist who's just very, very passionate, like over-passionate, about what he does."
Phil then embarked on his own over-passionate rant about the Kardashianized pace of modern life. "We're in a society now, we're in a generation now, where everybody thinks you gotta have an audience for everything," he said, exasperated. "Everybody's doing selfies of themselves brushing their teeth. I don't care!"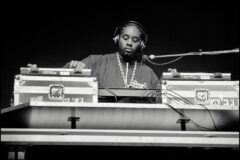 "Used to be you could be stupid and get away with it," he concluded. Those were the days.