Tireless experimenter Brian Eno has announced a new album, The Ship, to be released this April. According to a press release, the album was "conceived from experiments with three dimensional recording techniques and formed in two, interconnected parts," namely the two-song track list:
1. "The Ship"
2. "Fickle Sun (i) Fickle Sun (ii) The Hour Is Thin (iii) I'm Set Free"
The final section of the second song is a cover of the Velvet Underground's Lou Reed-written original.
In a statement, Eno wrote that he was inspired by the disasters of the early 20th century: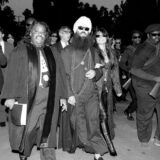 One of the starting points was my fascination with the First World War, that extraordinary trans-cultural madness that arose out of a clash of hubris between empires. It followed immediately after the sinking of the Titanic, which to me is its analogue. The Titanic was the Unsinkable Ship, the apex of human technical power, set to be Man's greatest triumph over nature. The First World War was the war of materiel, "over by Christmas," set to be the triumph of Will and Steel over humanity. The catastrophic failure of each set the stage for a century of dramatic experiments with the relationships between humans and the worlds they make for themselves.
The Ship is out on April 29 from Warp Records.