First, everybody give a round of applause for Coldplay, the advertised headliners of the 2016 Super Bowl Halftime Show. They showed up and put in a good effort. But the second-billed acts, Beyoncé and Bruno Mars (both of who have headlined Halftime Shows in the past five years), clearly were the highlights of Super Bowl 50. Here's why:
[articleembed id="180859″ title="Here's Coldplay's Entire Super Bowl Halftime Show With Beyoncé and Bruno Mars" image="180869″ excerpt="Tonight's Super Bowl Halftime Show featured, as promised, a headlining appearance from A Head Full of Dreams British pop group Coldplay, as well as heavily hyped appearances from former Super Bowl performers Beyoncé and Bruno Mars"]
Bruno Mars
I remember when Bruno Mars did his Halftime Show in 2014, I thought it was too early in his career; he had a couple of hits, yes, but I was unclear as to who would be dying to tune in to see him perform. Two years later, I was dying to tune in to see what he would do. It definitely seems like he's been laying low for the past year or so, even while his song with Mark Ronson — "Uptown Funk," which the pair performed tonight — dominated the charts.
Clearly he's been training: Decked in a tight, black leather suit, Mars danced like his boots were ablaze. He's always been one of the rare multi-hyphenate males onstage — live vocals, charisma, choreography, live instrumentation — but tonight he brought things to a completely different level. No stage is larger or more intimidating than that of the Super Bowl, but you wouldn't have known it based on the way the 30-year-old pop star grinned and shimmied as Ronson spun his turntables behind him.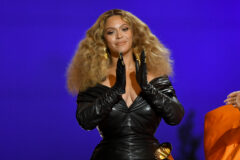 I've long said that there are pop stars who can sing and ones who can dance, but very few who could do both convincingly and equally. Mars wasn't fully there two years ago; he is now, and 2016 is entirely his oyster. I can't wait for him to crack it open. — BRENNAN CARLEY
[articleembed id="157706″ title="Every Beyoncé Song, Ranked" image="157871″ excerpt=""]
Beyoncé
When we all learned that Beyoncé was going to be joining Coldplay at the Super Bowl Halftime Show, we were pretty excited, but could we have hoped for anything this amazing? It was a fair assumption that Bey was there because she features on Coldplay's new single "Hymn for the Weekend," and would just be making a cameo during the show. But then there were rumors that she had something bigger cooking. And then "Formation" dropped. Suddenly, Coldplay was just unwanted foreplay before the main event. The Queen was back in full force, and would be nobody's second act.
So after Bruno Mars got everybody excited with a fresh performance of the amazing pop song he released more than a year ago, Beyoncé strode onto the stage to perform the live debut of a song nobody knew existed yesterday. Decked in an outfit that hearkened back to Michael Jackson's iconic Super Bowl look (as the NFL's clip show reminded us) and flanked by backup dancers wearing Black Panther garb, Bey wowed us all with a brand-new and shockingly political track and turned it into a bonafide Instant Classic.
Coldplay are a fine band — they don't deserve all the hate they get. But any criticism that they're safe and boring was made agonizingly clear when Beyoncé appeared on the field. When Coldplay were performing, the stage — illuminated in Pacific Time Zone daylight — looked empty and amateur. Not for Beyoncé — she makes her own sun, and we just bask. — JAMES GREBEY