To certain fans of Lucinda Williams, Crazy Horse, Mekons and R.E.M., Wussy became the best band in America almost instantaneously with the launch of their cult classic debut, Funeral Dress, in 2005. Their flawless document of ragged songwriting and modestly adventurous arrangements has only grown in dynamism in the years and albums that followed: 2007's jangly Left for Dead, 2009's fatalistic self-titled LP, and 2011's more lighthearted Strawberry, which introduced the pounding Joe Klug on the backbeat. It was 2014's schizoid Attica!, though, that put them on the map in a whole new way — notoriously cantankerous Village Voice critic Robert Christgau gave them an A+ rating — with anthems like "Teenage Wasteland" interspersed with threadbare items like "Acetylene."
Still, the Cincinnati quintet's upcoming sixth album, Forever Sounds (out March 4 via Shake It Records) is their most challenging and densely textured to date. The LP opens with the Wizard of Oz-referencing "Dropping Houses," crawling along a nasty riff amid Lisa Walker's atmospheric vocals comparing a breakup to literal poison ("Spent so long sucking on a snake bite / Trying to keep the venom from entering the bloodstream"). In the hands of less adept acts, these parts might be oil and water; but America's best songwriting band might now be among its best soundscaping ones. Hear "Dropping Houses" below.

Walker spoke to SPIN about the track via email:
"Dropping Houses" is a culmination of sounds we've been attempting to harness for a few years now. Our dorky dual fandom of 90's shoegaze + tom petty has fully surfaced and become a really singable wall of noise.  As for the lyrics..
Growing up in tornado alley makes the Wizard of Oz all the more fun and terrifying. I used to imagine what it would be like to fly in a house inside a giant storm.. Wondering what ordinary objects would fly by my windows and turn into monsters. Anyway, there's a moment in your life when you have to stop being afraid of the witch, the storm, whatever it is.  And this song celebrates that.
Cincinnati may be a far cry from Oz, but it has a magic all its own. Plus, it's weird as f**k here. Instead of yellow brick roads, there are bizarro tiles laid in a few streets proclaiming "resurrection of the dead on planet Jupiter." Sign me up, I guess.
Forever Sounds is out March 4 via Shake It. View its cover and track list below, and you can pre-order the album here.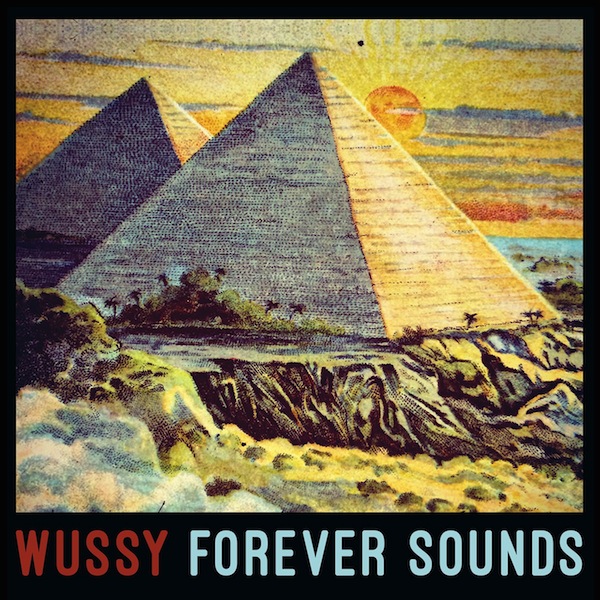 Forever Sounds track list:
1. "Dropping Houses"
2. "She's Killed Hundreds"
3. "Donny's Death Scene"
4. "Gone"
5. "Hello, I'm a Ghost"
6. "Hand of God"
7. "Sidewalk Sale"
8. "Better Days"
9. "Majestic-12"
10. "My Parade"