Talk about burying the lede! After Rivers Cuomo sincerely covered Rae Sremmurd's "Come Get Her" on Wednesday, Weezer announced their new album. The California crew's self-titled "white album" (called so for the color of the cover art, below) arrives April 1 via Crush Music/Weezer. It's accompanied by Leo-worthy LP cut "King of the World," surging with crunchy riffs, roundabout shouts; the black-and-white video features merely a king of the boardwalk, but he'll do. Watch the clip here.
Pre-order Weezer at the iTunes Store and find the album track list, along with the band's upcoming tour dates, below. Cuomo was also kind enough to answer some questions listeners might have about the album in a press release — read those below as well:
What was the inspiration behind the songs on this record?
The inspiration behind the songs were my experiences hanging around the Westside of Los Angeles, which has been our home since Weezer began. Hanging out with people in Venice and Santa Monica, the beach, the Hare Krishnas, the Sikh on roller blades with the guitar, girls on Tinder within a 4 mile radius, seeing other bands, the kids from La Sera. I would just tweet out "does anybody wanna hang?" and then I'd get together with people who responded and talk about life. I love California. I wanted the album to make you feel like you were there with us SoCal weirdos even if you're in Milwaukee in December.

How do you see this album as a "beach album"?
Obviously my favorite band has always been The Beach Boys, and what I love about them most are the melodies and the chord progressions. I guess the harmonies too. And the orchestration. Can't forget about the lyrics. So basically everything. I wanted to get that kind of vibe: beautiful tunes and sweet lyrics. I also love the dark side of the beach – Venice after dark, hearing at the Del Monte Speakeasy about how the gangsters used to drag the bodies through the catacombs and leave them under the pier.

What are you most excited/proud of with this album?
I'm proud of the demented lyrics that are like, "What? Who says that? Who thinks that? What planet on am I on? I don't know, but I kinda wanna stay!" Welcome to our planet, people! After twenty-four years, we still love being in this band and we wanna keep it going for at least another fourteen years.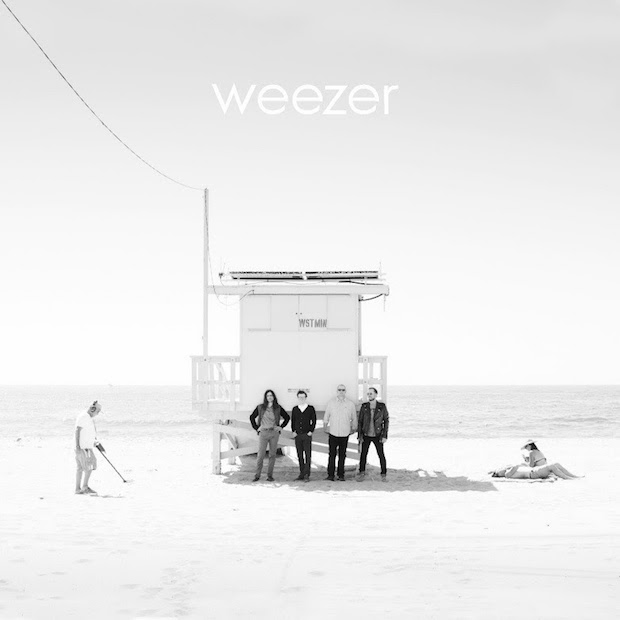 Weezer (White Album) track list:
1. "California Kids"
2. "Wind in Our Sail"
3. "Thank God for Girls"
4. "(Girl We Got A) Good Thing"
5. "Do You Wanna Get High?"
6. "King of the World"
7. "Summer Elaine and Drunk Dori"
8. "L.A. Girlz"
9. "Jacked Up"
10. "Endless Bummer"
Weezer tour dates:
March 30 – Brooklyn, NY @ Warsaw (Weezer only)
April 3 – Manchester, UK @ Academy One (Weezer only)
April 5 – London, UK @ O2 Brixton Academy (Weezer only)
April 8 – Amsterdam, NL @ Heineken Music Hall (Weezer only)
June 10 – Houston, TX @ Cynthia Woods Mitchell Pavilion
June 11 – Corpus Christi, TX @ Concrete Street Amphitheater**
June 12 – New Orleans, LA @ Bold Sphere Music at Champions Square
June 14 – Miami, FL @ Bayfront Park Amphitheater
June 15 – Tampa, FL @ MidFlorida Credit Union Amphitheater
June 16 – Atlanta, GA @ Aarons Amphitheatre at Lakewood
June 19 – Charleston, SC @ Volvo Cars Stadium
June 20 – Charlotte, NC @ PNC Music Pavilion
June 21 – Raleigh, NC @ Walnut Creek Amphitheater
June 22 – Virginia Beach, VA @ Farm Bureau Live at VA Beach
June 24 – Bristow, VA @ Jiffy Lube Live
June 25 – Canandaigua, NY @ Constellation Brands – Marvin Sands PAC
June 26 – Scranton, PA @ Pavilion at Montage Mountain
June 28 – Gilford, NH @ Bank of New Hampshire Pavilion at Meadowbrook
June 30 – Wantagh, NY @ Nikon at Jones Beach Theater
July 1 – Boston, MA @ Xfinity Center
July 2 – Holmdel, NJ @ PNC Bank Arts Center
July 5 – Camden, NJ @ BB&T Pavilion
July 6 – Toronto, ON @ Molson Canadian Amphitheater
July 8 – Detroit, MI @ DTE Energy Music Theater
July 9 – Milwaukee, WI @ Summerfest – Marcus Amphitheater
July 10 – Chicago, IL @ Hollywood Casino Amphitheater
July 12 – Indianapolis, IN @ Klipsch Music Center
July 13 – Nashville, TN @ Ascend Amphitheater
July 15 – Dallas, TX @ Gexa Energy Pavilion
July 16 – Oklahoma City, OK @ Zoo Amphitheater**
July 17 – Rogers, AR @ Walmart Arkansas Music Pavilion
July 19 – St. Louis, MO @ Hollywood Casino Amphitheater
July 20 – Kansas City, MO @ Starlight Theater
July 22 – Brandon, SD @ Badlands Motor Speedway**
July 23 – Council Bluffs, IA @ Harrah's Hotel & Casino Council Bluffs – Stir Cove**
July 24 – Denver, CO @ Fiddler's Green Amphitheater
July 26 – Salt Lake City, UT @ USANA Amphitheater
July 28 – Burnaby, BC @ Deer Lake Park
July 29 – Seattle, WA @ Marymoor Park
July 30 – Portland, OR @ Edgefield
July 31 – San Francisco, CA @ Shoreline Amphitheater**
August 2 – Phoenix, AZ @ AK-Chin Pavilion
August 3 – San Diego, CA @ Sleep Train Amphitheater**
August 5 – Santa Barbara, CA @ Santa Barbara Bowl
August 6 – Irvine, CA @ Irvine Meadows Amphitheater
** Weezer and Panic! At The Disco only.