Being one half of a musical duo is the ultimate balancing act. Creative spats are magnified, mild disagreements snowball into insurmountable differences, and one of you always forgets to buy toilet paper. It's a position that a lot of musicians would hate to be in. Symbiosis isn't their natural habitat. For the pairs that thrive, though, the results are often spectacular.
The greatest duos of the past 30 years range from Southern fried hip-hop to indie-flecked Brit rock to a French duo that really likes dressing like hipster C-3POs. These are the pairs that have made their legends in tandem. Good duos give you a peek into their collective psyches; great ones don't let you see the seams.
1. Outkast
"The South got somethin' to say" will be written on Outkast's epitaph once Andre 3000 — a.k.a. 3 Stacks a.k.a. Possum Aloysius Jenkins — and Big Boi — a.k.a. Daddy Fat Sax a.k.a. Sir Lucious Left Foot — finally put down their mics. When Dre snarled those words at the 1995 Source Awards, the South glowed after being ignored for the better part of a decade, thanks to the dominance of the East Coast/West Coast rap axis. The duo from Savannah made sure folks knew something was happening south of the Mason-Dixon and backed it up with every album they dropped, from the silky, spaced-out ATLiens to the orchestral funk of Stankonia.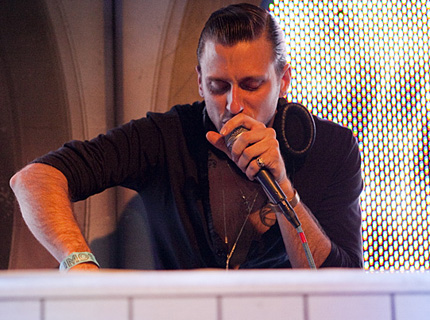 2. Daft Punk
It doesn't matter if the first time you heard a Daft Punk song was in a dingy frat house basement in Kansas or in a sweat-soaked warehouse party in pre-yuppie Williamsburg (or at CBGB, where everyone thought it was crazy) — you knew you just wanted to dance. Guy-Manuel de Homem-Christo and Thomas Bangalter brought that peculiar brand of French house — really a glittery blend of Euro disco and Chicago's native deep house — to the mainstream through songs like "One More Time" and "Harder Better Faster Stronger," two infectious (and ubiquitous) dance tracks that are still crowd pleasers from bar mitzvahs to Berlin.
3. Eric B. and Rakim
Think of Eric B. and Rakim as a bridge between two eras of hip-hop: On one side you have the original storytellers who combined narrative and flow into an oral history of the American city. (Think Grandmaster Flash, Kurtis Blow, and the Sugarhill Gang.) The other side is where the lyricists live: Nas, Biggie, Tupac. The lyricists were obsessed with the power of language and metaphor and compressed lyrics into diamond dense bars throughout the '90s. Without Eric B. and Rakim's seminal Paid in Full and Don't Sweat the Technique, we don't see Illmatic or Ready to Die. The duo's output was modest, but there's no doubting their place in the hip-hop canon, especially considering Rakim could do this at 18.
4. White Stripes
It's funny that after years of writing increasingly layered and complex songs, the lick Jack White will be most remembered for is a simple six-note riff. "Seven Nation Army" isn't the duo's best track — that nod goes to "300 MPH Torrential Outpour Blues" or "Hello Operator" — but there's a stark beauty to Meg White's war drum and the deep throb of Jack's guitar. (Yes, oddly enough, that's a guitar, not a bass.) Even the chorus seems like a tempest in a teacup compared to the grungy blues fans expect from the pair. But no other band in recent history deserves a spot in the rock canon more than the White Stripes, and no other band has a better theme song.
5. The Chemical Brothers
The Chemical Brothers brought electronic music to stadiums and made it shine. One of the founding families of big beat, that particularly English combination of soaring rock and grimy techno, Tom Rowlands and Ed Simons ran roughshod over the U.K. pop charts with albums like Dig Your Own Hole and the funky Surrender. Their fingerprints are all over the pop charts today, too, where electronic-inflected rock has quickly become the rule. The Chemical Brothers cast a twin shadow longer than any other duo in electronic music history, and with good reason.
6. UGK
There are times when you can overstate the influence of artists but go ahead and thank Bun B and the late Pimp C for the emergence of rappers from Nappy Roots to T.I. to A$AP Rocky. The godfathers of that syrupy Houston sound might be most famous for their Outkast-assisted hit, "Int'l Players Anthem," but be assured their catalogue is at the bedrock of Southern hip-hop. 1994's Super Tight and 1996's Ridin' Dirty laid a foundation from Houston to Atlanta. Rappers are still building on it.
7. Tegan and Sara
There are bands with cult followings, and then there are Tegan and Sara. The Quin twins have been creating beautifully textured pop since the late '90s and reached mainstream critical acclaim with 2007's The Con, an album that puts Tegan and Sara's rattling, driving rhythms on full display. (They had reached pop ubiquity in 2004, however, when they released the single "Walking With a Ghost," an infectious power-pop song with a hell of a hook.) Their urgency doesn't stop with music though; they're both intimately involved with progressive political causes especially within the LGBTQ community.
8. Gang Starr
Outside of Eric B. and Rakim (No. 3 on this list), there isn't another DJ and MC combo that can touch DJ Premier and the late Guru. The pair seemed to evolve in tandem over the years, going from the raw, direct sampling on No More Mr. Nice Guy to the smooth layers of jazz and funk on Moment of Truth. The chemistry between the pair is so strong that even when Primo flips the beat and dials up the BPMs, Guru is right behind speeding up his flow.
9. The Kills
For a second there, a little bohemian borough in London was the center of rock'n'roll. Camden, a small, periscope-shaped neighborhood near the center of the city, provided the breeding ground for artists from the Libertines to Amy Winehouse, and in the midst of all that a pair that had recently renamed themselves "VV" and "Hotel" found a home. Better known as Alison Mosshart and Jamie Hince, the Kills provided a slow-burning, bluesy take on English indie rock that sounded equal parts Sleater-Kinney and My Bloody Valentine. While Camden's Roman candle of a rock scene may have burned out, the Kills still shine a light.
10. Beach House
When Beach House released Bloom in 2012, it was clear that the band had finally blown that pocket-sized genre dream pop into something much bigger. This was planetarium-sized pop, the songs soared. And then, just as quickly as those ten tracks rose into the stratosphere, Beach House went back to the horizon. The stark Depression Cherry and its near-immediate follow-up, Thank Your Lucky Stars, represented a return to Victoria Legrand and Alex Scally's musical roots, and the result is a pair of sparse, opaque gems. The duo's ability to change gears so deftly is something special, and we're all better for it.