After a long, long lead-up and frantic final sprint, Rihanna's ANTI has been downloaded more than 1.4 million times in the 15 hours since the record was officially released on TIDAL, and the RIAA has certified it platinum, TIDAL confirmed to SPIN. The Barbadian singer's eighth LP was streamed more than 13 million times the night it was dropped, and all the free downloads that Rihanna offered on Twitter were redeemed within 14 hours.
"When we started this campaign, we expected this to take a week," Grace Kim, TIDAL's director of Marketing told SPIN over the phone. Instead, they moved "1.4 million in not 24 hours but 15 hours," she continued. "That's a really big deal for us." When asked if the initial leak of the record just hours before it was officially released hurt or helped ANTI gain the buzz to ship 1.4 million copies, Kim said no. "Look, we know what happened here, in the sense that unfortunately we still rely on systems, and there was a system error. But I don't think it hurt it at all."
Though the RIAA is recognizing ANTI's milestone numbers, Billboard and Nielsen are not counting ANTI's sales on TIDAL towards their totals. "There were conversations [with Billboard] early on when this promotion and partnership started, but ultimately it became about giving music directly to the fans," Kim explained. "While everyone would've loved to have it count, the thing that we're focused on here is that it's number one."
"This is the new model. The new model is about how many fans are we getting the music to," Kim told SPIN. "Soon enough everyone else with have to come along for the ride. We believe this is just the beginning of how we market albums, how we distribute music to fans, how fans consume music. It's just a different way of thinking."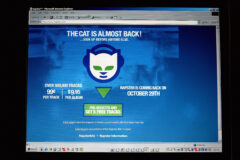 For their part, TIDAL considers ANTI a tremendous success, and the buzz about the album (and future large projects they're not allowed to hint at yet) is helping to draw people to the streaming site following a slow burn. "We're ecstatic," Kim said.
Update: A TIDAL representative has reached out with the following clarifications to Kim's comments. In regards to TIDAL's "systems error," Kim is "referring to a system error caused by Universal Music Group. The error was not something TIDAL caused." 
In regards to Kim's comment that Billboard and Nielsen are not counting ANTI's sales on TIDAL toward their totals, TIDAL has clarified with the following statement: "Billboard and Nielsen are counting ANTI's sales on TIDAL towards their totals, [but] they aren't counting the Samsung/Rihanna download code gift to fans. The 400k+ sales of ANTI via TIDAL will be counted by Billboard."
Update 2: Another TIDAL rep further clarified the situation: "Of the 400K+ in global sales of ANTI via TIDAL, Billboard will only be counting US sales."