Update: The Guardian has footage of Anderson's dog concert. Seems like the pooches had an enjoyable night on the town.
https://embed.theguardian.com/embed/video/lifeandstyle/video/2016/jan/05/laurie-andersons-concert-for-dogs-was-a-low-frequency-treat-video
Performance artist/avant genius Laurie Anderson is holding a concert in Times Square this evening for dogs — not a typo. The New York Times reports it will be her second performance with the sound emitted at a low frequency intended for canine ears (as well as 350 lucky humans who will receive headsets). The first of its kind was her turn at Australia's Sydney Opera House in 2010, though this go-round follows her acclaimed documentary film Heart of a Dog, which followed the life and death of her beloved rat terrier Lolabelle. (Noisey critic Robert Christgau gave its soundtrack the highest rating he awarded anything in 2015, a rare A+.)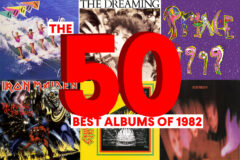 Tonight's show will be part of Times Square's "Midnight Moment" series, which has also featured Yoko Ono in the past, who commented on Anderson's venture that a silent concert for dogs is something "only Laurie can get away with." (Pretty sure Ono could too though.) A three-minute cut of the documentary will also be shown at the concert, which begins at 11:30pm.