Update: In addition to changing his album title, it looks as if 'Ye has also tweaked the record's track list. Here it is via Twitter: 
#waves pic.twitter.com/fyER7NH8DC

— KANYE WEST (@kanyewest) January 27, 2016
Update: Looks like Kanye changed the title of his album again. Originally called So Help Me God before the Swish era took over, 'Ye has now issued a decree: the Yeezus follow-up will be called WAVES.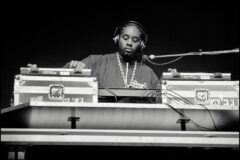 New album title, WAVES

— KANYE WEST (@kanyewest) January 27, 2016
It looks like Kanye West is going to premiere Swish in grand fashion when the hotly anticipated album drops on February 11. Pitchfork reports that 'Ye's Madison Square Garden show that day will be screened in theaters across the world. A Reddit thread sleuthed down some of the international theater chains that are showing the event. Posters for the show, as seen above, bill it as Yeezy Season 3 — his third fashion line. Yeezy Seasons 1 and 2 saw the live premieres of "Wolves" and "Fade," respectively, so it's likely that we'll hear a good chunk of the new LP since it's the day it drops. One theater listing says the event will feature a performance by artist Vanessa Beecroft, who worked with Kanye on the first two Yeezy Seasons.