Whether seeing Hinds live, or listening to their debut album, Leave Me Alone (out January 8 on Mom + Pop), one question always comes to mind: Can I join? "So many people [ask that]," attests co-founding singer-guitarist Ana García Perrote. "People are prepared to do anything." Drummer Amber Grimbergen imitates a common query: "'Do you need a keyboard player, maybe?'"
It's understandable. Few bands out right now look or sound like they're having more fun than this Spanish quartet — playing their brand of sweetly thrashing pop music, hanging out with one another, being young and drinking beer and living life. Their concerts seem less like performances than parties they happen to be hosting, where half the crowd is already their friends and the other half will be by the time of the encore. You'd have to be a professional wine taster or overpaid sports analyst to not trade your job for theirs at a millisecond's notice.
Hinds only had two members when they formed in 2011, when a then-teenage Perrote and friend (and future co-lead) Carlotta Cosials travelled to the coast of Spain together. "I still don't know why we had two guitars [with us], because [neither] of us knew how to play," Perrote, now 21, says. Bored on the beach and equipped with knowledge of three guitar chords, Perrote learned how to play a Bob Dylan song, then taught Cosials, now 24, how to play it. "We started singing it, and playing with the voices…. we were like 'F**k , this is great, I am loving this feeling,'" Perrote recollects. "So we're like 'OK, let's make a band, let's get a gig before the end of the year.'"
Still just a duo at the time, Coasials and Perrote started playing cover gigs together as Deers. (A letter from the lawyer for the homonymic band Dears forced them to change their name to Hinds in late 2014.) Eventually, they learned to write songs themselves, and recorded a two-song demo, but realized that, as a pair, they were a little overmatched trying to record as a full band. "It was so messy, like, clearly we needed professionals, more people that knew what they were doing," Perrote says. "And we found Amber and Ade." With Grimbergen, 19, on drums and Ade Martín, 23, on bass — both more experienced than Coasials and Perrote — the four-piece was ready to get to work teaching themselves how to be a proper band. "We were training like soldiers for nine months," Perrote remembers. "Like army training, nine hours a day."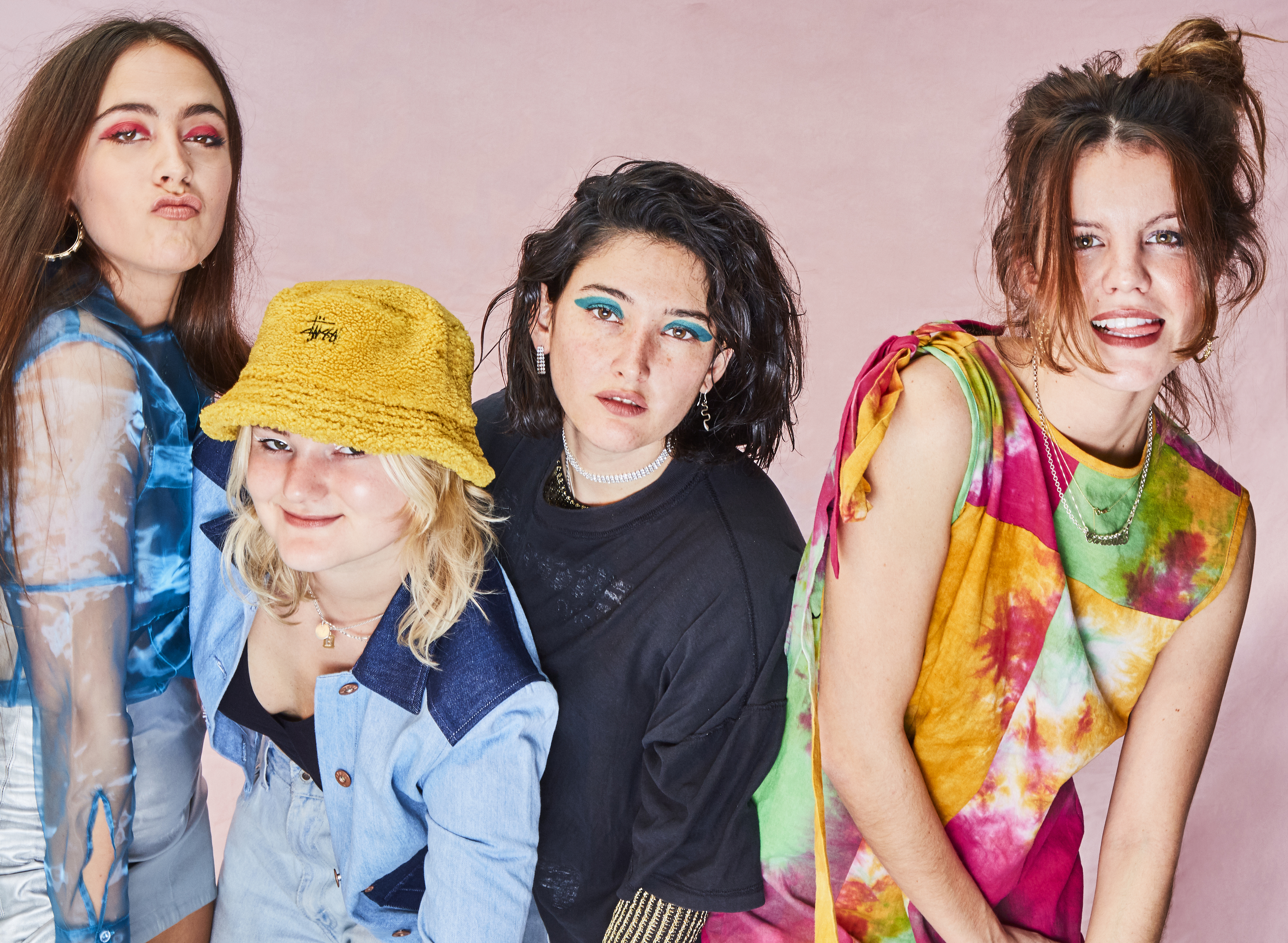 Hinds released a couple of singles in 2014 and contributed to a split EP with friends and fellow Spanish DIY group the Parrots the next year, with most of their recorded material being collected on 2015's six-song The Very Best of Hinds So Far compilation. The band's fanbase grew with their consistent touring, and last year, the band played at Glastonbury, the premier festival for European acts to make names for themselves. "We were so, so, so, so excited," Perrote says. "I remember not sleeping for more than an hour, just in the bed, turning around, turning around, and hearing the others doing the same," (The show was a success, and now Grimbergen says the band has learned the dangerous lesson that they don't need to get sleep the night before performing.)
This week sees the release of their debut full-length, Leave Me Alone, 12 songs of dreamy, classic '60s pop delivered with lo-fi abandon, like if Tommy James and the Shondells had come up through garage rock. The album was originally supposed to come out this past summer, which would make sense for its breezy melodies and carefree arrangements, but since the delay, Perrote has come around to the idea of it being a wintertime album. "Maybe January kind of fits with the album, because we have more slow and melancholy songs," she says. "And it's just four months until spring. So it's just like, giving a little bit of summer to the winter."
Despite being Spanish natives, Hinds sing entirely in English, giving their lyrics a stilted — sometimes blunt — charm. "I am flirting with this guy, so you can watch my crime / Saliva mixed with ice, your hat is oversized," goes the playful verse to "Chilli Town." "In Spanish, it's so extreme," Perrote explains. "You either talk about super-deep things, or it's just so stupid, like 'I wanna party, party, party'… I haven't [heard] a middle point yet in Spanish." Largely delivered by both Perrote and Cosials in tandem, the vocals have a force that tends to transcend the occasionally incomprehensible lyrical content. "We mostly talk about love," Perrote summarizes.
The thoroughly enchanting Leave Me Alone is sure to send the number of applications to be the fifth Hind skyrocketing. There's an upside to having that scope of wannabe members, though — Perrote and Grimbergen say that one of those admirers saved their lives, when they were driving through Tehachapi, California. "We got stuck in a mudslide, it was just a crazy storm," Grimbergen remembers. "We were like, two hours without moving." Perrote says the band's panicked social media S.O.S. about their predicament attracted a nearby savior. "'Yeah! I live with my mom, I think I have space, could be nice…'" she says, quoting the fan's response. "And we went there, and it was great, and we slept great, and they treated us so good."
So does that mean that person gets to play tambourine on the next album?
"If they wanted to," she answers, laughing. "We'd have to let them."