Don't know if you've heard, but there's going to be another one of those live television presentations of a classic stage musical this weekend. Here are some questions you may or may not have about it.
What's the deal with Greece?
Well, in 2008, global financial markets took a hit. Greece announced the next year that it had been downplaying its massive deficit figures, and was all but unable to borrow money as confidence in the Mediterranean country's ability to pay any lenders back had plummeted. This, along with a couple of other factors, had Greece on a path towards bankruptcy. In 2012, the Greek government had the single biggest sovereign debt default in hist—
Wait, no. Grease. The musical. With an "a." Isn't there some TV event?
Oh yeah. Grease: Live!. That's a thing that exists.
Yes, that one. Where can I watch it?
Grease: Live! will air (live) on Sunday, January 31 at 7 p.m. EST on Fox.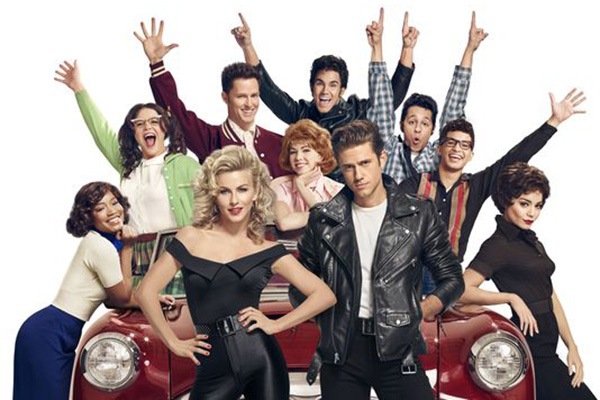 Who is in it?
Julianne Hough, two-time professional Dancing With the Stars champion, will play Sandy (played by Olivia Newton-John in the 1978 film) and Aaron Tveit will play Danny (famously played by John Travolta).
Are there any musicians in it?
There sure are! E•MO•TION singer Carly Rae Jepsen is playing Frenchy, and Jepsen's a big deal in the music world (except to people who actually buy albums, apparently). Vanessa Hudgens is technically a singer, and she's playing Rizzo. Boyz II Men will be playing the role of Teen Angel(s), which will be pretty fun, we bet. Joe Jonas' new band DNCE is also in it. That's a thing.
Anybody else?
Uh, well Jessie J is opening the show by performing "Grease Is the Word." Now that you mention it, since that song's about three minutes long, you really don't need to turn on Fox until 7:03 p.m. EST to get the optimal Grease: Live! experience.
https://video-cdn.hollywoodlife.com/players/Re2WMaGs-RiPpdJ98.html
What is the word?
Grease. Grease is the word you stupid idiot.
That was very rude.
We're sorry, we're just very tired. Look, it's been a long week. Rihanna sort of surprise dropped ANTI, and everybody's been talking about Kanye West's sphincter for the better part of two days. We're just trying to make it to the weekend and the world premiere of Grease: Live! Do you have any other questions? We're here for you.
Um, isn't there something kind of weird about how Sandy just totally changes herself and starts smoking and dressing differently so that Danny will like her?
Oh it's totally ~problematic~ but then again, so are most things from the 1950s.
Is Grease: Live! going to be good?
Does it matter?
What time is the Super Bowl?
Super Bowl 50 will kick off in San Francisco's Levi's Stadium on Sunday, February 7 at 6:30 p.m. on CBS.