Carter Tanton has spent a lot of time wandering. First known as frontman of now-defunct rockers Tulsa, the musician's musician has since lent his songwriting, producing, and guitar-playing talents to Lower Dens, Marissa Nadler, and the War On Drugs. After releasing his first solo effort Birds & Rain in 2005, he followed up with the homegrown Freeclouds in 2012, with folk-rock arrangements showcasing his diverse skills. Tanton travels even farther with "Twenty-Nine Palms," the lead single of his debut LP Jettison the Valley (set to be released March 4 via Western Vinyl). Featuring lilting back-up vocals from Sharon Van Etten, the pedal steel-laden track perfectly encapsulates Valley's easygoing essence. Tanton says of his inspiration for the album:
I had just moved to England with my girlfriend where we lived in a caravan on her family's plot of land with the M5 motorway on one side, and a horse farm on the other. To get away from the incessant low rumbling of cars, I often walked along the area's ancient public footpaths that carve strange ways through the countryside. On those walks, my previous 30 years in America billowed and collapsed in front of me. As I stood there in the blowback, the constant push of time seemed to finally relent, and I found enough distance from it to see my past in clear broad strokes. After a few months we moved to Oxford and lived in a little attic apartment up on a hill. I spent most days watching the weather roll through the valley and writing these songs about my relationship ending. Eventually, I felt I had to come back to the states to record them.
Stream the single and check out Jettison the Valley's track list below.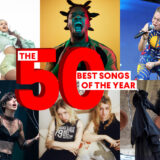 Jettison the Valley track list:
1. "Twenty-Nine Palms"
2. "Fresh Faced Claire"
3. "The Long Goodbye"
4. "Poison In The Dart"
5. "Jettison The Valley"
6. "330"
7. "The Dressmaker's Girl"
8. "Through The Garden Gates"
9. "Diamonds In The Mine"