SPIN Rating:
Release Date:
November 23, 2015
Label:
Roswell / RCA
In the nearly two decades since The Colour and the Shape put him on a whole new map, Dave Grohl's highest profile is not as a Foo Fighter but as a kind of brand ambassador for rock, like Neymar for Nike, or Shaq for IcyHot. Last year's HBO documentary series Sonic Highways and its accompanying album were a poignant tribute to the notion that iconoclastic musicians were extant in cities all across America, just waiting to be subsumed into the Foo Fighters' trademark monochromatic pop-rock. While promoting the record this summer, Grohl made headlines when he broke his leg falling off a Gothenburg stadium stage. The band canceled the rest of their European tour. But less than a month later, they honored a 20th-anniversary date at Washington's RFK Stadium, with Grohl bashing and thrashing upon a custom-made (is there any other kind?) throne, studded with guitar necks in a manner redolent of another continent-hopping HBO program.
But a funny thing happened after the show: the band decided to keep going. The Sonic Highways World Tour became the Broken Leg Tour. Dave had to modify his manic energy — easily his most adorable trait — to suit his confinement. Instead of exerting himself bodily, he put it all into the mic: larynx-menacing yowls and amiable stage patter. Sets were longer, fans were ecstatic, reviewers were kind. Four months into the tour, they were set to headline the Austin City Limits festival. As the band checked into their digs, Grohl got the itch to record. Within a day, a very accommodating (is there any other kind?) Saint Cecilia Hotel allowed the Foos to turn their establishment into a recording studio. In between two weekend sets at ACL and a number of other tour dates, surrounded by friends and Ben Kweller, the guys bashed out the five songs on this here EP.
Befitting the sessions' impromptu origin, the tunes on Saint Cecilia — the patron saint of music, as any Art Garfunkel fan will tell you — were largely assembled from past albums' cutting floors. The title track crawls towards wholeness on the lovely vocal meld of Grohl and Kweller, and also a push-and-pull bridge buttressed with Nate Mendel's bass harmonics. The references to healing and broken bones are, obviously, new. But for the suggestive weariness, the elliptical power pop of "Sean" is of a piece with the Foos' 1995 debut, which was essentially an extra-crunchy Grohl bedroom-pop record. "Savior Breath" (that title… ouch) takes a Motörhead frame and beats it to s**t: Grohl obliterates a fuzzed-out vocal filter while lead guitarist Chris Shiflett does his best to match the lunacy. There's a good chorus trapped here.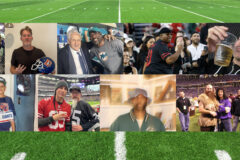 Meanwhile, "Iron Rooster" is a bone-tired dragger that's probably of recent vintage but could date back to Down on the Upside, for all I know. "Have you ever been dumb enough to do what you wanted to do," Grohl muses, as the Wallfowers' Rami Jaffee dials for help on his piano. The Gary Clark Jr.-esque guitar solo (he sat in on these sessions) suggests the rarefied existentialism of late-'70s Pink Floyd. One wonders what Clark himself might have done with the prickly, towering closer "The Neverending Sigh". It boasts the most complex structure on the EP — no surprise, given that it's based on "7 Corners," an also-ran that's been around so long it's lent its name to a fan book and a post-grunge band.
The final two cuts are such a combined downer that Grohl's earnest letter about the recording process is practically the sixth song that makes the project complete. Just three days after the terrorist assault at the Bataclan, the Foo Fighters were scheduled to play the AccorHotels Arena, less than two kilometers away. The band playing the Bataclan that night, as we know, was Eagles of Death Metal, whose members share an extensive musical history with Grohl. "[E]ven in the smallest way," Dave writes in a post-hoc foreword, "perhaps these songs can bring a little light into this sometimes dark world." To think of music providing any true comfort to shattered people invites at least some unease. But someone's comfort can be just as impenetrable to outsiders as their suffering. In their 20 years, the Foo Fighters have comforted untold numbers of people from South Africa to South Korea. It's the one consistent blessing of stardom. With Saint Cecilia, the Foos are trying to acknowledge that blessing in the best way possible: being themselves.