Last night marked the biggest, most artist-jammed iteration of radio conglomerate iHeart's annual Jingle Ball circuit, a cross-country "greatest hits of the year" tour that consistently sells out arenas — for good reason. With a lineup of some of pop's biggest breakouts and hitmakers of 2015, the show is always indicative of both what was and what is to come in Top 40. SPIN was there to rank every performance at New York City's Madison Square Garden.
16. DNCE
Jingle Ball moves quickly. Acts often only get two or three songs to strut their best stuff before the stage rotates to reveal another performer, a process that often leads to sound issues, especially when lip-synching — which is exactly what happened to Joe Jonas' four-piece during their faux-raucous performance. "Cake By the Ocean" is a grower, but it would've been just as rewarding to press play on a laptop at home.
15. Charlie Puth
There was something insincere about Puth's live performance: He hit his marks, but the strain on his face exposed how hard he obviously tried to do so. His vocals at Jingle Ball were smooth and fine, but an obvious lack of connection to the audience with lyrically basic songs like "Marvin Gaye" and "See You Again" meant a chilly reception for the recent Grammy nominee.
14. Fetty Wap
Nestled atop his golden throne, SPIN's Rookie of the Year had a rough go of it last night. Plagued with a numbe rof sound issues, "Trap Queen" and "679" certainly translated well to an arena setting, but Fetty mumbling his way through every other verse — foregoing the rest of his lines entirely — meant the brunt of singing his songs fell on the shoulders of the assembled tweens.
13. Conrad Sewell
The Kygo collaborator's being pushed as the "next big thing," and the Australian singer's capable vocals and affable stage presence definitely demonstrated star potential. Without the hits to back up the talent, however, his was a set that came surprisingly late in the night with minimal heft.
12. R. City
The hip-hop duo and longtime Top 40 producers R. City's tropical "Locked Away" is a bad song, plain and simple, but you wouldn't have known it based on the audience's screeching reaction. Welcome distractions included  frequent pop songwriter-turned-vocalist Chloe Angelides's cameo for their collaborative "Make Up" and a quick dip into R. City's past when a DJ played hits they helmed, including Rihanna's "Pour It Up" and Miley Cyrus' "We Can't Stop." Their energy was unmatched for most of the night.
11. 5 Seconds of Summer
A welcome bit of pop-punk in a field of synthesizers, 5 Seconds of Summer kept their set light and tight to kick off the evening. It was hits only for the group, and the audience echoed every word. It was a welcome change from last year's Jingle Ball, where the reception to the then-lesser-known quartet was far more aloof.
10. Hailee Steinfeld
Celebrating her 19th birthday in style, the actress-turned-singer only had ten minutes to prove she was worthy of a prime showtime slot. With the anthemic, "Roar"-esque "You're Such A" and one of SPIN's 101 Best Songs of 2015, "Love Myself," she served live vocals and a bit of choreography to boot as her smile shone brightest. Someone get this girl a full album and a tour!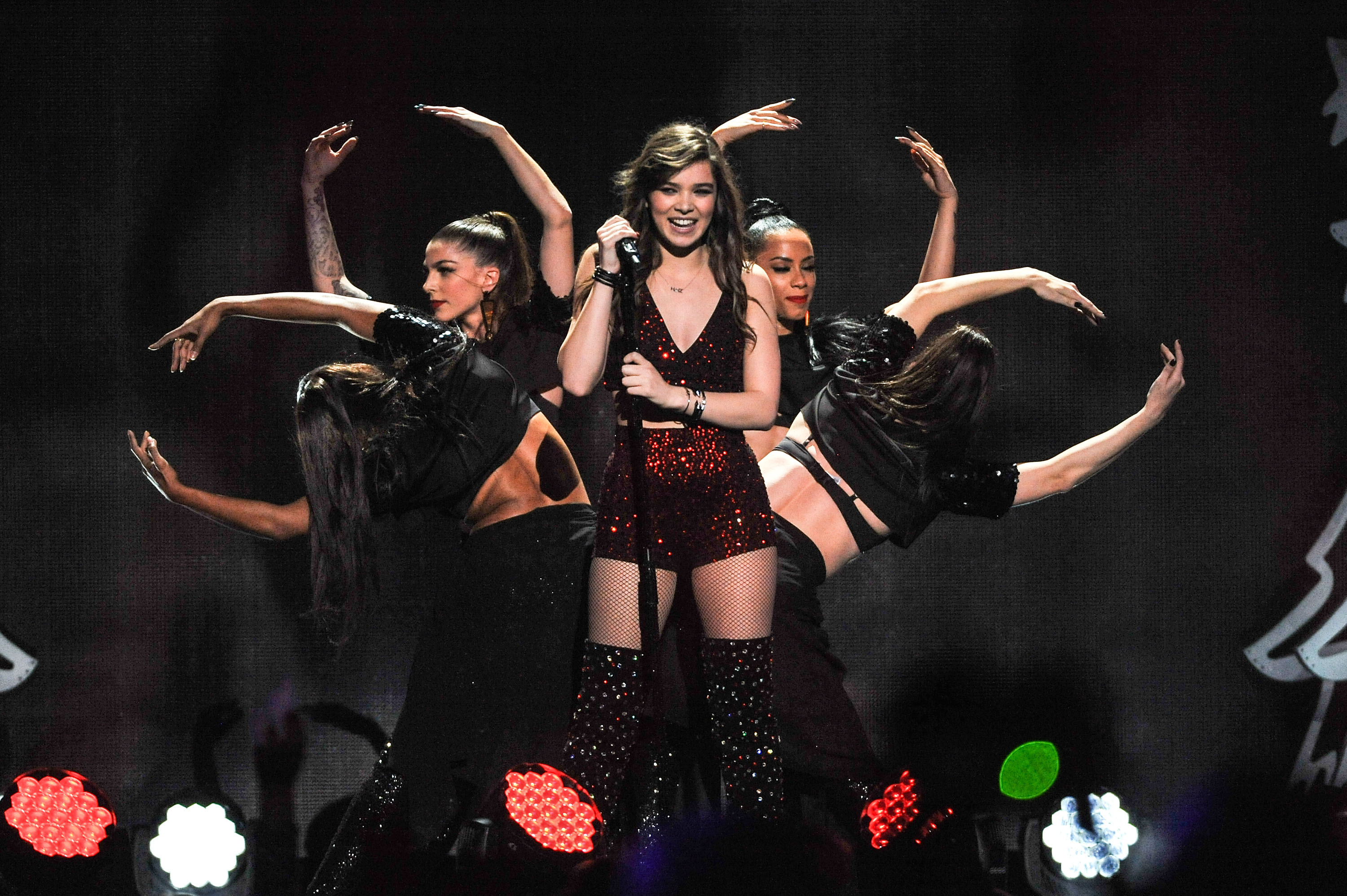 9. Shawn Mendes
Eliciting the night's loudest screams, the 17-year-old former Vine star also did the most with the least: just his voice and an acoustic guitar. His current Top 40 hit "Stitches" translated exceptionally to the arena crowds — no surprise, considering he fine-tuned it opening for Taylor Swift's 1989 World Tour — but the best "surprise" of the night was the appearance of Fifth Harmony's Camila Cabello for their duet, "I Know What You Did Last Summer." Chemistry or not (hint: not) their voices swirled up emotion from the arm-swaying masses.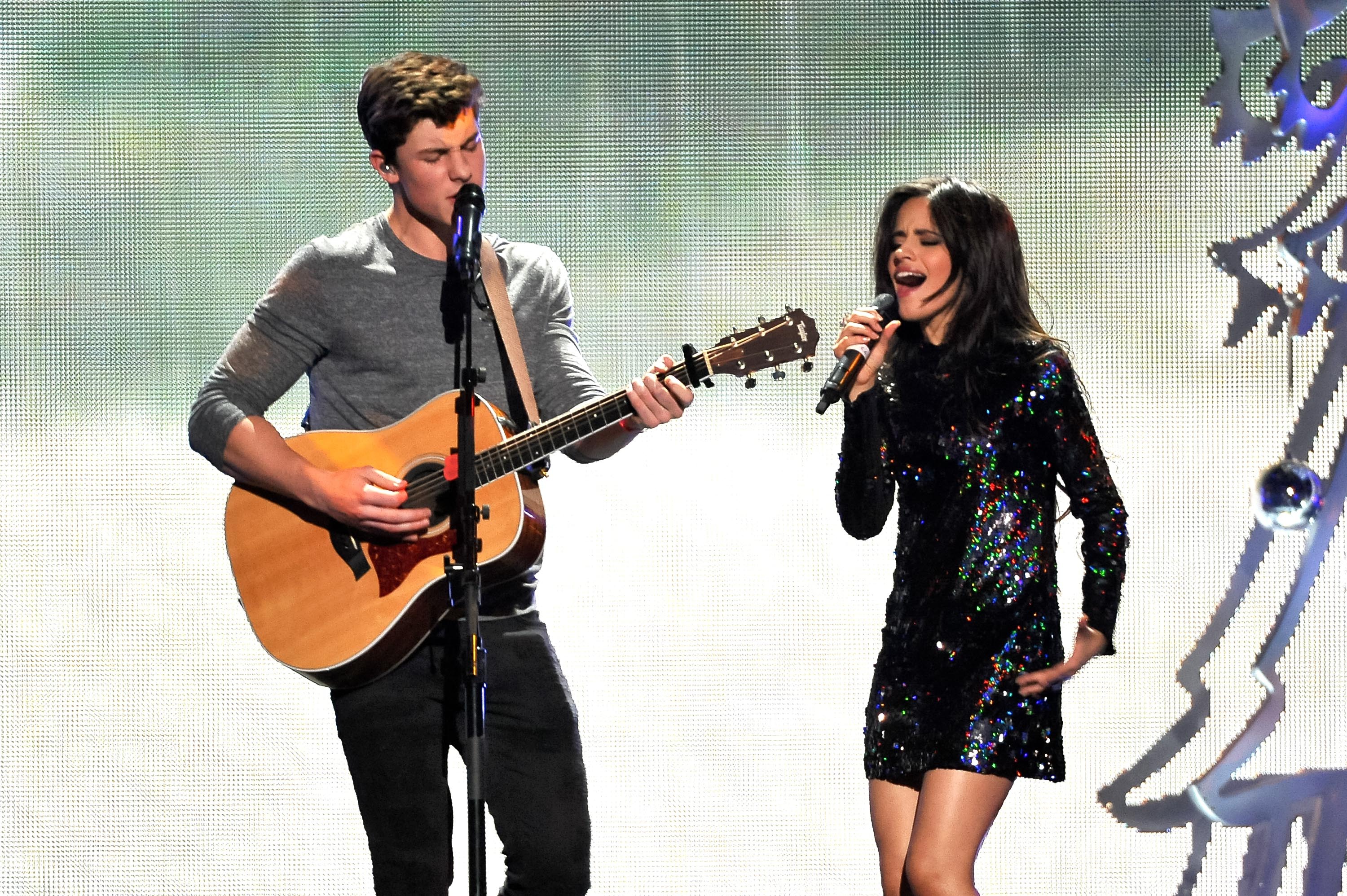 8. Zedd
DJ sets at large-scale radio events are hard to judge — are they just mashing buttons and pretending? Does that question even matter? — but Zedd brought the drops and even welcomed former flame Selena Gomez onstage to perform their single "I Want You to Know" for the first time ever live. Lasers and turntables aside, the young electronic producer's charisma and boundless energy flipped all the right switches.
https://youtube.com/watch?v=-rpL_qkZTOA
7. Selena Gomez
From a purely pop perspective, Jingle Ball gives stars a stage for testing possible new singles. It's a risky transaction — new material obviously won't turn up an audience quite like the hits — but Selena Gomez did a smart mixture of both, dipping into her past with the tightly wound synth-jam "Love You Like A Love Song" while trotting out one of SPIN's 101 Best Songs of 2015, "Hands to Myself," as well as fellow Revival deep cut "Kill Em With Kindness." Live vocals, more mature choreography, and some fleshed-out instrumentation made Gomez's a surprisingly unmissable set.
6. Tove Lo
Though the second performer of the night, Sweden's very own Tove Lo treated the Jingle Ball stage like a proper headliner, stripping down to a sparkly catsuit as she bounded across the stage for life-affirming hits like "Talking Body" and "Habits (Stay High)." Her slightly gravelly voice brought gravitas to the songs, and her energy exuded star power. With a second album on the way, it's clear Tove Lo will continue to command audiences of thousands for quite a long time.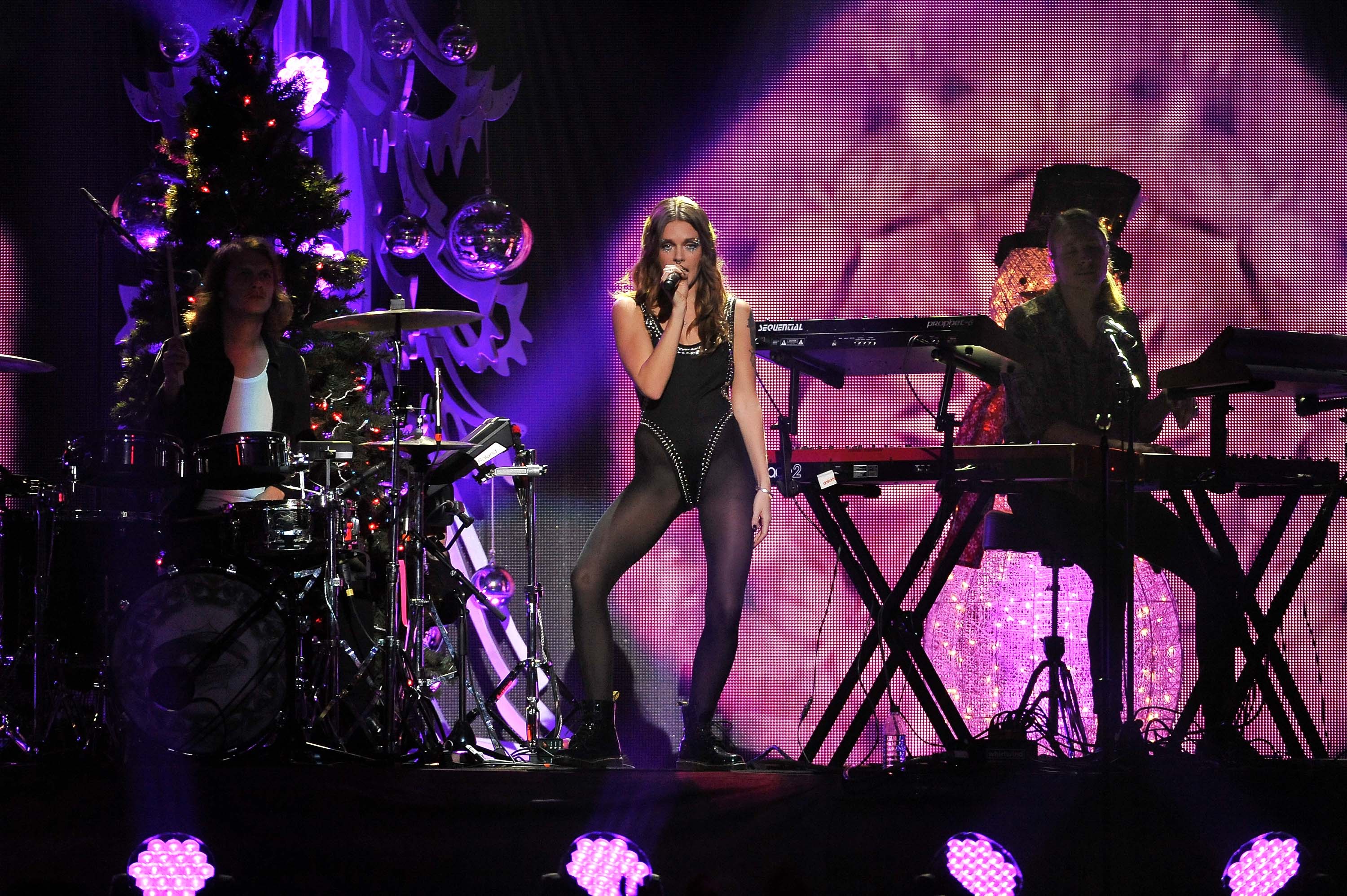 5. The Weeknd
Bounding onto the stage just after midnight — when else would he? — the Weeknd closed with a smash-stacked set. Opening with his MJ-reverent "In the Night" and peppering in dance jams like "Can't Feel My Face" and Ariana Grande's "Love Me Harder, the Beauty Behind the Madness maverick refused to censor himself even though the show was being broadcast live. Little more than a year ago, the idea of headlining a pop showcase of this magnitude would've been unfathomable; now anything but such an occurrence is just as unimaginable.
https://youtube.com/watch?v=Yv-GIHQMuvQ
4. Calvin Harris
With a resumé like Scottish DJ Calvin Harris' — multiple hits, a relationship with the biggest star in pop (last year's Jingle Ball headliner, Taylor Swift), and production credits with anyone who's anyone on the radio — it's no wonder he was the penultimate performer of the night. In his 30-minute set, Harris brought literal flames, smoke and steam, and a full-fledged light show. When you begin your performance with the guitar-thrumming "Feel So Close," one of the 21st century's best pop songs, you know you're on track for a win.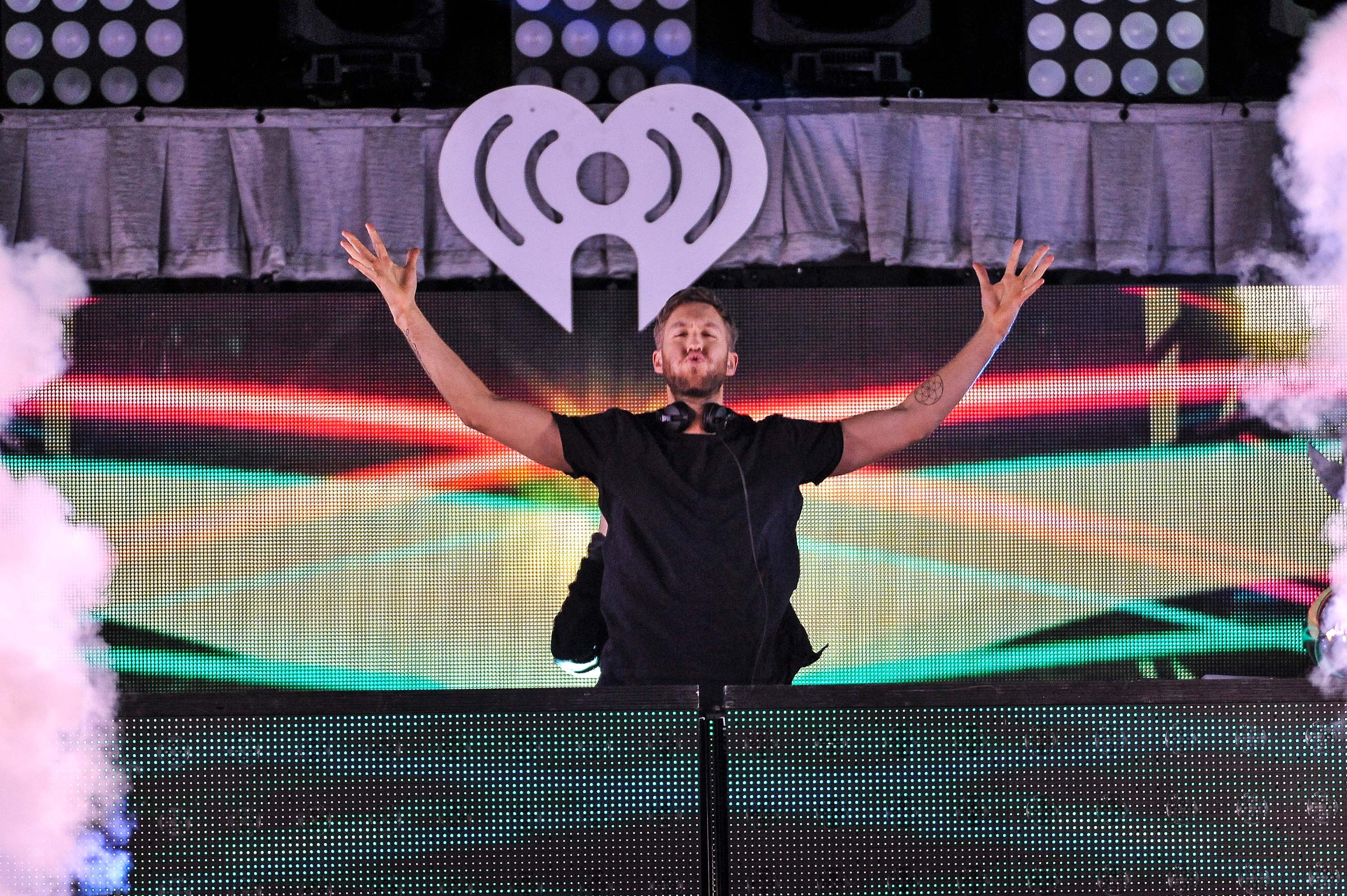 3. Demi Lovato
Nobody in music delivers pristine, profoundly moving vocals like Demi Lovato, and even though last night the young singer claimed she was feeling less than confident, it was impossible to find a crack in her armor. "Heart Attack" and "Stone Cold" sent her pop-rock vocals soaring, and "Confident" and "Cool For The Summer" demonstrated that she can do arena electro-pop with the best of them. Even with a minor spill on her way offstage, Lovato commanded all eyes on her.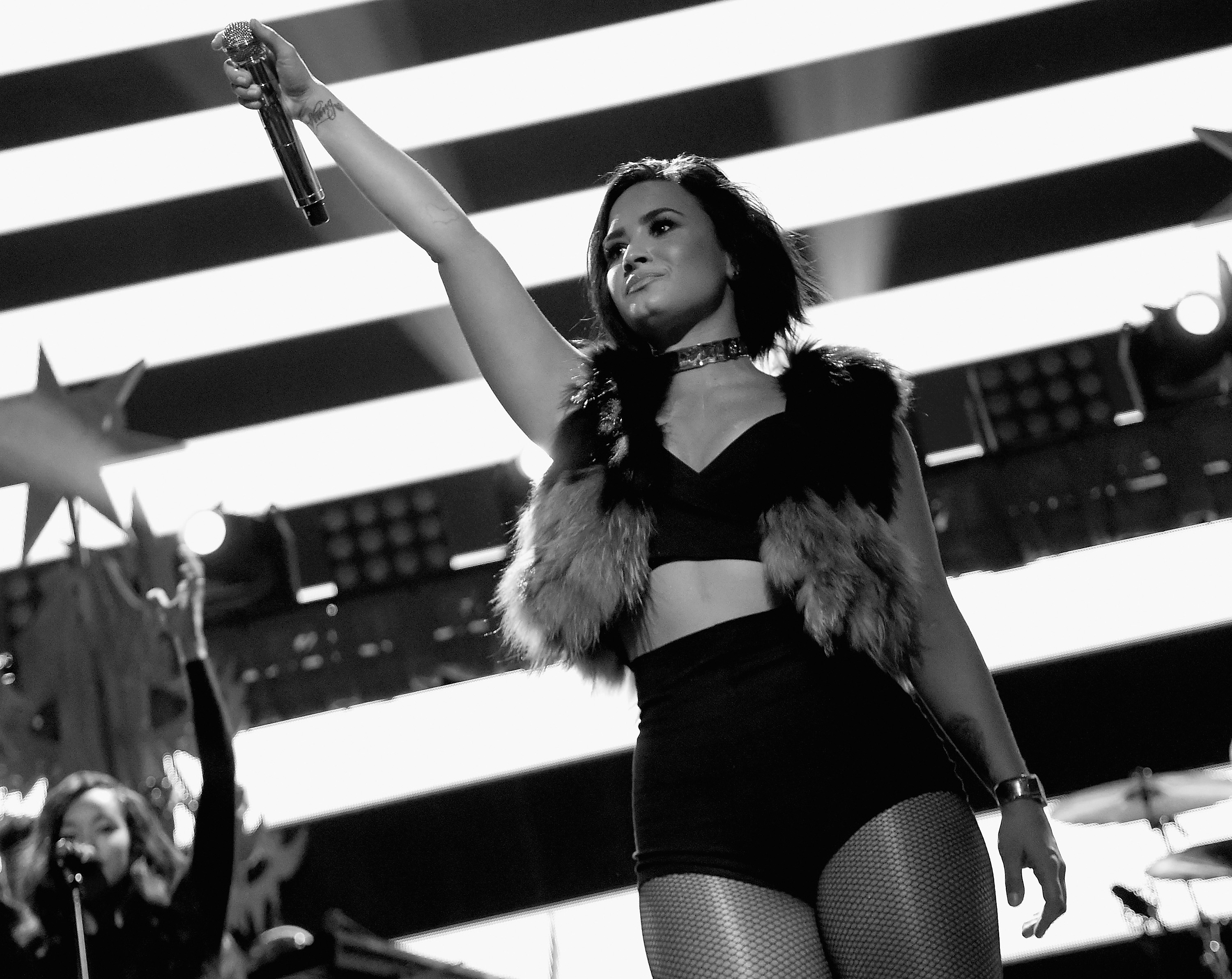 2. Fifth Harmony
Though there've been rumors of infighting and drama amongst pop's current reigning girl group, it seems hearsay is all it is, considering Fifth Harmony's tight and powerful four-song set last night. It's difficult to choreograph a proper banger for just one star, so the fact that all five women nailed their moves and their vocals in unison so quickly is impressive. With "Sledgehammer" and "Worth It" in quick succession, Fifth Harmony brought an energy and togetherness the night needed. Give us 5H2 or give us death!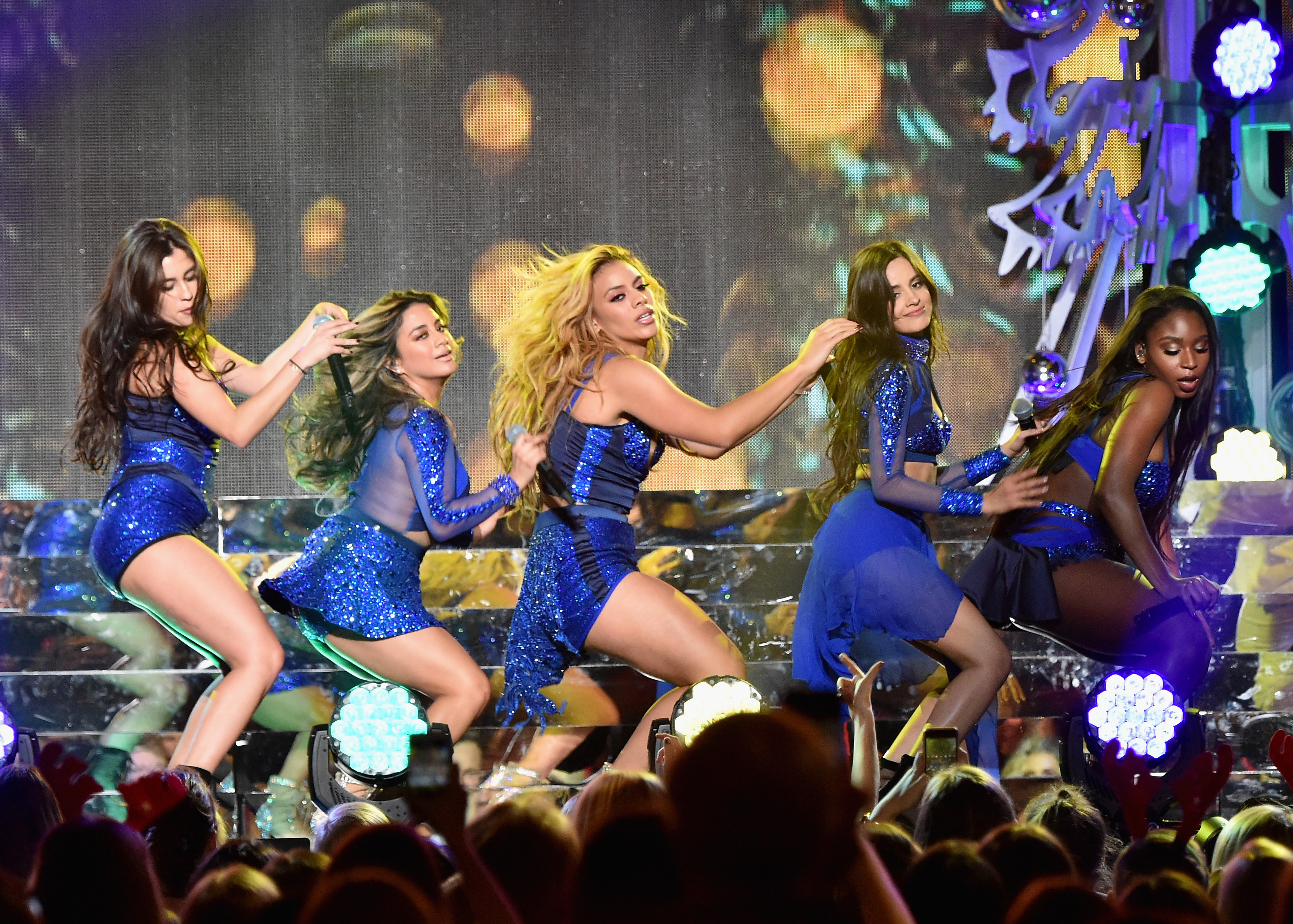 1. Nick Jonas
What a rock star Nick Jonas has become! Afforded one song in 2014 ("Jealous," what else?), last year's Jingle Ball host owned every second of his time last night. With the smoldering "Chains" and the roof-raising "Levels," the New Jersey native turned his falsetto on and his dance moves way up. It's clear there's still room to grow, but that's what makes him such an exciting singer-songwriter to watch. Achieving this high of a bar at such an early stage in his solo career — sunglasses firmly fastened, leather jacket neatly in place — is hard enough; acing it with such palpable ease is a whole other level of dominance.