Overcoming the last month has no doubt been very difficult for Eagles of Death Metal. After 89 people were tragically killed in November during an ISIS terrorist attack at the Bataclan, where the band was performing, EODM has since given an emotional video interview to VICE, and today founding members Jesse Hughes and Josh Homme continue the conversation with Rolling Stone. They detail playing in Paris with U2, what it took for Hughes to return to the stage after the attacks, and founding the charitable campaign Play it Forward, where the band asks fellow musicians to cover their song "I Love You All The Time."
In their discussion, Homme, who was not on tour with the EODM at the time of the attack, says that the tragic events at the Bataclan awakened a newfound sense of purpose within him. "I generally don't carry the flag for anything," he says. "I'm usually on my own exploration that's often dark, mysterious and perverse. But I find myself and my bandmates — and Jesse — in this situation where we're magnetically drawn to this moment to shine a light on a part of ourselves that is ready to help, ready to move, ready to go."
Hughes, meanwhile, recounts receiving a comforting phone call from Bono of U2, who later invited EODM to share the stage with them at their postponed Paris show, marking the occasion as the first show Hughes & Co. had played since the attacks.
"Bono called because I needed advice," Hughes says. "I felt like the best person to ask for advice on how to deal with this is someone who's rubbed elbows with world leaders. And he just prayed with me on the phone. He kept my head off of things, and then U2 visited the memorial site and delivered lyrics of ours that he thought were appropriate. And that particularly was important to me because I really wanted to be out there. I didn't want to be in some safe house. I take personal pride in being really close to my fans. I knew a lot of the people personally that didn't make it, and that little detail, just on a personal note, is something that nobody else would ever know that it mattered, but it mattered to me. I didn't know how I was ever going to get back onstage again."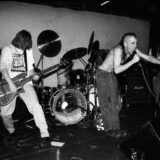 As for sharing the stage with U2, Hughes sounds deeply grateful to the band, saying that they "took care of us completely" during a time when the frontman was admittedly frightened to return to Paris. Read the entire interview here.