I really wish Deafheaven would have destroyed the Beverly. It would've been a defeat for the development that's sucking the life out of music locales everywhere, it would've affirmed their status as the ultimate metal wrecking force, and it would've shown that they don't tread lightly. Metal shouldn't tread lightly.
It's November and I'm with the band in Austin while they're soundchecking for their gig at the Mohawk, the first of two Texas shows I'll spend with the quintet. The Mohawk is a popular mid-sized outdoor venue where anyone who's got a decent publicist plays — mostly indie, though there's increasingly more hip-hop and metal, as those genres have had difficulty finding stable homes in Texas. Across the street from the venue is the Death Star in our backyard: the Beverly condos, the reason outdoor weeknight shows have to end so f**king early (before 11 should be considered too early). Every performance at the Mohawk is a fight against gentrification, against stripping the heart of a city — a fight for the legitimacy of live music itself.
This isn't lost on the band. New Bermuda, Deafheaven's third record and their first for Anti-, was born of confusion surrounding new opportunities, unprecedented ascendance, and changing realities in the midst of it all. By 2014, vocalist George Clarke, guitarist Kerry McCoy, and bassist Stephen Lee Clark all relocated to Los Angeles, after the rent in San Francisco became too much to bear; drummer Dan Tracy and guitarist Shiv Mehra are holding on to their rent-controlled apartments, but most of the units surrounding them are now hotel rooms. At the same time, the group was being flown around to festivals all over the world, performing in countries they'd never played in, and establishing some sense of solvency in an industry where it's damn near impossible to do such — all thanks to their breakthrough with 2013's stunning Sunbather. Much of Bermuda is centered around the turmoil from this period.
"When you're on tour, everything has purpose," Clarke says. "You wake up, everything is tightly scheduled, you are giving people entertainment, you are receiving pleasure from that. Life is going 100 miles an hour. And when you go home, a lot of that drops out, and I was feeling this strain from really going, going, going, and stopping… I was getting bored, I was losing focus, we weren't writing music, we weren't really doing anything. It led to this sort of depression — when that happens, you take it out on people. While professionally, we were reaching huge highs, when I was at home, I was venting my frustration with not knowing what to do."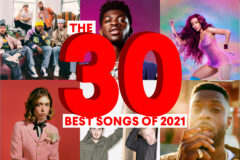 Deafheaven's melding of longform black metal, Britpop, and shoegaze (they're not the first band to be considered "blackgaze," but they set off the fuse for many other bands) has always been conducive to self-flagellating introspection, and Bermuda — one of SPIN's picks for the 50 Best Albums of 2015 — is no exception. And while their latest is a shorter record than Sunbather, they've found they can say more with less, without giving themselves over to punkish run times. This is largely because Clark, Mehra, and Tracy have become integral pieces in their own right. McCoy's songwriting remains ironclad and Clarke's screeching vocals are unquestionable, but bonding with Clark, Mehra, and Tracy — who all joined as touring members in 2013 — has finally translated their live strength on record. (Tracy also played on Sunbather, though he was not an official member until later.) Next to the core of Clarke and McCoy, the other three have been the longest-standing members of the band's previously rotating lineup.
And after five years of self-sacrifice and dedicated touring, Deafheaven's place is secure; their hustle matches the fury of their music. Watching their recent shows in Texas, the band was obviously a couple evolutionary stages ahead of how they used to play, especially when they first came around during South By Southwest in 2011, making their Austin debut at the BrooklynVegan day party at the old Emo's on 6th street. At the time, Deafheaven only had a demo to their name, and if that didn't make them an outlier amongst more established acts like Yob, Kvelertak, and KEN Mode, their presentation certainly did. Admittedly, the first time I looked at them, I thought, "Who the f**k are these guys?" Clarke and then-bassist Derek Prine were too coifed for their own good, McCoy had a pronounced rat-tail, and then-guitarist Nick Bassett had a Danzig parody shirt for Hellfish.
My assumptions couldn't have been more ill-conceived — Deafheaven didn't let their lack of sleep stop them from giving one of the most exhilarating performances of the entire fest. Amongst the seemingly trillions of young and inexperienced bands who claimed they have something to prove at SXSW, only Deafheaven's carried that weight. Their performance not only won skeptics like myself over, but gave us a glimpse into the behemoth they would become.
"We were really just trying our hardest," Clarke says, "but if I saw that band play today, I'd probably go hmph hmph."
Another pivotal moment for the band at that SXSW conference was the Profound Lore showcase, at the now-deceased Lovejoy's. Profound Lore's founder, Chris Bruni, has an eye for ahead-of-the-curve metal; Pallbearer, another metal group who've found crossover success while maintaining a pummeling heaviness, are on the label. Deafheaven were never on Profound Lore, but they easily could have been: Bruni admitted that their rawness showed at his showcase, and despite that, he still saw the glowing headlines and glossy shoots in the band's future.
"I knew that they had that drive and ambition to tour as much as possible, and knew they were committed to working hard, while just doing their thing," Bruni says. "And already being familiar with their music, I had that feeling that something was going to come of this."
Clarke recognizes the performance as an early milestone; still, he admits that they had a lot of growing to do. He would scream without care for mic placement, and he didn't exude the charisma he's swimming in now. They were loud, but that had more to do with the intimacy of Lovejoy's.
"We were really just trying our hardest, but if I saw that band play today, I'd probably go hmph hmph," Clarke says, with a subtly displeased grin.
[featuredStoryParallax id="175686″ thumb="http://static.spin.com/files/2015/12/Defheaven-new-bermuda-band-of-the-year-2015-300×133.jpg"]
Every insider was an outsider at one point. You've seen the pictures of the band with Danny Brown, Cannibal Corpse's George "Corpsegrinder" Fisher, Abbath from Immortal, and Conor Oberst; they may know a good photo opp, but they're not scenesters. At that Profound Lore showcase, Clarke and the rest of the band felt like interlopers within a metal community whose members have raised each other up for so long. Stevie Floyd, who at the time was the guitarist and vocalist in Portland-via-Florida doom-metal duo Dark Castle, approached a "beet-red and sweating" Clarke and complimented the band's performance. "That was one of the first times I felt like we're starting to get integrated into this whole thing," Clarke says. "[Right away], she made me feel really comfortable," he says.
Deafheaven's association with Deathwish, the hardcore label run by Converge frontman Jacob Bannon, put them on a circuit of DIY houses and underground hardcore avenues. To think of them playing in the pit is odd now, but at one point, it was fairly common for them to be literally on the same level as the audience. Tre McCarthy, Deathwish's co-founder, found them how you find talent in this era — word of Internet. That in and of itself isn't exactly remarkable, but McCarthy's pure elation when he found the band's first demo was. In a way, he anticipated what a cinematic force the band would become, inspired by a particularly evocative climax in the demo's "Libertine Dissolves."
"Scenes from a movie started playing out in my mind," McCarthy recalls. "It's something that I feel corny even saying, but the music just created these powerful images in my head. That's what compelled me to want to work with them."
McCarthy didn't get bogged down by the debate over what genre Deafheaven is or isn't. When asked if it was difficult to market Deafheaven because they were unlike anything on Deathwish, he simply states: "It wasn't difficult because despite any subgenre nitpickery, it was aggressive." And that aggressiveness — not in just their sound, but in how much they were really committed to making Deafheaven work — gave McCarthy a sense that Sunbather, the band's second album and follow-up to their lightly acclaimed debut, 2011's Roads to Judah, would be a milestone for both the band and the label.
"I went out to the Atomic Garden while they were recording Sunbather," McCarthy recalls. "I walked in while Kerry was recording and I remember thinking, 'That's the best thing I've ever heard.' Then a few minutes later he did another part, and I thought, "Nope, that is the best thing I've ever heard!'"
The band is grateful that Deathwish put them on and acknowledge the role it played in their career liftoff. At the same time, they have mixed feelings about the period of their career that they spent on the label. McCoy in particular tired of it quickly.
"This sounds s**tty, and I don't mean to say I didn't like playing hardcore shows, but I didn't like playing with hardcore bands," he says. "I was kind of waiting for the moment where we would be able to be big enough to not have to do that anymore, and I'm kind of glad we're not."
Even for Clark, Tracy, and Mehra, the limitations of that sphere became immediately apparent: As much as DIY can be a brand of unity, it can also be a stranglehold if you can't always adhere to "it is how it is."
"We pay so much attention to our tones and sound and listening to each other, it's kind of hard when you're playing DIY places," Mehra says.
Their rise, and the reaction around it, brings about one of the most infuriating positions frequently taken about them: Deafheaven's biggest fans and loudest detractors view the band through the lens of subverting metal, as if they're in opposition to metal. The much-needed truth is this: Deafheaven are a bona fide metal band. Yes, like Metallica and Iron Maiden and Judas Priest, all of your heroes, my heroes, and their heroes. What they all share is the ability to take the realization that you're born into a world actively against you, and draw power, not hopelessness, from that. Deafheaven's slant may be more personal, but it's no less potent. They are heavily influenced by black metal — in fact, quick shoutout to Weakling, who pretty much spawned the Bay Area black metal scene — but they are swift to point out they are not a black-metal band. This isn't to say that black-metal bands can't match or aspire to their emotional range; Deafheaven are just too broad to be considered just that.
"People have sort of created this narrative about us… because we don't dress in a traditional metal fashion, all of a sudden we're consciously being against it — that's not the case whatsoever," Clarke says. "And because we do a tour with No Joy or something, it's like, 'Oh, they're purposely doing this to f**k with people.' That's not the case. That's just a band I like and I also like metal bands and we do tours with both. At the end of the day, we're a metal band, we always have been, we never denied any root in that."
That flexibility helps them expand their audience. They don't necessarily feel the need to be the representatives of metal at non-metal fests — or for the non-metal public at large — but they're up for the challenge."I feel lucky that we're not shoveled into only-metal fests," Clark says. "I feel hella lucky we can play with [post-industrial group] Factory Floor and s**t like that."
And really, why would you try to argue that they're not a metal band? Watching them in Dallas and Austin, the Emperor-like majesty of "From the Kettle Onto the Coil" becomes even more obvious. Bermuda is anchored by moments embodying the band's roots, like the thrashy breaks of "Luna" and the Kirk Hammett worship of "Baby Blue." The album's dark tone makes their black-metal sections hit even harder: They've never sounded more ferocious than they do on the first three minutes of "Come Back." Even a chiming (in places) song like "Earth" has the hard-edged appeal of the most accessible bits from Headbanger's Ball — or the heavier end of 120 Minutes. The common denominator is that all of these songs draw strength from fear and uncertainty (a key line from "Baby Blue" is "God had sent my calamity into a deep space / From which, not even in dreams, could I ever imagine my escape"), and hasn't the best metal always done that? How much different is it from the Cold War fears of '80s thrash bands, or the embrace of death's inevitability that the Florida scene engaged in during the late '80s and early '90s? Deafheaven are not tourists, even if some of the people who dig them are.
[featuredStoryParallax id="175697″ thumb="http://static.spin.com/files/2015/12/deafheaven-new-bermuda-band-of-the-year-2015-2-300×133.jpg"]
I've seen Deafheaven live several times. They embody what it is to be a live metal band now, even if they don't exactly resemble the leather-clad acts of yore. Clarke redefines metal flamboyance, going out into the crowd and blessing the kids with preacher-style gestures, twirling hands to symbolize both "go f**king crazy!" and the delicacy that's so vital to Deafheaven's music. If anyone matches Clarke's intensity on stage, it's Tracy: Rather than going to pure extroversion like Clarke does, Tracy captivates with old-fashioned virtuosity, showcasing the physical dexterity that's become a huge foundation for the band. McCoy, Clark, and Mehra prefer to keep it cool, almost unaware of the storm they're creating. They let the melodies do the talking, and with Clarke taking the helm as the leader, McCoy doesn't need to ham it up Scorpions-style anytime soon.
If there's one point that could be described as the peak of the band's live hysteria, it's the breakdown of Bermuda's "Luna." It draws from the post-rock school of loud crescendos, but Deafheaven put some doomy muscle behind it, making it into one of their heaviest passages to date. This is where crowd-surfers get the most air time, where even the most jaded hesher will bang the head that normally does not. When you hear that song, and that part specifically, it awakes the same rush as when Bruce Dickinson yells, "SCREAM FOR ME!," or when Metallica go into the closing salvo of "One," or when Slayer play those first chords in "Raining Blood." It is an experience of bonding and power you can only really understand if you're a headbanger, and Deafheaven have made it translatable for others.
Of all the misguided press the band's gotten, the most infuriating was a New Times Broward-Palm Beach review that implied Clarke may have had some neo-fascist leanings because of his live presentation. He indirectly commented on this while discussing the relationship between him and the audience.
"It's not so much dictator and audience, it's more communal — I'm giving you everything, and you're giving me everything back, having a moment together," he says. "A lot of the time, I'll focus on one person — grab their hand, stare each other eye to eye and in that moment, I realize we're both embracing everything that's going on. I'm not doing this to control, I'm doing this to embrace."
"It's more flattering than not," Clarke says,"to be someone's first experience that lets them into a world that has nurtured me since I was a young teen."
What bothers Clarke more than any derision he's heard is when he sees Deafheaven being used as someone's token metal band. "You're one of the many reasons why Nuclear War Now! won't shut the f**k up about us," McCoy half-jokingly says of genre tourists, referring to the metal label's closed-minded forum. (Just search "Deafheaven" in there and prepare for the worst.) He isn't all that concerned with a rogue metal forum's opinion, though, conceding with a little pride: "We are, pretty much, the most accessible extreme metal band around right now."
And much like fellow 2015 genre-dilettante favorites, Kamasi Washington and Oneohtrix Point Never, they are simply too powerful to not at least instill some curiosity. Deafheaven have crossed over to people who aren't into Blasphemy and Sacrófago; but that doesn't make them pop at all. Beneath all the leather and denim and bluster and nerdery, we all have day-to-day existential worries that we dwell on but rarely speak about. Deafheaven tap into that while still holding true to the transformative, bigger-than-life power that metal's always been the best at conveying. Metal came to prominence as an outlet for disaffected youth in the '80s, and while it doesn't hold the stake it once did, it's still an incredibly affirming style of music for anyone who has trouble navigating mainstream society. Deafheaven are for the disaffected youth of now.
Still, if you were never into metal before you picked up a copy of Sunbather or Bermuda, Clarke is happy to be your first.
"I think it's more flattering than not to be someone's first experience that lets them into a world that has nurtured me since I was a young teen," he says. "At some point, that person's gonna get tired of our record, and maybe when that happens, they'll listen to [earlier metal]."
People I've talked to about Deafheaven always mention how hard the band worked to get to where they are. And if they share one thing with the Second Wave of Black Metal — pivotal '90s Norwegian bands like Mayhem and Burzum — that they're always compared to, it's that they all came from seemingly ideal places that have their own issues. Deafheaven's Norway was the Bay Area, where it's increasingly expensive to get by. It's a liberal bohemia — for the right price, and artists can almost never afford that. Both times I go out with the band after their Texas shows, Clarke pulls me aside and stresses to me that him and McCoy once lived in their car, that they used to have to "spange" — for those of you who've never had the displeasure of meeting crusties, it's short for "spare some change" — out on the road, that they gave up everything to make this happen.
When Clarke opens up to me in these post-show conversations, it illuminates the vast gulf between where Deafheaven came from and where they are now. Earlier in the night, they asked me where a good goth club was. "Elysium!" I immediately shouted. It's a place that's stuck in the '90s, down to the guy who bought us Jäger shots, and that's exactly what the band wanted. In Dallas, we all share beers and watch recaps of Ronda Rousey's loss to Holly Holm at Off the Record, a beer bar that also features a small record store inside. Sipping brew at a spot that doubles as a vinyl shop is peak #peak, the term Twitter personality and public intellectual Desus Nice uses to describe unbearable whiteness, and it's also how Deafheaven is sometimes negatively viewed. If you think Clarke's band is easy listening, that doesn't bother him. But mistake him for a trust-fund kid and you'll catch those hands.
Do they ever think about quitting?
"Only on Sunday when football's on," jokes Clark, who's more often than not seen playing in a Raiders shirt.
"Kerry and I were always like, 'We're gonna get through this, there's options, we're gonna find a way,'" Clarke says.
"Even when we were starting," McCoy says, "there were bands that were bands for ten years that were just getting to the part where we were at in a year, so you can't take it for granted."
Deafheaven still have far to travel in support of New Bermuda. They are opening for Lamb of God and Anthrax on their upcoming tour, their most anticipated yet. (In true Ozzfest style, they are getting a bus for once, whereas previously they've had vans.) Clarke says he's practicing his "beer-dodging" skills for this tour. Yeah, there'll be hecklers. But there's something to be said for sticking to your own community and enriching that soil — and there's also something to be said for wanting to break out and aspire to something bigger, to spread your gospel elsewhere. I listen to metal because it actively lacks commercial appeal and intimidates people; Deafheaven don't threaten that at all. Rather, they allow people to join in the darkness, convince them that it's for them too. And that's why they're the most fearless band going forth right now, and why I'm proud to call then just a f**king metal band.
"It's not about turning the genre on its head, but giving it a little breathing room and adjusting slightly," Clarke says backstage in Dallas, in the midst of nearly deafening chatter. "For me it's more just bending things, it's stretching. Taking an idea and manipulating it, that's all we've ever done. I do feel we have our identity and our own way of writing songs, but I don't think we're deconstructing and rearranging. We're more creating our own vibe, our own element." They shouldn't tread lightly, so they don't.