The season finale of Radiotopia's Song Exploder podcast went live today, and as SPIN announced earlier this month, the big guest was the legendary avant-garde artist Björk. The iconic Icelandic singer-songwriter was there to discuss "Stonemilker," a cut from her 2015 "complete heartbreak album," Vulnicura. Over the course of the episode, Björk dissects her writing and recording process for the track and what it was like working with the electronic producer Arca. She also details the all-strings version of the track she released in November.
"It's about someone who's trying to get emotions out of another person," Björk says of the track. "The whole song is emotionally about wanting clarity, wanting simplicity, and talking to someone who wants things to be really complex and foggy and unclear."
[articleembed id="164680″ title="Q&A: Hrishikesh Hirway, the Musical Surgeon Behind the 'Song Exploder' Podcast" image="164681″ excerpt="It's subtle, but towards the end of the Postal Service's "The District Sleeps Alone Tonight," there's a faint, ghostly hum blended almost seamlessly amidst melancholy synths"]
Björk said that "Stonemilker" contains "probably the most obvious lyrics [she's] ever written," but that it needed to be that way. She recalled that she nearly wrote more complex lyrics, but, as she explained, "something in me said no, don't touch it it has to be almost clumsy or naive. That's sort of the strength and weakness of the song at the same time."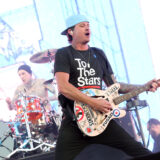 Listen to the full episode below, and read SPIN's interview with Song Exploder host Hrishikesh Hirway. When the podcast comes back next year, the guests will include Courtney Barnett talking about "Depreston," MGMT pulling back the curtain on "Time to Pretend," and Kelela dishing on "Rewind." Oneohtrix Point Never and the New Pornographers will also pop in.