Recently, Afrobeats phenom Fuse ODG hopped on Major Lazer's "Light It Up" remix and posted a clip of it to his Instagram. He called it, "WORLD MUSIC."
While there is little to no likelihood that a pop force like Fuse would ever hit up the annual World Music Expo (and do so with his redefinition of the outdated term), for comparatively less popular acts such as Tinariwen or Bomba Estéreo, WOMEX has, to varying degrees, helped boost their international careers. The five-day event has been called the SXSW of the world music industry, and in some ways it is. People strike up deals, presenters look to fill out their next seasons, agents push their artists, artists push for agents, and no one eats regular meals or gets much sleep. (Full disclosure: I myself served on the selection jury for WOMEX's 2015 Official Showcase and the expo covered some accommodations.)
This year, WOMEX (held from October 21 through 25) set up shop in Budapest, Hungary. The evening showcase festival, where the bulk of the music happens, took place at Müpa Palace of the Arts, a building that in my hunger definitely looked like a giant cubist cupcake made of blue frosting and flickering sprinkles. Of the 60-some acts from 50-ish countries, the more "concert hall"-type artists played inside, while higher-energy, ostensibly festival-appropriate bands played in the pill-shaped tent outside.
In some respects, this year's programming stepped out of a few of its perennial conventionalities. More electronic-leaning artists took the stage this year than in the past, as well as younger groups who didn't necessarily bend to easy categorization: Indian-American and Danish "interplanetary bass" trio Alo Wala, Mongolian folk metal band Nine Treasures, Congolese-Canadian Afrofuturist Pierre Kwenders were a few. Yet in other ways, the expo stayed within its comforts. There were more artists from Europe than any other region of the world, including the yearly surplus of traditional European string groups. Similarly, the makeup of WOMEX's attendees (or "delegates" as they're called) skewed older and European, and men still dominated the programming, from the showcases to panels to film screenings.
Broadly speaking, the first night (Thursday) comprised newer groups. Via an informal survey I conducted, it seemed people tended to like what was familiar to them, and artists who didn't quite fit into those boxes often got ruled out.
Kwenders, who opened, as well as Los Angeles-based Colombian electro-cumbia crew Palenke Soultribe, both started strong. Kwenders twitched and brooded over his mic as his keyboardist and DJ pumped out a mix of soukous riffs, hip-hop beats, and Konono No. 1 samples. Palenke made clear from the moment they stepped on stage that it was Que Viva Colombia Time Bitches, and you'd be a fool to believe otherwise. But then their sets started to drag, not for loss of steam so much as lack of variation. A similar fate befell Alo Wala on Saturday as well, though less starkly so.
By contrast, Nine Treasures carved out a dynamic 45-minute set. The five-piece may have been neither metal enough for hardcore metalheads, nor folksy enough for those expecting, I don't know, more throat singing, or another Hanggai. But it was clear they were conscious of not being entirely either and didn't try to pretend otherwise. Near the front, I spotted Cheikh Lô, hanging around in advance of receiving a WOMEX award that weekend. He was digging it.
https://youtube.com/watch?v=3e1JyWgVfnI
If they'd issued a Classic Man™ award that night, it would've gone to Togolais-French afrofunk revivalists Vaudou Game. Lead vocalist Peter Solo sported a swath of beads and a pair of daffodil-yellow highwater flares that shone like a guiding light for his similarly bell-bottomed bandmates. But it was their pitch-perfect voodoo funk that made them an actual modern-day reincarnation of classic Beninois funk bands like Orchestre Poly-Rythmo de Cotonou. It felt strange seeing Solo's mostly white bandmates putting on their best Togolais-accented French and circling up around him playing cowbells and shekeres. But musically, they were on point.
Hailing from the other side of the continent to close out the night was a young Kenyan Afropop eight-piece by the name of Sarabi. Playing a mix of benga, reggae, gospel, and rock, the group sung about unity and hope — which would've been real cheesy if it hadn't been so evident that they meant every word they sang. "Wherever you are," lead vocalist Nelson Mandela crowed in his sign-off, "Take care of the strangers, and be careful with them." It was one of many nods that weekend to a topic very much in the air.
In light of the Syrian refugee crisis, stickers reading "no one is illegal" proliferated the expo, as did "refugees welcome" signage. One man wore a neon traffic vest that read, "I LIKE BUDAPEST BUT NOT ORBAN!" in reference to Hungarian Prime Minister Viktor Orban and his anti-refugee policies. In response to the situation, WOMEX issued several statements and programming decisions "against xenophobia and pro diversity." I have no doubt that WOMEX and the delegates who wore the stickers or participated in displays such as this refugee solidarity photo very much believe in cultural diversity and human rights. But the degree to which #diversity was trumpeted in relation to individuals' own discriminatory practices and microaggressions — especially towards people of historically (and globally) marginalized communities — was reason for pause.
For the artists' parts, many wove in "no borders" messaging into their sets. On Friday night, Brazilian hip-hop artist Emicida wore a T-shirt that read, "No human is illegal." Why one of Brazil's biggest hip-hop acts, along with Chilean stalwart Ana Tijoux the following night, were slotted as opening acts, I'm not sure. But the former played a solid set that pulled mostly from his latest album, incorporating music from Lusophone African nations like Angola, Cabo Verde, and Mozambique.
Following Emicida, many of the remaining groups that night were either unremarkable or just different enough to still be wholly familiar. British folk singer Bella Hardy was nice if tepid, as were, surprisingly, Israeli-Yemenite pop trio A-Wa. Their lead single, "Habib Galbi" (produced by Tomer Yosef of Balkan Beat Box, who were sampled on Jason Derulo's hit "Talk Dirty" and contributed to Fifth Harmony's multiplatinum "Worth It"), had been promising. But live, their vocals lacked luster, and their keytar player headbanged to his '70s Israeli psych/surf-rock riffs more than they really warranted. The sound was off as well, though at that point, audiences seemed to have gotten used to the tent's sludgy, unbalanced sound anyway, which would continue to be an issue all weekend. For artists like soukous-loving, French dad band Zoufris Maracas though, this seemed to boost tent-exit rates.
If Friday was, in general, the day of safer bands, it was also the day the white hippies emerged in full force — two not-unrelated phenomena. Many of this constituency seem obsessed with the notion of "authenticity" and its synonymity with "uncontaminated," whilst also being fond of using terms such as "oriental" and "flavours," often in combination. As the night wore on and more of them came out of the woodwork, it became increasingly difficult to get close to the stage for fear of overzealous limbs smacking my glasses off my face or flouncing feet bruising my calves. The crowd for Moh! Kouyate, from Guinea-Conakry/France, turned into one such danger zone. Lead singer Moh! sounded something like a younger Habib Koité, his music an updated version of bluesy Mandinka pop/rock. It was chill, but the most eventful thing to happen was a couple of audience members hitting their best azontos — a testament more to the versatility of the dance than the music. Haitian roots band Chouk Bwa Libète had a similar if more hyped, azonto-less effect on the crowd. When they hopped off the stage and into the melee, I saw a couple of hippies nearly keel over from… joy? Thirst? Authenticity overload? We may never know.
What I do know, however, was that three days into WOMEX, the same men who'd be quick to slap on a "no one is illegal" sticker would also often be the first to see — and fetishize — difference. "You are… Indonesian," one of them helpfully informed/greeted me. Various male presenters and panelists doled out very nuanced and well-considered advice about what "the Asians like," or asked pertinent questions like, "Does slow music work in Asia?" And so forth, doubtless for other constituents of color as well. So on Friday, it felt like a relief when we finally got more soloists and groups fronted by women (props to those who held it down earlier), and specifically women of color (and, to my knowledge, no nonbinary folks).
Ana Tijoux opened and was great, because Ana Tijoux is always great. "I was told there would be a lot of promoters in the crowd," she announced. "And I feel like that's a test, and I don't like it. So this is just for the people who love music." She didn't need a T-shirt or a sticker, because her art explained itself.
Certain other artists went the route of offering musical mini-lessons, often talking about the historical and cultural contexts of their craft. Baraji, an octet that make music based on Korean shamanic ritual, were one of them. On stage, they created a slow, contorting vortex of sound, where reedy piri pipes cut across clanging gongs and grinding strings; vocal accompaniment came in unexpected bursts, and singer Yulhee Kim's clarion voice both barreled through and wrapped around it all. Later in the same hall, Chinese-American pipa (lute) virtuoso Wu Man bravely took her time playing music both old and contemporary. (Also worth mentioning is Karolina Cicha of experimental Polish duo Karolina Cicha and Bart Pa?yga, who juxtaposed looping and sampling with wistful vocals and traditional folk instruments.)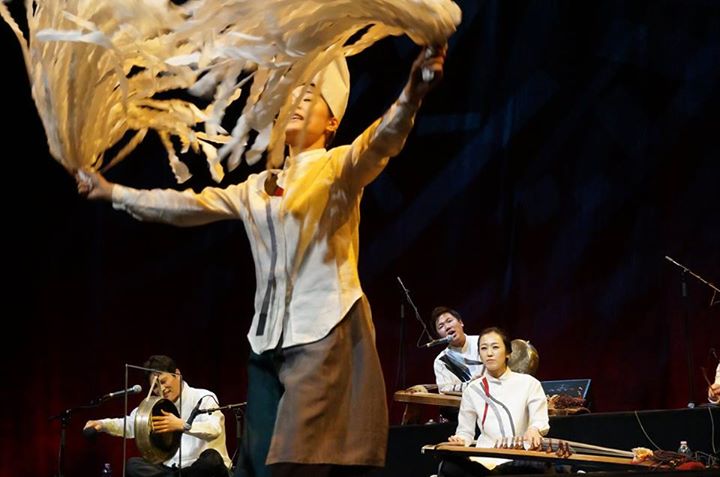 Meanwhile, back in the tent, four-piece rock outfit Tritha Electric were getting going on a punky number called "Macher Bajaar." Lead vocalist Tritha Sinha pitched her voice upwards, marching and punching her fist in the air for emphasis. She shot us a glaring Nicki Minaj eyeroll one time, and it is a testament to my personal restraint that I did not scream, "GET IT!" Which I saved for the end, and also for Alo Wala. Emerging on stage in a full-body jumpsuit, Chicago-born, Copenhagen-based MC Shivani Ahlowalia rhymed over tabla rhythms and bassy riddims. She danced a sort of combination krump-kathak dance I've definitely not seen before. She said, "Hit it, Clerici!" a lot to her DJ, Clerici.
And yet, in terms of final impressions, the night still belonged to its closer: Pat Thomas and Kwashibu Area Band, who were also possibly the tightest band all expo. Thomas is known for his pioneering work in the burger-highlife scene that emerged when large numbers of Ghanaian immigrants moved to Germany in the late '70s and '80s. This new iteration of the group had less of the old disco influence, but every now and then, Kraftwerk would appear in the keys, or some of the '80s, machine-generated pop elements reemerged in the form of live instrumentation. Guitar and horns hearkened back to Fela-era Afrobeat. Thomas was as spry as ever and his voice just as pliable, alternating between plaintive and exuberant. His backing band, led by keyboardist Kwame Yeboah and saxophonist Ben Abarbanel-Wolff, got low together, stepped together, and beamed so much wattage out their collective smiles that for that small bit of time, I forgot where I was.
With the official showcase over, people slowly headed across the Danube to the A38 ship for the last night of WOMEX's DJ Summit. The room was packed. Portuguese producer/DJ Rocky Marsiano was spinning a mix of Lusophone African tunes, and things sounded good. Bassier versions of Cabo Verdean funaná bumped alongside various permutations of hip-swaying Angolan kizomba.
Around 3:30, Argentine producer/DJ Chancha Via Circuito mounted the stage and politely inquired if we were ready for "some South American stuff." He proceeded to serve up two hours of nonstop-hype versions of his mystical electronic-folk music. Andean panpipes, Paraguayan harps, and Peruvian cumbia mixed with reggaeton, dancehall, 3ball, even surf-psych. He peppered in his own whoops and warbles on the mic and wiggled his fingers in the air like he just did not care. Despite the industry fatigue — and the problematic behavior of far too many delegates — all attending could agree that we still had the music.
https://youtube.com/watch?v=A-_YaGiMo5Y%3Flist%3DPL97ISVilOoYCLy2Nj0SKxm5kK30rrL0eG