Welcome to SPIN's Singles Mix! SPIN staffers have rounded up their favorite, must-hear tracks for your personal playlists. Collecting the finest from Aussie indie sextets, tub-obsessed Brooklyn MCs, and more, these are the songs you need to know right now.

Baroness, "Shock Me" (Abraxan Hymns)
"Shock me / I need a surprise," cries Baroness leader John Baizley again and again in the band's charging cut from their forthcoming record, Purple, due on December 18. The hard-rock crew have certainly dealt with their share of shock in the last three years, what with a life-threatening bus accident in 2012 that sent them reeling physically and emotionally (Baizley almost had to have his arm amputated). Since then, drummer Allen Blickle and bassist Matt Maggioni have been replaced by Nick Jost and Sebastian Thomson, and the band has renewed its dedication to itself — a life-long promise that shines through with urgency in the chugging, urgent track. — RACHEL BRODSKY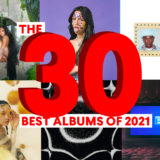 Martin Crane, "Gladesco" (Inscape)
Sharing a name with Frasier's dad, Academy Award-nominated music supervisor Martin Crane makes rather cinephilic soundscapes himself, especially on this all-consuming ballad that grows progressively windy without hatching into a full-blown electrical storm. It still leaves a mark just the same. — DAN WEISS 

TEEN, "All About Us" (Carpark Records)
TEEN leader Teeny Lieberson outlines the silliness of women so often being dismissed as "silly" or "overreactive. in the band's jaunty "All About Us," which is taken from their forthcoming Love Yes, coming on February 19. Springing to life with sharp synths, bulletproof '60s-pop harmonies, and pointed lyrics like "Blame it all on me / Your lack of confidence and sexuality," TEEN's perpetrator doesn't stand a chance. — R.B.
Theo Kottis, "UFO (Michael Mayer remix)" (Moda Black)
Sometime in the past week, between co-running seminal German electronic music bastion Kompakt, flitting between European DJ sets, and recovering from Australian jet lag, Michael Mayer found the time to give his beat benediction to up-and-coming U.K. producer Theo Kottis' "UFO." The Berlin-based dance doyen eliminates the original's harsh vocal samples to wisely focus on its arpeggiated wormholes, creating an equally disorienting headphone headspace instead, with whooshing synth rushes and an ominous chordal repetition. A master at work doesn't need to tweak a master in the making all that much. — HARLEY BROWN

Your Old Droog, "Basketball & Seinfeld" (Self-Released)
What else is there, really? Brooklyn rapper and formerly suspected Nas alter ego Your Old Droog is back with this tribute to his two biggest television fixtures. The first verse dives into the latter viewing category, Y.O.D.'s boasts filled with hoops-head catnip like "I'm at my Travis Best" and "I already made the finals playing with DeSagana Diop," while the second goes deep for the Seinfeld superfans, referencing the Ukraine being weak and rhyming "gorgeous stanza" with "George Costanza." (The beat is also lifted from Abelard's inspired chillwave remix of the Seinfeld theme.) It's pretty obvious, crowd-pleasing stuff — not that there's anything wrong with that. — ANDREW UNTERBERGER

Yuuca, "Melt" (Self-Released)
After releasing their debut single earlier this year, Brisbane six-piece Yuuca have been quietly recording new material, and "Melt" marks a smooth return. Flecked with light picking, the song is grounded in grainy guitars and rugged drums, recalling Joy Division's lighter moments. Dreamy electric solos come and go, and, complete with a crop of wistful oohs, "Melt" hits the indie-rock sweet spot. — NATHAN DILLER

Yung Lean, "Hoover" (Self-Released)
And so young Jonatan Leandoer Håstad turns from meme into man. A mere two years removed from his debut mixtape, Unknown Death 2002, this Swedish teen's fixations have turned from 'Zona cans to Xanny bars, and his slurry Auto-Tuned vocals seem to have finally crystallized into scattered shards of plate glass on a new single called "Hoover." There's still lyrical duds suggestive of his youth or his Scandinavian upbringing ("Rockstar person / I'm like Marilyn Manson" being one of a couple bafflingly vague couplets couplet), but with his newfound bark and go-to producer Yung Gud's prickly command of needly Yeezus beats, he's got heft and weight behind his once-dizzy bars. The reason to, as he says, "forget the sad s**t"? Well, he can really rap now. — COLIN JOYCE

Wet, "It's All In Vain" (Columbia)
When Wet released their self-titled EP in 2013, they retreated to Western Massachusetts to work on their follow-up LP, Don't You, arriving on January 29. Now they're giving us a sneak preview of what's to come, and the trio has released a new single from the record. "It's All In Vain" has vocalist Kelly Zutrau airily quivering over shimmering synths as she comes to terms with the end of a relationship, pleading the opposite of those Three Little Words: "Let go of me." — MEILYN HUQ