Having already taken over ancient Egypt, the Internet at large, and your great-aunt's hairball-covered apartment, it's really no surprise that cats are making a move to dominate the recording industry as well. First Meow the Jewels, Killer Mike and El-P's all-feline production of their acclaimed album Run the Jewels 2, dropped with a resounding roar, and now one of the 'Net's most famous kitties (and former SPIN cover star) Lil BUB is releasing her psychedelic debut album, Science & Magic.
When news broke that the legendary space cat and frequent Andrew W.K. collaborator was going to rock the music world by letting an LP of her very own out of the bag, curiosity got the better of SPIN. We met up with Lil BUB at her swanky midtown Manhattan hotel last month to play her some of history's greatest cat-featuring songs (and one obvious curveball) as part of our Jukebox Jury series; and BUB's take on some of her forebears and possible influences was insightful. We also spoke with BUB's owner/manager/dude Mike Bridavsky for an, uh, actual interview about the record, which is due out on December 4 via Joyful Noise Recordings.
Let's start with Katy Perry's "Roar."
What about "Meowpurrdy," off of Run the Jewels' Meow the Jewels. BUB, you're featured on this song, right? What was that like?
Very interesting. Let's move back to the '80s with "Eye of the Tiger," by Survivor.
Next we're going to play "Drop That Kitty," by Ty Dolla $ign, and featuring Charli XCX and Tinashe.
Oh, you're not a fan. Okay, how about Tom Jones' 1967 classic, "What's New Pussycat?"
And now for the last one — forgive us, we couldn't help ourselves. Here's the Baha Men's Grammy-winning classic, "Who Let the Dogs Out?"
Wow. Such shade. Well, thank you for your time, BUB. Now we're doing to speak with your dude, Mike Bridavsky.
How did you and BUB get involved in this crazy music world?
Well, I think BUB's always been pretty heavily involved in sort of the whole concept of music, which is really just a bunch of numbers, and she's real into science and numbers. And she's into magic, so she combined the two. And some say she invented music many millions of years ago.
But as far as, you know, her time on Earth and the past four years — I own a recording studio, and I've loved cats my entire life. BUB is my sixth cat, and so all my cats are actually pretty involved in the music world. My other cats live in my recording studio and have sat in on many sessions, but with BUB, the way she got famous was all sort of by accident.
Random things happened, like our relationship with Andrew W.K. A lot of people think that she's his cat, which is very funny. I really loved his first record [2001's I Get Wet] — I rocked out to it a lot in my car when I was younger and always just thought he was a cool guy, but never really thought much more of him. Then when we were shooting the documentary for Vice in New York during the early months of her celebrity stardom, and the director was like, "Hey, would it be OK if we did a Christmas holiday message with Andrew W.K.?" And I said, "Yeah, that'd be awesome." It turned out great. BUB licked a cookie.
You ran into Andrew several more times, right?
VH1 or someone brought us to New York for an award ceremony, and once we were there the person that brought us was like, "Hey, Andrew W.K. is downstairs in the building trying to beat the world record for the longest consecutive drumming ever, and he heard you were here and he says he really needs BUB's help to get him through this." And he was on hour 14 or something, so we came down and BUB hit a cymbal. It was like, "Oh, that's weird. We just saw Andrew again."

On BUB's second or third birthday — it was one of the more regretful things I've done — the YouTube channel we were with wanted to do a live broadcast Google hangout. We needed someone to sing "Happy Birthday," and I was like, "I bet Andrew would do it," and sure enough he was. Right before playing a show in Detroit, he gets on Skype and sings to BUB. After that it I could tell that BUB and Andrew were sort of kindred spirits. They had the same sort of flow; they just go with the flow. Chill and very genuinely positive – there's nothing faux about it.
So can you talk a little bit about the genesis of BUB's big first album?
I used to make BUB videos all the time and I just needed music for those videos. I didn't want to use dumb music — I wanted music that was specifically written for BUB with BUB in mind, so I asked my bandmate Matt Tobey. He's like, "This is perfect. I've been pretty stressed out – I need something to relieve the tension. This'll be really fun." So I would tell him, "Hey man, BUB's on a beach. Do something like the Beach Boys." And he'd write this – remembering that she's from space and all that – and he'd just come up with this s**t, like, real fast and just send it to me.  "Dude, this is really the best s**t you've ever written. This is awesome." And he made these on his laptop in GarageBand, literally with stupid keyboard sounds.
I don't remember when it was or how it happened – I guess we just fantasized, like, "Man we should rerecord all these songs with real instruments, really over the top. Replace all these electronic sounds with real things." And with the help of BUB, obviously, we did it.
And in the trailer we made, we were sort of joking about how we're "creative vessels" for BUB and all that, but I also truly believe this about her – and not in some sort of mystical way, necessarily. She's very inspirational and sort of my vision for everything with BUB is to involve all my friends and use their creativity and to, you know, keep everyone creatively active as we get older and we have all these responsibilities. With BUB, people really care about what she does and that inspires us to do things. The record wouldn't exist if she didn't exist. These songs wouldn't exist.
What is it about Lil BUB that you think inspires such creativity? Andrew WK was just gushing about her in the press release.
[articleembed id="165655″ title="SPINfighting: Who's the Best Musical Cat?" image="165877″ excerpt="With the release of Run the Jewels' infamous Meow the Jewels remix and the announcement of an honest-to-blog Lil Bub album, we asked ourselves: Who's the best musical cat? "]
Well, if you can remember the moment when you first saw her when you walked in the room, it's like there's something… [Trails off]. I mean, I remember the moment when I first saw her and I've seen other people the first time they've seen her who don't know who she is. We fly a lot, and I expect people are gonna be like "Oh my God, that's Lil BUB," or whatever. So one time this lady's checking us in and she seems tired and then she looks and she's like, "Oh, you've got a cat. I like cats." And I pulled her out and she almost couldn't breathe. I thought she recognized Lil BUB, but she didn't. She goes, "The energy from your cat, it is just, it's amazing. It's helping my get through my day." And I said, "Yeah, that's what Lil BUB does."
Do you think BUB has any idea of the scope of her celebrity or the impact that she has on others? Or is she just sleeping and just doing her thing?
No, I don't think she knows about her celebrity. I think she knows somehow that she has this purpose. It's part of her innocence and the way she inspires people. It's a gift that she has — I truly believe that. And she knows when you're bummed out. I mean, lots of pets are that way. I think with her it's pretty exceptional.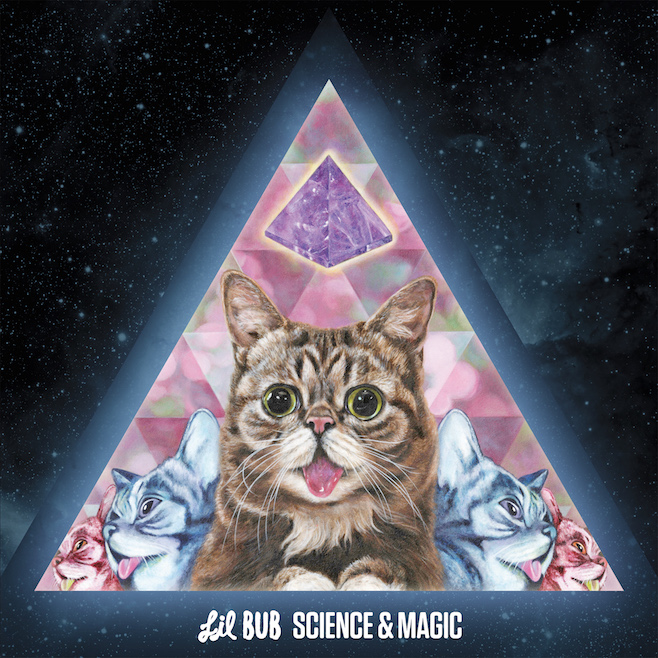 Is BUB going to be performing live?
That's a good question. We're talking about trying to work out a live performance. BUB obviously couldn't be a part of it – it'd be too loud for her. But we're talking about ways to recreate the album live. One idea I had was every time we play a show we do a live Skype, and project BUB sleeping or whatever she's doing while we play, which could get awkward after some time. But we're also talking about finding animators to do videos for each song on the record. I might be blowing my load here. I probably shouldn't talk about it yet.
I look forward to seeing a hologram Lil BUB. One last question — does BUB have any favorite collaborators?
Stephen Hawking is at the top of her list. That's pretty much it. They've never collaborated, but he's her favorite.
A quarter of the net profits from the sale of Science & Magic will be donated to Lil BUB's Big FUND for the ASPCA to benefit special needs pets.